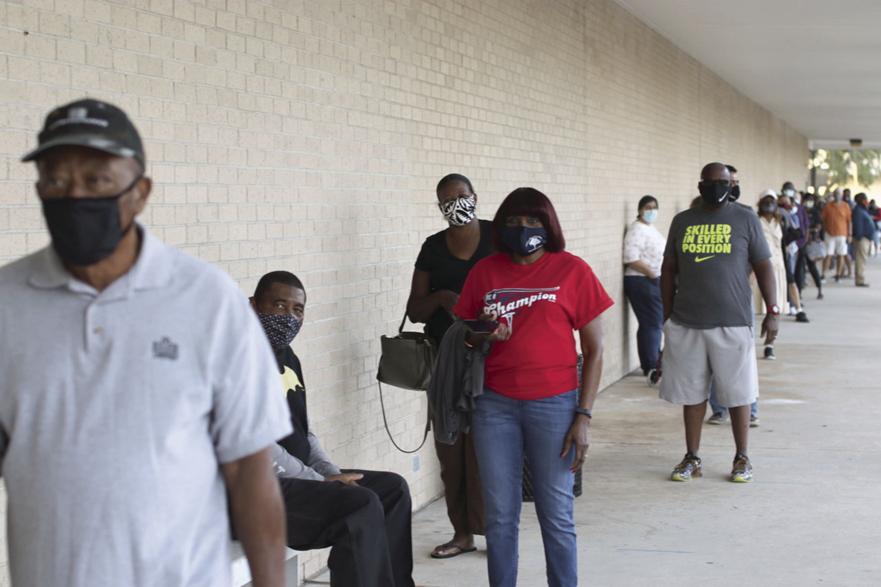 An estimated 12,853 residents in Fort Bend County cast ballots on the first day of early voting Tuesday, about 6,000 less than those who voted early on the first day of the mid-term elections in November 2018.
Long lines greeted voters at many polling sites across the county, most notably the Smart Financial Centre, Fulshear High School and the county annex in Rosenberg.
Voters who cast ballots in smaller communities, such as Needville and Beasley, breezed in and out with little or no waiting.
A total of 481,813 residents were registered to vote in the election as of Tuesday, but more are expected to register before the Oct. 24 deadline.
Many of the wiser voters brought folding camp chairs, hats and books to read while they waited in line Tuesday.
A technical issue with voting machines on Tuesday caused a long delay for Fort Bend County voters on the first day of early voting.
At the county annex in Rosenberg, the line stretched down the front of the building and down the side one hour before voting began Tuesday.
By 8:05 a.m., the line looped back up toward the front of the building. Anyone who arrived at 8:30 a.m. didn't get inside to vote until right at 11 a.m. Voters who arrived at 11 a.m. stood in line for about three hours before getting inside.
Wayne Poorman was among the voters who visited the county annex.
"We stood in line for two hours and 41 minutes," he recalled. "It was a very pleasant experience. The fellow voters in line were amiable. The voter officials were most helpful and pleasant when we finally got inside. We came away feeling quite patriotic!"
Nancy Fatheree of Fulshear said she arrived at the Fulshear High School site at 2:30 p.m. Tuesday and finally made it inside the door at the high school around 4 p.m.
She had heard there was trouble with the voting machines, and that was why the wait was so long.
Nancy said she feared her ballot wouldn't be counted if she voted with a busted election machine.
However, Fort Bend County John Oldham said the voting machines themselves were not broken on Tuesday and all the votes would be counted.
He said the laptops that are used to check in voters had the wrong date for the start of the election and had to be updated. That was completed around 11 a.m. Tuesday.
He said he and his staff had to visit 30 election sites to get the laptops up and running.
Nancy considered getting out of line at one point but decided to hang tough.
Rhonda Price Mokerski said she first went to Bowie Middle School to cast her ballot, but someone in the parking lot said the women at the front of the line had been there five hours. Then, someone in a chat group said there was no waiting at Beasley Elementary School, so she drove there and was in and out in no time.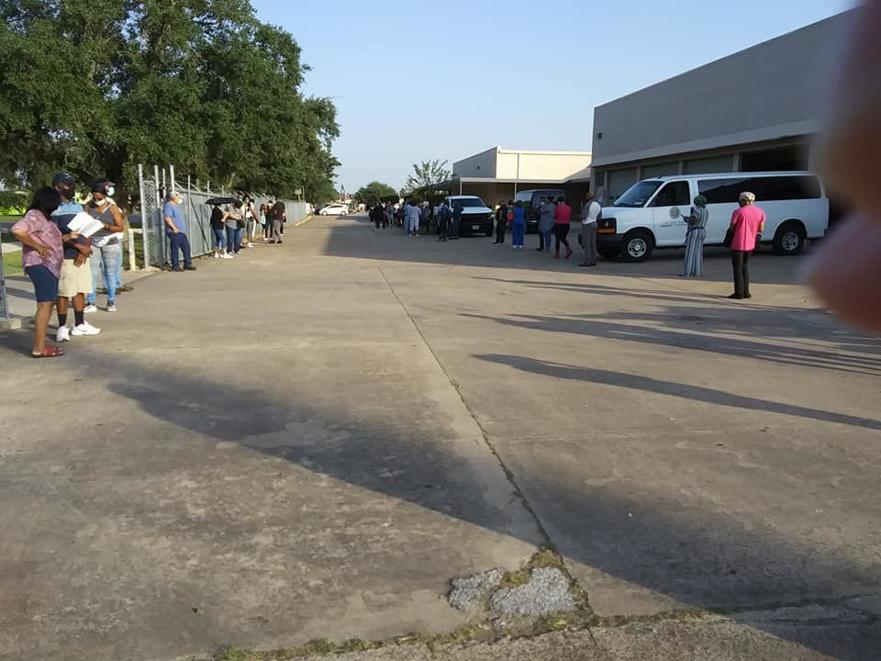 Kandice Box Gremillion also voted in Beasley.
"Went around 2 p.m. No line. Walked right in. Only a couple of people inside. No waiting. I liked the new machine and the printout that it gave me. It went great!" she said.
Frank Cempa said he voted without hassle in Needville.
"My wife and I went to Needville Road and Bridge and waited about 10 minutes in line," he recalled.
"The elections crew there were very friendly!"
George and Carolyn Delmar also voted in Needville.
"It took about 30 minutes. Short outside waiting line. No problems," she recalled.
Although the lines were long on the first day of early voting, they could be attributed to the number of hotly contested races up for election, including the race for president, Oldham remarked.
He also attributed some of the long lines to the breakdown in voting and the social distancing guidelines due to the coronavirus pandemic.
Also, for the first time, voters were not allowed to vote straight party ticket, which means they had to read down the entire ballot to cast votes, which helped slow the pace, he said.
He said lines were much shorter on Wednesday.
"On Tuesday, I counted about 200 people waiting to vote at the county annex before we even opened the doors. I looked out the door (on Wednesday) and the line looked to be about 30 minutes long. Voting was going much more smoothly than it did on Tuesday," he said.
At one polling site on Tuesday, only 286 people had cast ballots due to the delays. On Wednesday, more than 400 had made their way through that polling site, he said.
Still, Oldham expects lines until early voting ends Oct. 30.
Many people are still registering to vote in the Nov. 3 election, he said.
"We are currently at 481,813 registered voters and that will grow by Election Day as we have applications to process," he noted. "We typically have two weeks between the close of registration and the star of early voting. This time it was only one."
In the past 30 days, his staff has processed over 41,000 forms — new registrations, changes, and ballot by mail applications.
The staff has already mailed out 36,768 mail-in ballots requested — roughly 20,000 more than requested in previous election years, he said.
Just over 7,200 of the mail-in ballots have already been returned, he added.
Tuesday's voting delay also has prevented the elections office from updating its website. Oldham said poll numbers could be updated Wednesday evening or by Thursday morning.