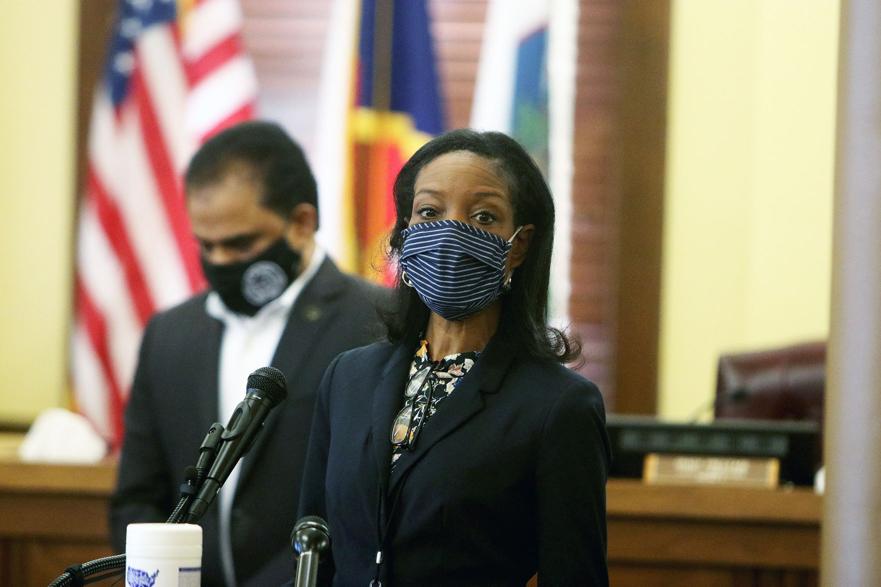 Fort Bend County authorities are asking residents to pre-register for the COVID-19 vaccine.
The county hasn't received the vaccine from the state yet, but health authorities want to begin immunizing residents as quickly as possible once the vaccine arrives.
First-responders such as peace officers and firefighters will be inoculated first, followed by those 65 and older or anyone with underlying health conditions.
County officials do not know when the general population will be given the vaccine.
"We are ready to administer the vaccine," said County Judge KP George. "We are just waiting to receive our first shipment of vaccine and soon as it is available, we will distribute it. But at this time, we really don't know when (the vaccine will arrive.)
George discussed the county's vaccine distribution program and the steep rise in COVID-19 cases during a news conference Monday at the county courthouse.
"Our COVID numbers are going up — and at an alarming rate, I should say," he said.
The county has increased its COVID-19 warning level to red, the highest level.
Just over 32,000 residents have tested positive for coronavirus statewide since March, almost 24,000 of them in Fort Bend County. Of the 32,377 positive cases, some 8,500-8,600 cases are active.
"Why is that important number? Because maybe two months ago our active cases were, like, 800 or 900. Now, it's, like, 10 times more."
A total of 358 residents have perished from the virus in the past 10 months, according to the Fort Bend County Health and Human Services Department, which is tracking the virus' impact on the county and its people.
Dr. Jacqueline Minter, director of the Fort Bend County Health Authority, attributed the steep rise in COVID-19 cases to family get-togethers over the Thanksgiving holidays.
"The results of these activities was an increase in hospitalizations and deaths," she said. "The virus did not respect our COVID fatigue and our desire to gather together."
Presently, close to 30%of ICU patients are COVID-19 patients, an important bench mark, she said.
Fortunately, she added, scientists and medical experts have developed safe and effective vaccines against the novel coronavirus in record time.
She said the county is geared up and ready to implement Phase 1 of the vaccine distribution to front line health care workers and first-responders, such as peace officers and firefighters and others who come into contact with people who have COVID.
"If you're in this group, we ask you to roll up your sleeve and participate in this (vaccination program) that will allow us to safely congregate the way we desire without risking the health and safety of ourselves or neighbors," Minter said. "If you're not in the Phase 1 group, we ask for your patience as more vaccine is being distributed. Your time will come."
Hospital workers countywide have already been inoculated.
Phase 2 calls for the vaccine to be given to elderly residents and anyone any age with underlying health conditions that would make them more susceptible to catching COVID and dying from it, such as diabetes and people with heart conditions and so on.
George said he is uncertain when the general population will begin receiving the vaccine.
"I'd like to have done it yesterday or last month, but unfortunately, it's not here. I don't want to blame anyone, but we really don't know."
Minter asks residents to educate themselves on the vaccines while they await their shots by talking to their health care providers and other reliable sources of information.
George asked citizens to keep their guard up by wearing masks, practicing good hygiene and social distancing, and avoid mass gatherings.
Fort Bend County is an authorized distributor of the vaccine, George said.
"However, we haven't received our consignment yet."
He said Fort Bend County will work with AccessHealth to immunize citizens.
"Be patient. We came a long way — more than 10 months — and we never thought we would be living this long under COVID. But we are here and we survived. And I know more than 360,000 people in our country cannot say that."
Anyone who registers in advance for the vaccine will be notified by phone by the Fort Bend County Health and Human Services Department on when and where they will go to get their shot.
Minter said the county will set up sites for immunizations.
The county offers no-cost COVID-19 testing for all Fort Bend County Residents at multiple locations throughout the county. Call 281-238-2363 or go online to fbchealth.org to register and a representative will contact you.