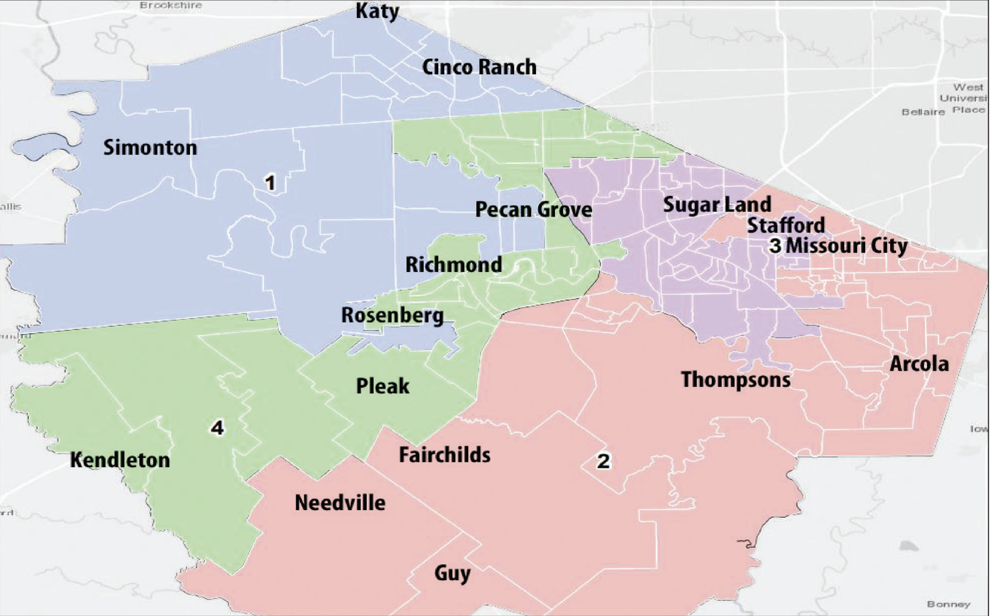 After much confusion, heated discussion, and repeated delays, the Fort Bend County Commissioners Court voted 3-2 on Friday to adopt new precinct boundaries.
The redistricting map was proposed by Fort Bend County Judge KP George. The map moves Needville and Fairchilds out of Precinct 1, Katy and Simonton out of Precinct 3, and extends Precinct 4 from Houston to Kendleton, dividing the county.
The map calls for Precinct 1 to include Simonton, Katy, Cinco Ranch, and part of Richmond and Rosenberg.
"After several weeks of discussions by Fort Bend County Commissioner's, a clear majority adopted a progressive redistricting map that reflects the historic growth and change of the most diverse county in the nation, that will carry into the next decade," said George, who voted in favor of his map along with fellow Democrats Grady Prestage, who represents Precinct 2, and Ken DeMerchant, who represents Precinct 4.
Precinct 1 Commissioners Vincent Morales Jr. and Precinct 3 Commissioner Andy Meyers voted against the map.
Fort Bend County began the redistricting process in September and has worked tirelessly to meet the Nov. 13 deadline set by the state to submit redistricting maps, George said.
"We listened to the concerns of the public over these past several weeks and the desire for more equitable representation," he said. "The map I presented best represents the county and is reflective of the growth and changes in our community. This is historic, we set out to achieve proportional, fair, and equitable representation for all Fort Bend County residents. The approved map is the consensus of all voices and brings everyone together."
The commissioners' court held a special meeting Friday to review the submission of redistricting maps by the public and county court members. Following the start of the 9:30 a.m. special meeting, there were two motions to recess at which time County Commissioners were given extra time to review submitted changes by Fort Bend County Judge KP George.
The special meeting resumed at 2 p.m. at which time County Judge George made a motion to approve map that was submitted on 11/05/21 at 11:03 a.m., the motion was passed with an amendment made by, Precinct 2 Commissioner Grady Prestage to move one neighborhood into Precinct 2 boundary.
Every 10 years in the United States, a count is taken of the total number of people who reside within the nation. As a result of the data received from the census, where there have been significant shifts in population density, leaders throughout the country are required to redraw political boundaries to balance political representation at the local, state, and federal levels through a process known as redistricting.
Meyers said he suspects the map will bring about a lawsuit. Morales had stronger language.
"This 'surprise' map isn't a surprise. We have all known that a last-minute map was going to be submitted by sources from outside the county," he said. "This map's purpose is clear to anyone — it's drawn to divide the county and to radically displace as many taxpayers and politicians as possible."
"This map has clearly been drawn by someone outside Fort Bend County because this map, in my many years of experience in political activism as a business leader, a mayor, and a commissioner in our county — this map ignores the realities of our county, our population, and the way people vote. Especially the way that Fort Bend residents vote in this political environment."
Morales did not say who the person was who drew up the map. However, he said, "This map is an attempt to duplicate the format, methods, and results that Democrats in Harris County achieved last week.
"The key difference is — the Harris County map was drawn by Matt Angle, a longtime political operative who showed up to explain his map at the final vote.
"This map clearly was not drawn by anyone who knows anything about Fort Bend County politics — and every member of this court knows who, and notices that they aren't here today.
"This map cuts the Democrat numbers down so far for the suggested Precinct 3 and Precinct 4, that any political consultant would be sued for malpractice.' Morales said he also opposes the map for the costs and the hardships it places on taxpayers and first responders.
"I oppose it on behalf of the overwhelming majority of the proposed Precinct 4 residents who would have to drive past the Katy annex in order to drive another 30 miles round trip to reach precinct offices in Richmond," he said. "And I oppose it because this map would split the historic heart of Fort Bend County. The long, 200 year history of one of the most storied counties in Texas. I won't let that happen."
Morales proposed substituting George's map with the Precinct 4 map submitted by Commissioner DeMerchant.
He and Meyers both believed DeMerchant's map was fairer than George's and provided for two Republican precincts and two Democrat precincts as present precinct boundaries call for. George and all four commissioners presented redistricting maps for consideration.
Members of the public also provided maps for consideration but they were not discussed at Friday's meeting because the presenters were not available to explain the maps. George and all four commissioners said their maps were fairer than the others.
Meyers said his map would have kept communities of interest together in the same precinct, as well as subdivisions, neighborhoods, municipal utility districts, and levee improvement districts.
That's important because children who live in the same neighborhood should be allowed to play on the same ball teams together, he explained. The commissioners' court have until Nov. 13 to approve the new map because that is the first day for candidates to file in the upcoming March 2022 primary election.