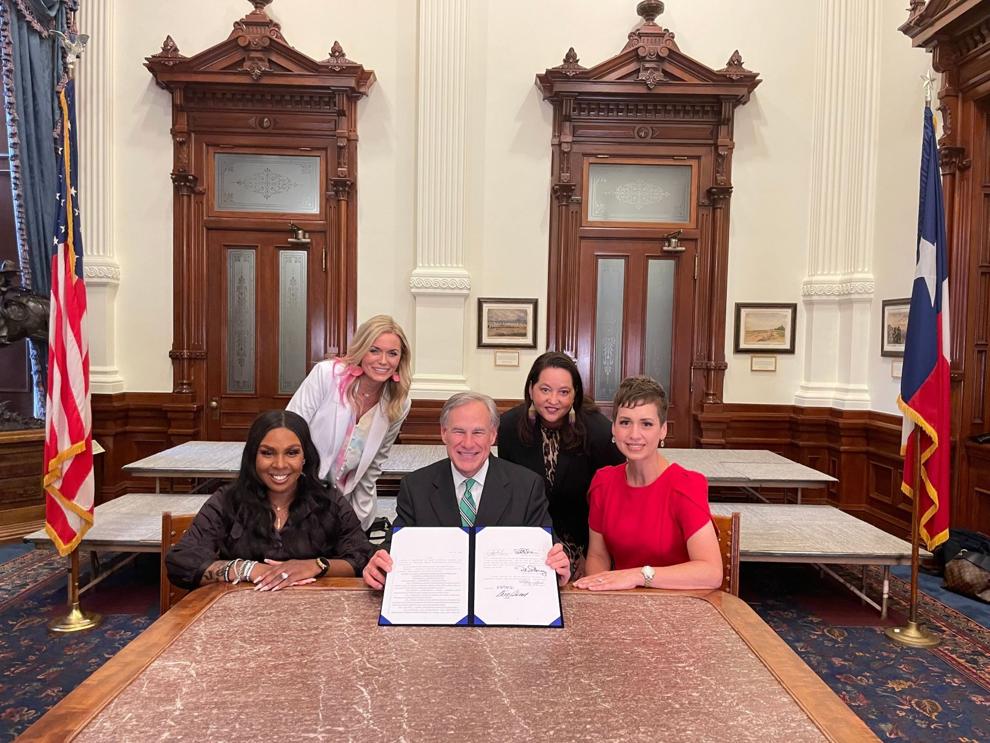 Texas Gov. Greg Abbott held a press conference in July to sign nine bills that would impede human trafficking.
He invited lawmakers, dignitaries, and citizens from across the state who helped bring the bills to his desk to join him for the photo-op.
Standing behind Abbott at the signing ceremony was Fulshear resident Rhonda Kuykendall.
The Herald caught up with Rhonda and asked her about that day, the role she played in passing the new laws, and her ongoing battle to rid our streets of human traffickers.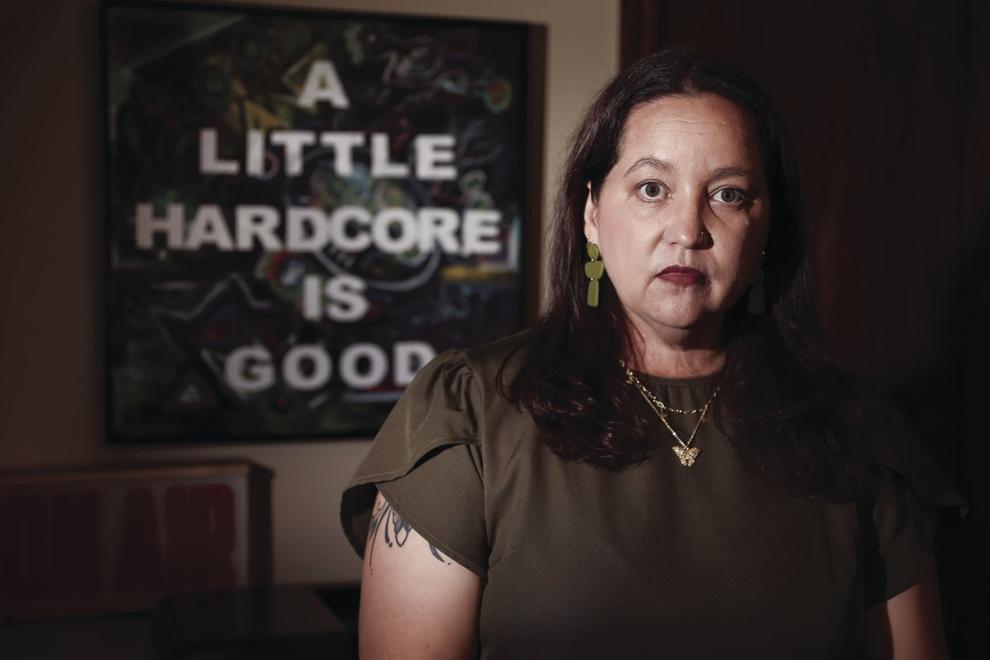 HERALD: Wow, meeting the governor! How cool! The photo hanging on your wall at home will be a real conversation starter. What will you tell your guests about that day?
RHONDA: Lobbying is not for the faint of heart. It is hard, grueling work. Nine sex trafficking bills passed means more than the words on a page. It represents the stories told in committee hearings and the experiences survivors have endured to bring about these changes.
Is this the first time you've gotten involved in helping pass legislation?
In 2007 Lt. Gov. David Dewhurst invited me to the bill signing known as Jessica's Law, a bill to strengthen child predator laws. I worked the 78th and 79th legislative sessions to add an amendment to Jessica's Law to abolish the statute of limitations for child sexual assault. The atmosphere was formal. Gov. Perry did not say one word to me. The bill was signed and I walked out of the capital. That was it.
Did you speak with Gov. Abbott?
July 19th was a very different day. The day was surreal. It was a day of celebration for survivors, legislators, non-profits and advocates. Andrea Sparks, director of the Governor's Child Sex Trafficking Team, asked me, "Do you want to stand with the survivors or the advocates?" I chair the Fort Bend County DA's Human Trafficking Team and I survived trafficking in Fort Bend County so I fit into both roles that day at the capital. I chose to stand with other survivors and I had the honor of participating in the signing of Sen. Joan Huffman's bill on human trafficking education in commercial lodging establishments.
Did you have an opportunity to speak with Abbott?
I sat down next to Gov. Abbott as he signed HB390 and he asked me, "What's your story?" I looked around the room to familiar friendly faces, Rep. Jacey Jetton, Sen. Huffman, fellow advocates Joe Madison of Demand Disruption and Torey Tipton of Allies Against Slavery, but then there was a sea of people I did not know, staffers and legislators. I shared my story with him and Gov. Abbott reached his arms up to give me a hug and he whispered, "You are going to be all right. You got this." Knowing this bill could have rescued the 10-year-old me, it was hard not to get emotional. It is never too late to make a change.
Why exactly were you invited to meet the governor and take part in the signing ceremony?
Bill signings are by invitation only and typically you receive an invitation from individual legislators who author the bill, or the governor's office directly. I was invited by the governor's office by an email one Tuesday afternoon. When the email came in, I think I jumped out of my chair. Throughout the legislative session, I worked on several bills contacting legislators' offices, dropping off literature, and providing witness testimony in committee hearings in both Chambers (Texas House and Texas Senate).
The session is not filled with many triumphs. Being able to gather with advocates, survivors, legislators and staff at the capital was an honor. We are blessed in Fort Bend County to have legislators that are powerhouses in the field of anti-sex trafficking. I cannot wait to see what we will work on in upcoming sessions. By the way, I got a pen used by Gov. Abbott to sign House Bill 390 into law.
Talk to us about the Fort Bend County District Attorney's Human Trafficking Team. What's it's mission and what role do you play?
Fort Bend County District Attorney Brian Middleton created a Human Trafficking Team when he took office in 2018. His office asked me to join the team and I became chairwoman of the FBCDA Human Trafficking Team in January 2019. The FBCDA Human Trafficking Team's goals are to support and promote statewide legislation to combat human trafficking, work with city governments to enact ordinances to prevent illicit massage businesses to flourish in our communities and to provide education and community outreach to educate Fort Bend County residents on human trafficking. Our team is made up of residents from all over Fort Bend County who are passionate about protecting their communities and standing up for victims in Austin.
Does the team meet regularly? In person? Or via internet? What exactly do you guys do, stake out businesses? Watch for dangerous looking individuals?
Before COVID, our team met monthly at the Fort Bend County Justice Center but now we meet virtually on Zoom. We definitely leave the staking out and searching for suspects to the DA's investigators.
Then how does the team go about combating human trafficking?
First, our team focuses on statewide legislation. This past 87th legislative session brought the passage of nine human trafficking bills signed into law. Our team actively worked on several of these bills. A couple of them did not pass and one was vetoed. The goal will be to continue to push for their passage in upcoming sessions. One of our latest objectives is to support Elijah Rising which is the only restorative care facility for sex trafficking victims in Fort Bend County.
Does the team battle human trafficking locally or just at the state level?
Another priority of the team is to enact local ordinances to prevent illicit massage businesses from opening and to eventually close them once ordinances are enacted across the county. I, along with Joe Madison of Demand Disruption, are meeting with City Managers, City Councils and Mayors to discuss the impact of illicit massage businesses on our communities. We reveal the telltale signs of illicit massage businesses and how cities can implement a conditional use permit in their cities. Fulshear, Rosenberg, Pearland, and Meadows Place have enacted ordinances. (Richmond voted on its ordinance in August).
So team members go out and share this important information with civic and business leaders? Do you also speak directly to the public?
Yes! It's called our community outreach initiative. Our team is working on Speak Out! Sex Trafficking Talks in Fort Bend County. Our team is partnering with cities to bring presentations with subjects including: Is sex trafficking in our city? What is grooming? What are the signs of sex trafficking? How to keep our kids safe? Attendees will hear a survivor speak and the mother of a victim who was murdered by a trafficker. Our first presentation is Sept. 23 with the City of Richmond at the Travis Building in downtown Richmond.
How big is Fort Bend County's human trafficking problem?
Sex trafficking is happening in Fort Bend County. Our goals are to educate parents, students, teachers, and kids without fear mongering or stereotypes. There are many myths we see on social media and around the county. Kids are not being stolen from playgrounds. Teenagers are not being abducted from Katy Mills Mall. The real issue is if we do not acknowledge that sex trafficking exists in Fort Bend County we will fail to notice the dangers in our communities.
Maybe it's not widespread, but sex and human trafficking do take place in Fort Bend County, right?
Fort Bend County does not have strip clubs, cantinas or the track but our kids are groomed here and taken across county lines into Harris County. It is important for us to continue to educate parents and at risk youth to See Something Say Something, to be aware.
Tell us a little more about the size of the problem
Sex trafficking is inherently a hidden crime; therefore, it is difficult to quantify but it has always been around in Fort Bend County. For instance, in 1981 I was flown out on Fridays, returned on Sundays and I was sitting in school at Taylor Ray Elementary in Rosenberg, Texas on Monday mornings. The term "sex trafficking" was not defined in the Texas Penal Code until 2003.
Again, Fort Bend County does not have strip clubs, cantinas or "the strip," but we do have illicit massage businesses, sex trafficking through hotels, motels and private residences and the ever- present largest avenue of sex trafficking with no known address — pornography.
Illicit massage businesses and porn?
At least 70 known illicit massage businesses have been identified in Fort Bend County through research on review websites. A nonprofit, "Children at Risk," tracks sexual advertisements through CEASE (Cities Empowered Against Sexual Exploitation).
From January 2020 – November 2020, 6,700 sexual advertisements originated from cities within Fort Bend County.
Advertisements, for sex, in Fort Bend County? That doesn't sound good
Once a sexual advertisement is posted, the buyer answers the advertisement, the transaction is negotiated and they then agree to meet at a hotel, motel or private residence for the sexual transaction to be completed. Once Brian Middleton took office in 2018, he immediately focused on sex trafficking in Fort Bend County.
Operation Freedom occurred in July 2019 where 64 men were charged with human trafficking-related charges. Charges included promotion of prostitution, compelling prostitution, narcotics, evading, fraud, forgery and failure to identify. Five adults and two juvenile girls were rescued. In 2020 Operation Patriot focused of sexual advertisements. September 9-11 in Missouri City two homes were raided rescuing five victims and arresting traffickers. September 22-23 in Stafford 32 men were arrested at a local hotel for buying sex. November 10, 2020 Operation Liberty was a year-long investigation of a single home in Katy where victims were being groomed through social media and all of the sexual transactions were occurring away from the home. The homeowner was charged with compelling prostitution and the promotion of prostitution.
COVID has had an impact on organizing stings but sex trafficking has not stopped. It is very important that we educate our residents that sex trafficking is here and it is happening. If you see something, say something.
Certainly, you're only talking about the portion of Houston that is in Fort Bend County. Those of us who live in the western half of the county — Rosenberg, Richmond, Needville, Fulshear, Pecan Grove — don't have to worry about human traffickers, right?
Sex trafficking occurs across the county in every city regardless of race, economic status, population size, urban or country. There is not an imaginary line that traffickers do not cross. Several years back, Fulshear had an international sex trafficking ring in one of the more affluent neighborhoods. Illicit massage businesses are found in almost every single city in Fort Bend County. With the proliferation of social media, traffickers have access to our kids without ever meeting them face-to-face.
But human traffickers only prey on young runaways, drug users, or individuals who are in desperate situations, right? Good parenting and loving families prevent this sort of thing from happening, correct?
Grooming can occur without parents ever knowing. This is why becoming aware of domestic sex trafficking is important. By becoming aware, we can be proactive in protecting our own children and children in our communities, our cities, and our county. With knowledge comes responsibility. With the proliferation of social media perpetrators no longer have to physically meet kids face to face to groom them. Parents can only do so much to protect kids but it is equally important that we give kids the tools to protect themselves. We must get educated and educate our kids.
It is all about communication, open communication with our kids at all ages.
What advice would you give parents?
Teach your children their biological body parts at a very young age. Be open and honest with them about who can and cannot touch them.
Sex traffickers can be any race, age or gender. They have access to youth either directly or online. Traffickers will look for kids who are runaways, in the child welfare system, or are struggling whether it is the loss of a boyfriend or not making a sports team. Traffickers will look for a need and they will fill it.
Communicate with your children about what they are doing online.
Consider online safety tips. 1. No devices in their bedrooms, 2. Have a digital curfew, 3. Check your kids' phones regularly for interactions, 4. If working on home computers have quick visual access to their screens., 5. Speak regularly with your kids about what they are doing online and their interactions with others.
Anything else parents should know?
Gaming safety is important. Many systems have "cross-play" where they communicate with cell phones. Keep consoles in easy-to-supervise locations. Set rules on how long your child can play. Remind children to never give out personal information or agree to meet offline.
What if one of our readers suspects they stumbled upon a case of human trafficking, say, at a motel or even their neighborhood?
If you suspect sex trafficking in Fort Bend County. David Hall is the lead investigator for human trafficking in Fort Bend County. If someone sees something suspicious that is NOT an emergency, send an email to david.hall@fortbendcountytx.gov. If you believe someone is in immediate danger, call 9-1-1.
Where can our readers go online (or at the library) to find more information on this important topic?
The National Center for Missing and Exploited Children (NCMEC) created NetSmartz, an online safety education program covering online exploitation, sextortion and other topics. It is divided into two age groups: elementary and middle/high school. (https://www.missingkids.org/netsmartz/home). The website includes resources for parents including presentations, tip sheets and classroom activities.
A Houston-based nonprofit, Street Grace has a download titled "Keeping Kids Safe in the Digital Age" (https://tinyurl.com/KKSIDA). This booklet is a workbook for parents and middle schoolers and topics include Social Media and Gaming Apps, Pornography, Sexting, Sexual Exploitation, Sex Trafficking, and Sextortion.
Child Sexual Abuse Books (books for parents to read to children) https://tiny.one/csabooks
Sex Trafficking Books (books for parents to read) https://tinyurl.com/sextrafffickbooks
Follow Facebook group "Their Voice in Texas" to help advocate for sex trafficking survivors and know what is going on in fort bend county.
Rhonda Kuykendall is married with two children. She is currently working on her bachelor's degree in social work.