Lamar Consolidated ISD has four different bond proposals on the ballot this month, which includes a $93.7 million bond for a new football stadium for the district.
Proposition C, which is the bond proposal solely for the new stadium, is turning some heads within the district.
LCISD needs a new football stadium soon, with five high schools using Traylor Stadium now, and a new school, Randle High School, set to begin varsity football in 2023. If a new stadium isn't built, the district may have to pay other districts to use their facilities to host an LCISD team.
In June, the LCISD Citizens' Bond Advisory Committee submitted to the board of trustees a proposal for a new football stadium in the neighborhood of $82.7 million. Another $11 million is added to the bond proposal for purchase 100 acres of the land for the new stadium.
District officials have not released any possible locations for the stadium, and the district has said that there are no designs for how it would look.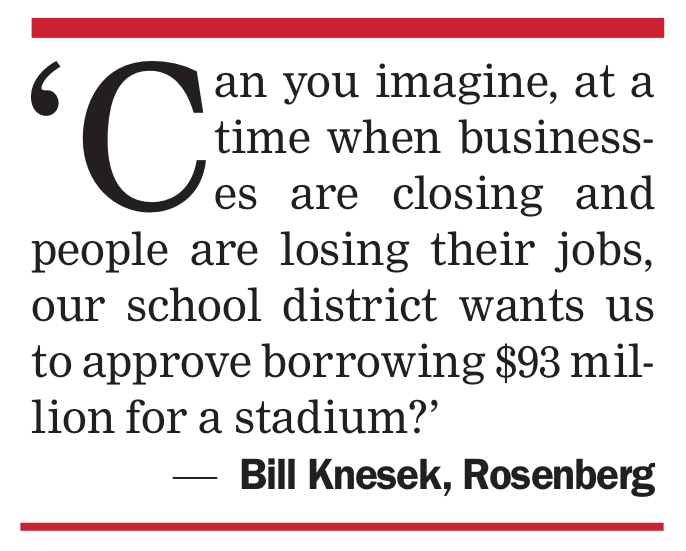 But the $82.7 million price tag would make the new stadium the most expensive high school football stadium in Texas. Katy's Legacy Stadium was built in 2017 with a cost of $72 million. In the Dallas-Fort Worth area, McKinney ISD built a new stadium in 2018 at $70 million.
Other Houston-area stadiums that were recently built are Alvin ISD's Freedom Field, built in 2018 at $41.4 million. Clear Creek ISD built Challenger Columbia Stadium in 2016 for $39 million.
"Can you imagine, at a time when businesses are closing and people are losing their jobs, our school district wants us to approve borrowing $93 million?" asked Rosenberg resident Bill Knesek.
Shannan Stavinoha was a part of the committee and said over the summer that the initial costs are subject to change, and could be lowered.
"It's a compare-and-contrast thing based on construction cost estimates with inflation estimates based on materials costs land purchases," she said. "All of those things went into coming to a figure of what they estimate it could cost for the things that we need and would need to have an additional stadium."
The estimated cost of the new stadium is quoted if it is equipped with the same number of facilities, restrooms and running track that is currently at Traylor Stadium.
Also adding to the cost of the new stadium is the inflation of building materials, which have skyrocketed since the COVID-19 pandemic began.
PBK, the construction firm LCISD and other Houston-area school districts use for building school facilities, told the bond committee that it estimates inflation costs on construction could rise to 15% in 2022, and will continue to rise.
The inflated construction costs also affects the other three bond LCISD proposals.
The first bond proposal, Proposition A, is for construction of new buildings and improvements of existing ones. The new facilities include a new high school, junior high school, middle school and three new elementary schools.
The new high school, which would be LCISD's seventh high school in the district, would relieve overcrowding that will happen at Fulshear High School, despite the school being three years old. It will also affect attendance issues at Foster and Lamar Consolidated high schools.
Proposition A would also help build a new transportation center and a station for the newly created LCISD police department. The cost for Prop A is over $643 million.
Proposition B is only for a pair of practice swimming pools; one to replace at Terry High School and another to build at the new Randle High School. The bond is priced at $31.9 million.
Proposition D is for the purchase of new computers, laptops and iPads for students and staff, which is priced at $21.6 million.