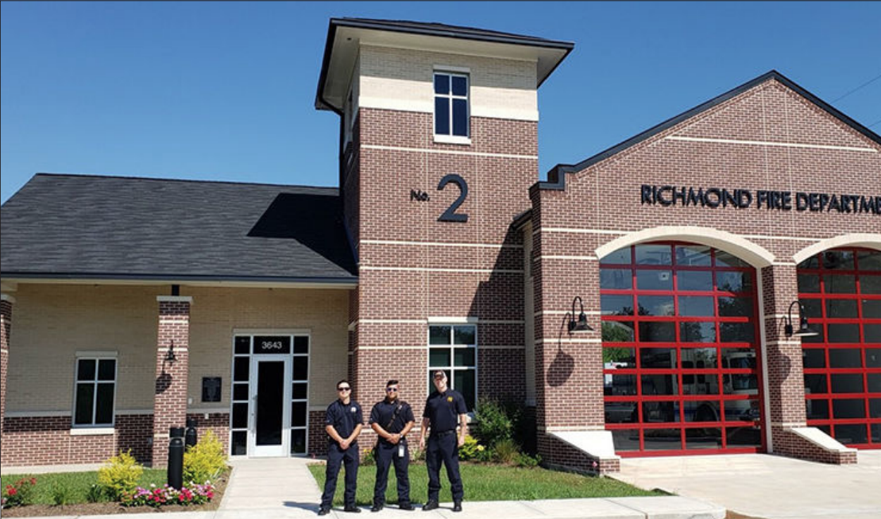 While the COVID-19 pandemic continues to complicate matters for everyone, the city of Richmond adjusted to get its new fire station opened.
Richmond's Fire Station No. 2 opened on May 24 at the intersection of Richmond Parkway and Ransom Road. The new station has been a part of the city's strategic plan for several years, and while the pandemic presented some challenges, the station has come to fruition, said Richmond fire chief Mike Youngblood.
The station is built to serve the newer communities in the eastern part of the city that has seen a lot of new homes in the area.
During January and February of this year, construction of the station took less of a priority as the coronavirus tied up the city's resources. But after a meeting with the project team, the architect, the contractor and city officials, it was decided not to rush the project and provide a safe work environment for the construction crew.
"I am proud of the collaboration of the team to work together to manage the project and not hold out unrealistic expectations during such a difficult time," Youngblood said.
The contractor had the challenge of coordinating the construction workers with new guidelines such as social distancing and wearing masks.
"These measures while necessary did seem to slow the progress of completion," Youngblood said. "We had three main goals in mind: Primarily to work to provide a safe working environment for staff and workers, ensure the structure is esthetically appealing and compliments the community, and to safeguard the city's investment."
As a part of the Strategic Plan, this station was designed and constructed to serve a rapidly growing and densely populated area of Richmond. Although the station is closed to the public due to the pandemic, many have driven by to see the new station.
"The station is especially nice during and after sunset when the tower is lit in blue to recognize all who serve to keep us safe by providing essential services and practicing safe measures," Youngblood said.
The city even posted a video showing the new station, showing the station's amenities for firefighters, including housing two fire trucks and a boat for flood rescue. For the firefighters, the station has a large kitchen and living room area with a big-screen TV, along with bedrooms which allows the station to be staffed 24 hours a day.
Once the threat of the pandemic subsides, the city has plans to have a grand opening ceremony that will offer the opportunity for citizens to tour the station and meet the crews serving their community, Youngblood said.