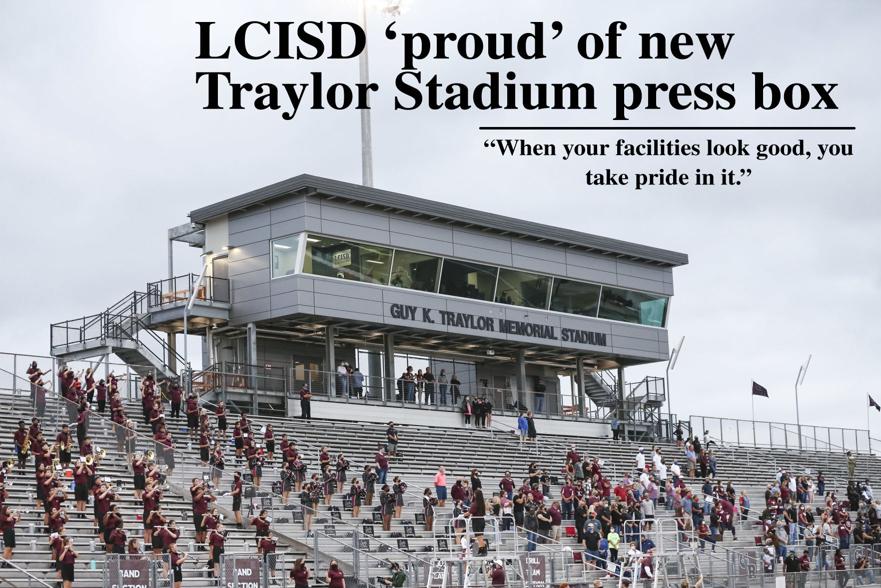 A few final details were being worked out ahead of Rosenberg's first varsity football game since late November Thursday night.
A few more weeks of work are needed to complete the overall project, but the newly renovated press box at Traylor Stadium was ready for action on Thursday night when the George Ranch High School football team played Crosby.
The $4.16 million project razed the 60-year old original press box and added a view deck at the top of the home stands while constructing a new press box. The new building included six separate areas for coaches, media game officials and a meeting room for administrators and staff.
"Coaches will tell you, 'If you look good, you play good,'" Lamar Consolidated ISD Athletic Director Nikki Nelson said. "We've applied that philosophy to our facilities.
"When your facilities look good, you take pride in it. You take care of it. When you take care of it, you respect it.
"My hope is that same thing carries into our community, and our kids take it as a part of who they are. They understand that the people that helped pay for this facility are proud of them."
The significant additions include an elevator, lavatories and separated spaces for each group working during the game.
The walls are covered in pictures of LCISD athletes, performers and students that take part in events at Traylor Stadium. Each photo is in black and white, with the school color popping out.
"I'm very proud of the things that LCISD does," Nelson said. "That our athletes do. That our coaches do. That our students do.
"So I want them to be proud of where they play. I want them to walk into this stadium and have a sense of pride. I want them to walk into their gyms and have a sense of pride."
"It's amazing the tiny things that we've been able to do that have made them puff out their chest and the coaches to say, 'Ooooo, this is nice.'"
The project also included handrails for the home stands and a new speaker system that now sits over the top of the scoreboard. The view deck will have space for disabled patrons while also allowing teams and performers to record the contests at Traylor.
The project will not be completed until next month, with the facade completion and minor detail work still needed.
"We are a little delayed," Nelson said. "We hoped to have this project done in the early part of August. We had hoped to start the football season here with the original start date. In some ways, we had that hidden blessing of having the football season delayed because it allowed us to get our press box finished.
"In the end, everything happens for a reason."
The marrying of the old and new can be seen just outside the elevator; the deviation plaque for the original press box is mounted on the wall before heading up to the new press box.
The new press box was one of the first major projects for Nelson and her staff.
"I keep a binder of all the construction projects we have. I flipped through it and found this graph-paper drawing that (assistant athletic director Devin Gabbard) and I worked on," Nelson said. "It was two years ago now when we started talking about a new press box.
"And it's this rectangle where we were spacing out how many square feet we had and what needed to be in it.
"Now getting to walk people through and thinking about how we came from this map pencil drawing to standing here now. It looks a lot better in person than it did on my graph paper.
"Knowing that it started as this idea and all the people that have been involved in making it happen, and watching that idea come to life has been great.
"I just hope everyone that gets to see it, be in it, or be affected by it is excited as we are."