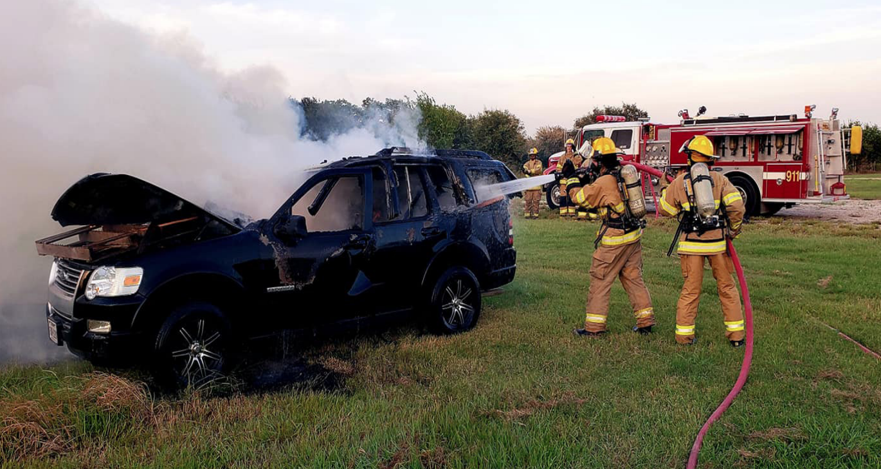 The Fairchild Volunteer Fire Department is often in the news, responding to fires in the community or helping other fire departments battle blazes in their communities.
The Herald asked the fire department 10 questions. Here's their response:
Who's the fire chief at Fairchild VFD? 
The chief of Fairchild VFD is Josh Shed. The assistant chief is John Lewis. Other administrators are Angie Esposito, president, Kyle Powers, vice president, and Donna Brewer, treasurer.
Is Fairchild VFD totally volunteer, or are some paid staff? Our department is all volunteer.
We currently have 20 members. Along with the board we also have other members such as Shane Kelley, Tyler Powell, Bert Urbanek, Landon Stratman, Cameron Lutz, Michelle Betenbaugh, Seth Farquhar, Kenneth Smouse, Aiden Heaps, and Schaddie Fenner.
How big is your coverage area? That is to say, how far out does Fairchild VFD battle blazes before it enters another fire department's domain?
We cover 75 square miles.
Do you work with other fire departments?
We have mutual aid agreements with Needville Fire Department, Pleak Fire Department, Rosenberg Fire Department and Richmond Fire Department. (A mutual aid agreement calls for each fire department to assist the other if needed.)
How often do firefighters meet and train? If so, where?
There is a meeting every Wednesday night at the fire station at 7 p.m. The address is 8715 Fairchild Road. In addition to our business meeting, there are two trainings per month, one fire and one medical. The other Wednesday is usually a work night.
What kind of equipment does Fairchild VFD have on hand?
We are capable of hauling 6,000 gallons of water. We have two engines, one tanker, a brush truck, and a rescue truck.
Can someone new to the community volunteer? If so, how? What could they expect as far as training goes?
If someone would like to volunteer, we ask that they come to the station and fill out an application. They are required to attend two business meetings, two fire trainings, and two medical trainings before they are voted on for membership at their third business meeting. They will be asked to read and sign an agreement to abide by the bylaws of the Fairchild VFD. Call 979-793- 6676 for more information or email to fairchildvfd@gmail.com.
How is Fairchild VFD funded?
The fire department is helped with funding from the county for calls made in the county, fundraisers, donations, grants, and the village.
Does the Fairchild VFD ever honor its members? And, if so, what for?
Any awards that are given take place at our members Christmas party. Adult Top Responder for 2019 was Landon Stratman. Junior Top Responder was Aiden Heaps. Top Raffle Ticket Sales was Kenneth Smouse.
Talk to us about the department's philosophy when it comes to protecting and serving the community.
Our philosophy is to serve our community in the best way that we possibly can along with saving lives and property.