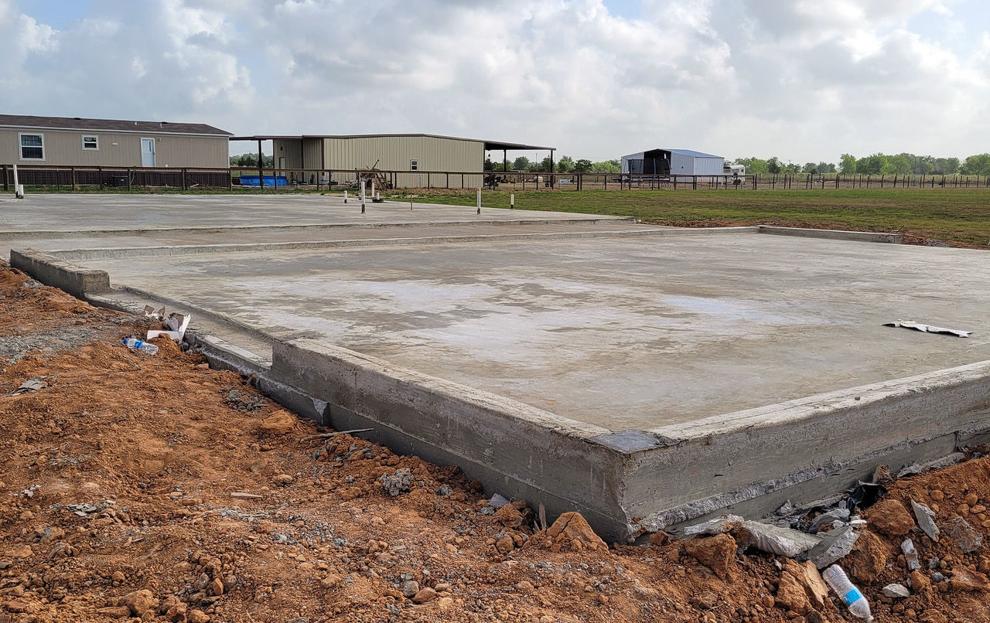 Nearly two dozen families in a six-county area have been left with incomplete homes, unexpected liens, stacks of bills, and shattered dreams after an East Bernard homebuilder abruptly closed his business last month.
David Pfuntner of Pfuntner Custom Homes sent a letter on July 25 to customers, subcontractors, creditors, and others announcing the closure, leaving each of them in a lurch.
"The management of Pfuntner Custom Homes, LLC ("Company") has determined the Company can no longer financially sustain ongoing business operations. Accordingly, the Company has determined to cease business operations as of this date," he letter says.
Pfuntner has reportedly put his own homes in East Bernard and Conroe up for sale and left town.
Steve Kyles of Rosenberg, one of those affected by the closure, said he approved escrow draw requests and Pfuntner Custom Homes received money for certain materials, but he later learned that Pfuntner did not pay many of the material suppliers after receiving the money. Now, some of those suppliers have sent notices saying liens have or will be filed against his home.
In a Zoom call with several impacted property owners, variations of the same story played repeatedly – unfinished homes, unpaid subcontractors, property liens, etc. People affected by the closure are in Wharton, Fort Bend, Austin, Brazoria, Colorado, and Fayette counties. Unaccounted funds reach well past $1 million.
"We signed a contract with them on July 14. July 15 was the last time we have spoken with them," said Matthew Dye, who, with his wife Kristin sold their home so they could build in Colorado County. Some work was done July 18-19, but then the project was abandoned on their home. They reported it to the sheriff's office.
"Right now we're trying to find a different builder," Dye said.
Wesley and Tina Sumner signed a $300,000 contract and put $41,000 down for a barndominium they wanted built in East Bernard. They said three draws have been made on the escrow account totaling $67,000 and all they have to show for it is a concrete slab. They also paid Pfuntner $7,000 cash for appliance upgrades.
"We're living in a camper on the property, three of us, two dogs and a cat," Tina Sumner said.
Amy and Chris Kulcak of East Bernard contracted with Pfuntner Custom Homes for some remodeling work that remains unfinished.
"Pfuntner Homes left many of us homeowners high and dry. We didn't see it coming," Amy Kulcak said.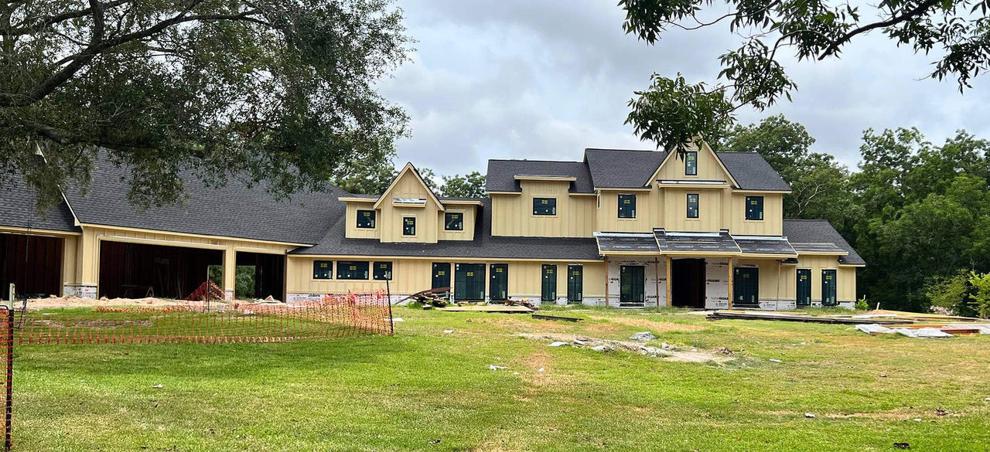 Katlyn Rodriguez was more fortunate than her peers in that her home was mostly finished. She closed on it, but then the problems started.
"I started getting bills from subcontractors," she said.
Rodriguez claims Pfuntner never paid the subcontractors. To date she has been billed $40,000, "and they're still coming in."
"He didn't finish the punch list (small repairs and cosmetic fixes) and we've lost the warranty," she said.
Megan McClay contracted with Pfuntner Custom Homes to build a modest house in Needville. She said he asked for $2,500 upfront "in good faith" to start the project.
"He took $2,500 and never used it for anything," McClay said.
What she does have is architectural designs for her home and an unpaid bill for that.
Hector and Jessica Medrano of Houston were having a home built in Angleton.
"The house is 80% complete," Hector Medrano said.
In addition to $540,000 for their home, they added $70,000 each for a pool and a barn. The barn was never started and the pool, which went up in cost to $88,450, is just a hole in the ground with rusty rebar in it.
"I kept pestering him to pay the pool guy … but he never paid," Hector Medrano said.
The disappointment and frustration weigh heavy on the homeowners.
"That was supposed to be our forever home," Jessica Medrano said. "It was supposed to be done by September."
The Medranos, like many others, went to seek help from law enforcement in their proper jurisdictions. The Medranos were told it was a civil matter and were sent back and forth between the sheriff's office and district attorney.
In Wharton County, a case was opened with the sheriff's office.
"I can only comment to that we are investigating," Sheriff Shannon Srubar said in an email.
Many of the property owners have hired a lawyer or are in the process of doing so.
Among them are the Kyles family in Rosenberg. According to legal action filed by the Kyles, they paid Pfuntner more than 90% of the agreed upon contract price, but Pfuntner left their home less than 50% complete. To add insult to injury, Pfuntner filed a lien against the Kyles' home, then sued them, claiming even more money was due.
"It was supposed to be a remodel and it ended up being a reconstruction," Steve Kyles said.
He said Pfuntner tore down so much more of the home than he was supposed to that it became a rebuild and drove the cost up over the contracted price of $650,000.
In their response to Pfuntner's lawsuit, the Kyles have countersued the company, and have sued both of its owners, David and Victoria Pfuntner. The allegations in their countersuit include breach of contract, fraud, and the allegation that the Pfuntners took money paid by the Kyles but failed to pay that money to the companies which supplied labor and materials for the construction of the home.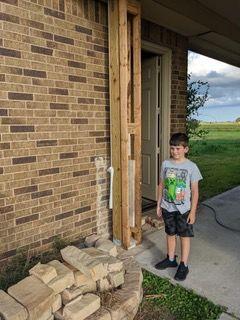 The Pfuntners
Multiple attempts to contact Pfuntner and his wife and business partner Victoria "Tori" Pfuntner have been unsuccessful. Their phone numbers have been disconnected, emails have been unanswered, their website and social media pages have been taken down, and emails to an attorney and another business partner have been unanswered as of press time.
In his letter to his creditors, David Pfuntner expressed regret.
"We sincerely regret the effect this cessation will have on the Company's customers, vendors, suppliers and other creditors," he wrote.
In the letter he says, "We have engaged legal counsel in relation to the path forward. Unfortunately, it appears that liquidation of the Company will likely be necessary."
That liquidation is reportedly a Chapter 7 bankruptcy filing, which has not happened as of press time.
A website for BSR Properties Holdings, LLC still has a page dedicated to Pfuntner Custom Homes.
It says the Pfuntners "have actively been in the industry for over 15 years and have built over 40 homes in East Bernard alone. Since its inception, the company has grown tremendously and continues to exceed the expectations of clients. Pfuntner Custom Homes was built on the notion that quality craftsmanship and superior customer care is what sets you apart."
It says that David's brother Jeremy Pfuntner is the lead project manager and that their father, Dennis Pfuntner, works with them.
"The couple has strong family roots in the East Bernard area and enjoy spending time with their loved ones. Pfuntner Custom Homes does not consider this a job, but more so a way of life," the website says.
Pfuntner, 32, was born in Bryan. He played baseball at Houston Baptist University where he earned a bachelor's degree in kinesiology and exercise science. Pfuntner Custom Homes was incorporated in 2017.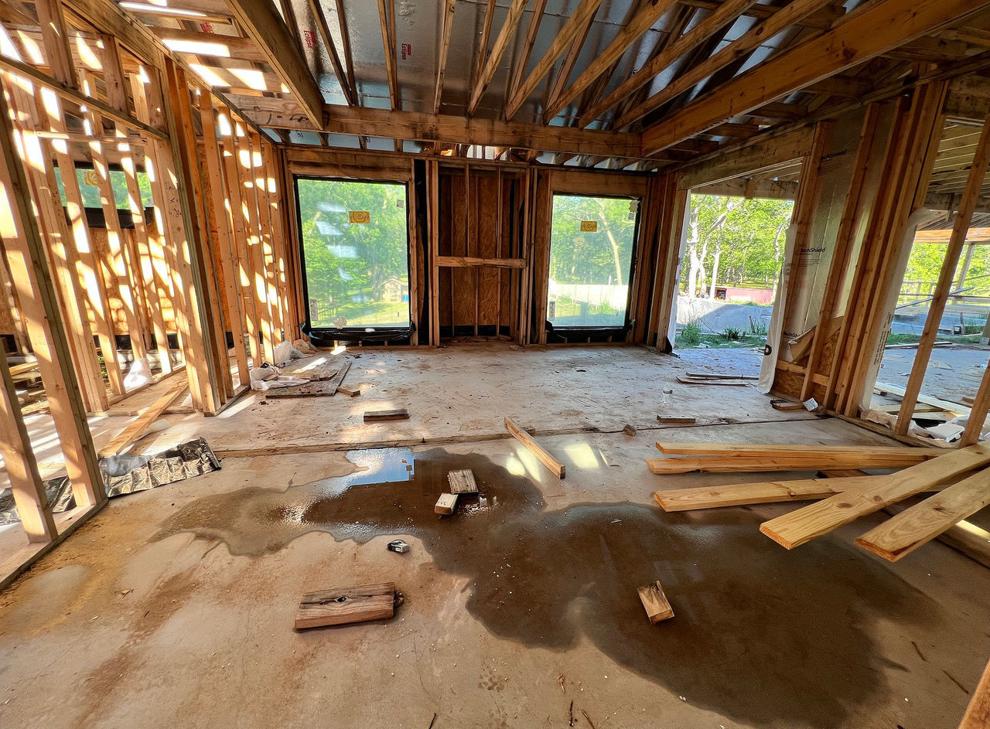 A history and legal troubles
Initially, each person involved thought they were alone, but as word got out on social media a loose coalition of alleged victims formed. In addition to the lawsuits filed by the homeowners who contracted with Pfuntner Custom Homes, a search of lawsuit records found that Pfuntner Custom Homes and its owners have been sued by several lenders from the East Coast. According to those records, New York based lender ByzFunder issued a summons notice of default seeking a judgment of $240,355. On May 18 Pearl Delta Funding filed for a judgment of $312,057. Two days later Global Merchant Credit filed for $43,838.40. On July 27, Colbalt Funding filed a summons and complaint seeking $147,075.
At it again?
Also included in records kept by the families and verified online are indications that the Pfuntners may have had plans for new business ventures prior to closing Pfuntner Custom Homes. On Jan. 1, 2022, the couple formed a new company, Pfuntner Properties, LLC with a registered address of 9900 Spectrum Drive, Austin. Thirty days later they went on a ski trip to Angel Fire Resort in New Mexico. On June 6, David Pfuntner and Siddharth Bahl formed S&D New Age Builders, LLC based out of Houston.
The involved homeowners are concerned that the same things that happened to them could potentially happen to other unsuspecting clients unless something is done. Steve Kyles said David Pfuntner is outgoing and can be very persuasive.
"He just kept saying 'trust me,'" he said.
Bankruptcy filed
The East Bernard-based homebuilder ended up filing for chapter 7 bankruptcy.
In the second of three creditor hearings held by teleconference in the last two months, David Pfuntner, owner/operator of Pfuntner Custom Homes, said he regrets the harm his company's failure caused his clients, suppliers, and contractors, but claims he didn't have a choice.
"Okay, and so you do understand that you left all of these homeowners high and dry with uncompleted homes and owing suppliers significant amounts of money?" one of his creditors asked him.
"I do understand that, yes. And I feel horrible about it," he said.
The hearing was conducted Oct. 19 by bankruptcy trustee Ronald J. Sommers. Throughout the more than 90-minute hearing, Pfuntner reiterated that he fought hard to keep his company afloat but floundered under massive debt and rapidly rising costs.
"I truly believed all the way to the end that I was gonna get out of it," Pfuntner said. "I mean, I ran my company successfully for six and a half, seven years. I thought, 'hey, I'm gonna get out of it,' and it just didn't work."