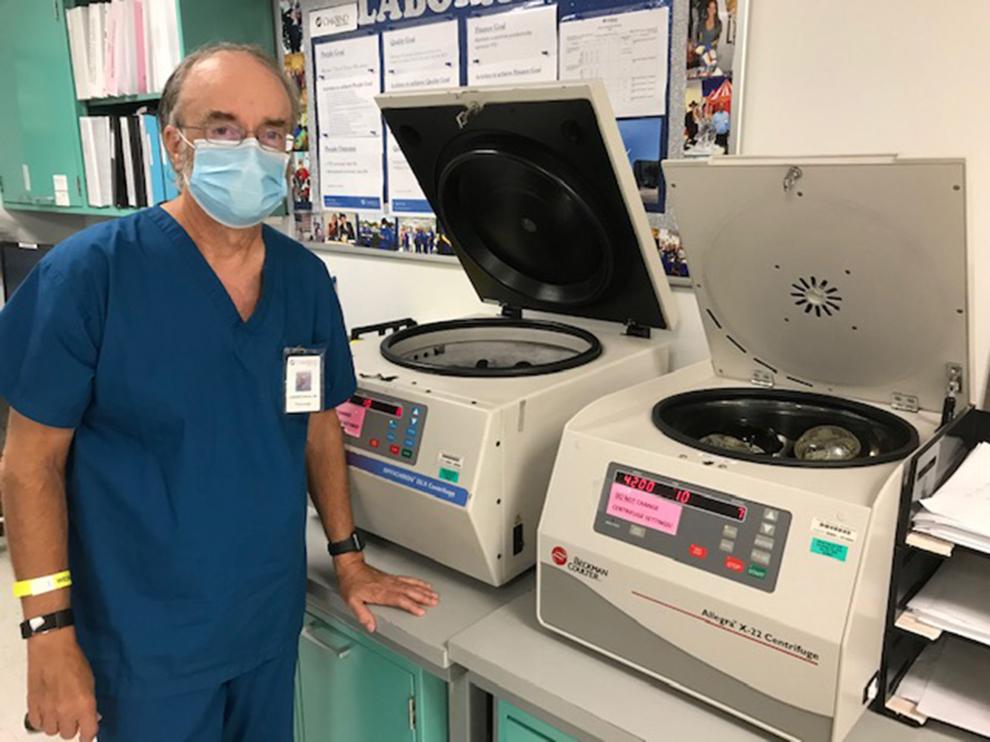 A new experimental treatment that some doctors are using to treat people with severe cases of COVID-19 is coming to Fort Bend County.
The OakBend Medical Center has been approved to be a part of the Mayo Clinic's convalescent plasma therapy trial.
The Gulf Coast Regional Blood Center supplies blood products to OakBend is participating in the trial to determine if convalescent plasma is effective for treating COVID patients.
The use of plasma therapy to treat COVID-19 can be perceived as a lifesaving treatment for patients considered to be having serious or immediately life-threatening COVID-19 infections.
Plasma therapy is not a new treatment; it has been around since the 1800s. But with the coronavirus pandemic, this historical treatment has resurfaced to fight the spread of this disease.
The belief surrounding this form of treatment is the blood of a recovered coronavirus patient contains antibodies that can recognize and fight pathogens that have caused the disease. Plasma is separated from whole blood and administered to patients currently fighting COVID giving the immune system the chance to reject the pathogen more efficiently.
In the past, doctors have used this therapy to treat bacterial and viral infections such as forms of pneumonia, meningitis, measles, and diphtheria. Now that COVID-19 exists on every continent except Antarctica, the medical field is exploring all options to slow down and hopefully end the pandemic.
The Mayo Clinic's website provides for any hospital to register to participate in the trial by filling out an application. OakBend has been registered to receive the plasma for treatment.
"So far, we have had no orders for convalescent plasma at OakBend," Dr. Ed Uthman, OakBend Board Member and Laboratory Medical Director said.
"There is a possibility that it has not been ordered yet is because the only prospective, controlled study of convalescent plasma has shown no therapeutic effect.
"At this time, this is considered experimental therapy only. No consensus group or government agency has recommended use of convalescent plasma for treatment of COVID."
Dr. Uthman pointed out that in a recent article in The Journal of the American Medical Association that states:
"Treatment with plasma obtained from patients who have recovered from viral infections was first reported during the 1918 flu pandemic. A first report of five critically ill patients with COVID-19 treated with convalescent plasma containing neutralizing antibody showed improvement in clinical status among all participants, defined as a combination of changes of body temperature, Sequential Organ Failure Assessment score, partial pressure of oxygen/fraction of inspired oxygen, viral load, serum antibody titer, routine blood biochemical index, ARDS, and ventilatory and extracorporeal membrane oxygenation supports before and after convalescent plasma transfusion status."
Meanwhile, the Mayo Clinic is seeing positive early results of in an early study of the plasma treatment. More than 23,000 people in the U.S. have received plasma transfusions so far.
And the safety report found that less than 1% of patients who received plasma had serious side effects.
A 22-year-old patient at the Harris Health Lyndon B. Johnson Hospital in Houston received plasma transfusions more than a month after contracting COVID-19. She now shows no ill effects of the virus.
"The theory behind the therapy is that essentially you're giving someone some immunity while their body builds up its own and it kicks in," said Pamela Berens, MD, professor in the Department of Obstetrics, Gynecology, and Reproductive Sciences at McGovern Medical School at the University of Texas Health Science Center in Houston and the chief of obstetrics and gynecology at LBJ Hospital.
"I can't say for sure that the plasma therapy is the reason for her rapid recovery, but I believe it helped."