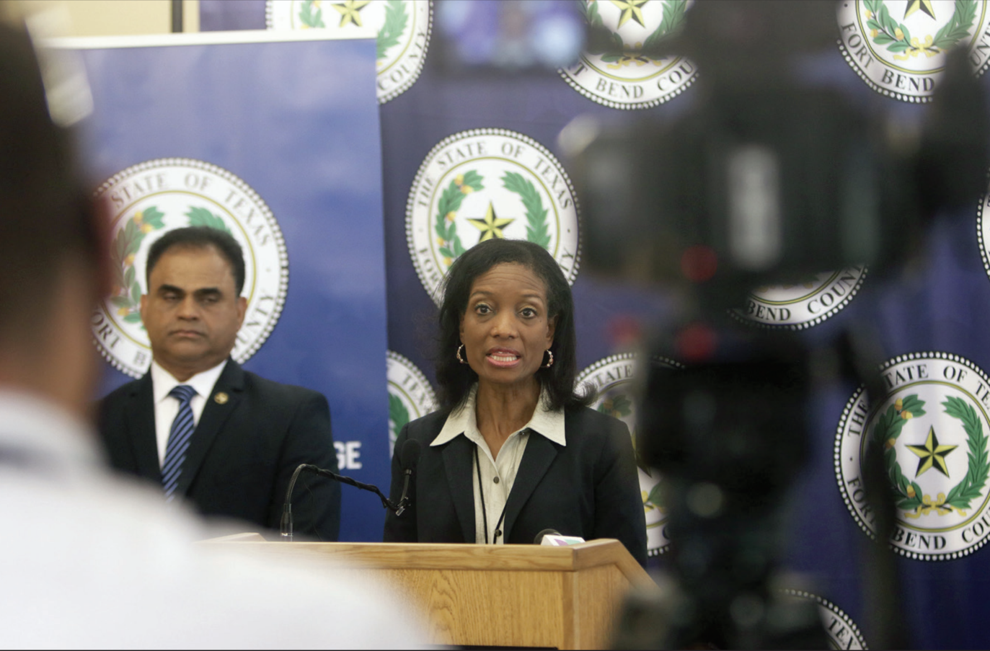 Fort Bend County lowered its Covid-19 threat level to yellow — the lowest level — on Friday, thanks in part to a growing number of residents getting vaccinated, authorities reported.
Earlier this fall, the county had lowered the threat level from red — the highest — to orange — moderate because of dropping Covid hospitalizations and daily case count.
Fort Bend County Judge KP George told reporters Friday that he decided to lower the threat level to the minimum level after consulting with health authorities and looking at Covid data countywide.
Twenty-one months into the pandemic, the data shows more and more people getting vaccinated, and fewer and fewer catching the virus or ending up in the hospital battling Covid, George announced.
"Today, we are seeing good signs," he announced.
"A few weeks ago, I let you know we were lowering the threat level from red to orange. Today, we have even better news...based on our Covid-19 positive case numbers and ICU visits and hospitalizations, which have continued to decrease over the past few weeks."
He attributed much of the good news to the efforts of the Fort Bend County Health & Human Services Dept. and other county stakeholders to combat the spread of the virus.
George said the lower threat level is great news going into the holiday season, but warned residents that the lower threat level does not mean the virus is gone.
He strongly recommended residents continue to wear masks, social distance, and practice good hygiene to prevent themselves from catching the virus and spreading it, as well as get tested and vaccinated.
George also cited state Covid data for Fort Bend County, which revealed;
■ 78% of Fort Bend County residents 5 years old and older have had at least one dose of vaccine.
■ 70% of residents 5 and older are fully vaccinated, meaning they have had at least two shots.
■ 98% of residents 65 years old and older have had one dose of vaccine.
■ 94% of residents 65 and older have been fully vaccinated. Dr. Jacqueline Minter, director of the Fort Bend County Health Authority and director of the Fort Bend County Health & Human Services Dept., joined George at Friday's news conference.
She cited data showing that those who are vaccinated are less likely to be hospitalized with Covid.
"The Texas Department of State Health Services released a statement earlier this week, reporting that Texans who are not vaccinated against Covid-19 are about 20 times more likely to suffer a Covid-19 associated death and 13 times more likely to test positive than people who are fully vaccinated," she said. "This report states that these results are based on data from Sept. 4 to Oct. 1 and shows that vaccinations have a strong protective effect across all age groups."
Both Minter and George reminded residents that the county still provides free Covid testing and offers free Covid vaccinations. To find a location for free testings and vaccinations, go online to fbchealth.org.