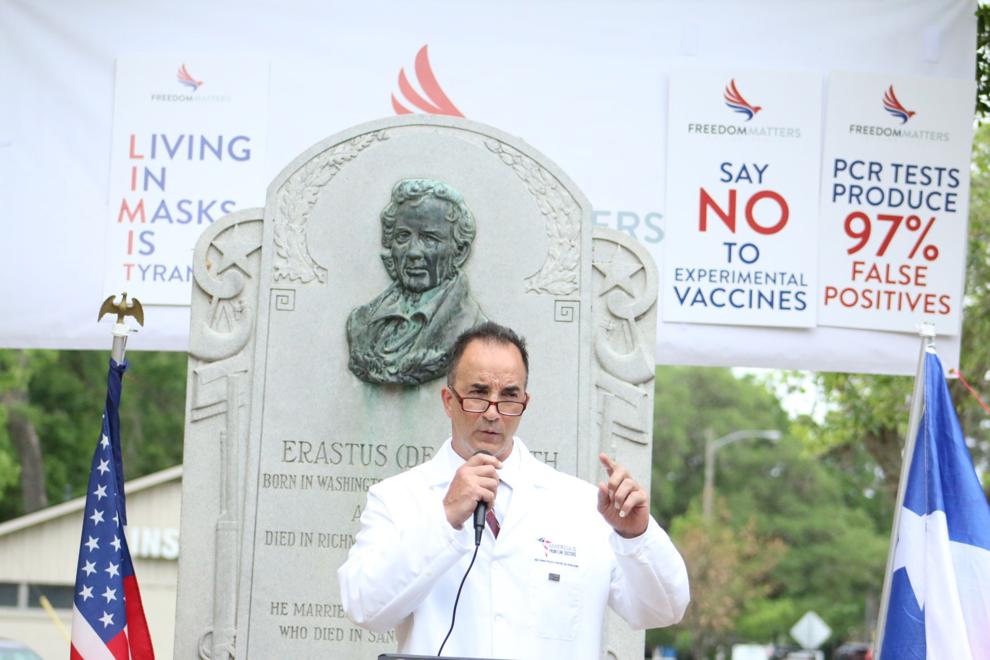 While the majority of Fort Bend County residents have been inoculated against COVID-19 or are in the process of being vaccinated, some people question the need for restrictions and vaccinations.
The Freedom Matters Action Group held a rally at the Fort Bend County Courthouse on Tuesday afternoon. About 20 of its members stood outside in the cloudy but muggy weather to hear speakers rail against lockdowns, masks, and how the virus is not as deadly as it has been reported.
One of the speakers, Dr. Richard Urso, a Houston ophthalmologist, claimed that masks do not work in stopping the spread of the virus, arguing that masks weren't made to work against viruses. But several medical experts, including those at the Centers for Disease Control, have debunked his statement.
Also, the CDC changed its mask guidelines on Tuesday, allowing those who are fully vaccinated to forgo mask-wearing in certain outdoor activities, such as eating at a restaurant or small meetings with others.
Urgo also promoted the use of hydroxychloroquine to treat COVID-19 patients. Urgo was accused of malpractice when he used the controversial drug on three patients last year, but the Texas Medical Board dismissed the charges.
Freedom Matters is an ultra-conservative group that has been protesting several school districts in Fort Bend and Harris counties for the last three months.
The group protested a Lamar Consolidated ISD board meeting last month, and the group was denied access to Monday's Fort Bend ISD meeting because the district had a strict mask mandate in their building.
Charles Titus, the group's spokesman, said that he came to the county courthouse to get County Judge KP George to help get the school districts — as well as other county buildings — to lift their mask mandates, claiming that masks don't work.
Gov. Greg Abbott lifted mask mandates across the state, except for some businesses, and gave school boards the choice to lift their mandates.
Abbott also lifted lockdowns and has banned vaccine passports.
"The county judge can easily intervene. The county judge has a lot of power, which is something people don't realize," Titus said.
However, it should be noted that county judges cannot override executive actions from the governor.
But another part of the rally was to defend those that choose not to take the vaccine, even though the Federal Drug Administration and the CDC have both approved all three vaccines for emergency use and were tested for public use.
"There's danger with mRNA vaccines," Titus said. "I'm not a doctor so I can fully go into it, but it is a dangerous vaccine because it deals with mRNA."
The CDC says that while mRNA vaccines are new, they are not unknown and were rigorously evaluated for public safety.
Meanwhile, Fort Bend County has 57.3% of its population with at least one shot of the vaccine, while 42% are fully vaccinated, according to the Texas Department of State Health Services.
But Titus said that while he has some doubts about the vaccine, he fine with those who want to get vaccinated.
"I'm not against those who want to get the vaccine, it just should be a choice," Titus said.