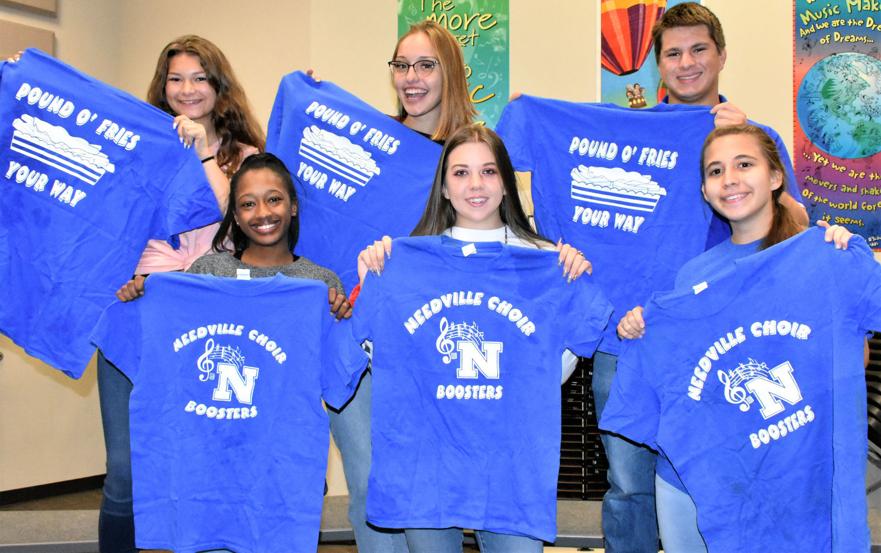 A Fort Bend County Fair favorite returns as the Needville Choir Boosters' booth in Building B at the Fort Bend County Fair opens Friday.
The-is the fourth year the organization will be offering its popular pound o' fries, fresh-cut on-site and served piping-hot, and Chick-fil-A sandwiches and chicken nuggets. There will also be plenty of ice-cold Coca-Cola products to quench fair-goers' thirst.
Chick-fil-A will deliver its goodies fresh and steaming-hot every two hours, and more often if needed.
Choir Director Dr. Rodney Bell said the slogan for the booth is "Fresh-cut fries your way" because each order of fries is made from a fresh, 1-pound potato.
More than 200 students and their parents are looking forward to all the fun and hard work.
"Parent volunteers will once again run the fryers," said Bell, "and the students will wait on people and do the rest. That includes washing, peeling and cutting all those potatoes."
Toppings include everything from parmesan to chili, jalapenos to sour cream.
Among the booth's most popular offerings are: Southern Country Fries, topped with red-eye (sausage cream) gravy; Baked Potato Fries with cheese, chives, ranch dressing and bacon bits; and Not Yo Momma chili cheese fries with jalapenos.
Most of the proceeds from the booth are for scholarships for graduating Needville High School seniors, with some also used to purchase equipment and help with other costs associated with choir performances and contests.
"Our main goal is to be able to present our choir students with more scholarship money for college," said Bell. "Our loyal Choir Booster volunteers also raise funds by manning the concession stands for all Needville High School baseball and softball games, and will be taking tickets at the Needville Harvest Fest on Oct. 19."
Assistant Director Stanley Petrisky said the proceeds also help ensure Needville ISD choir programs at every level, from the elementary school through high school, have what they need to make the program a continued success.
"We're so excited about returning to the fair," he said.
"This is a great opportunity for us and something we really look forward to each year.
"We hope everyone enjoys the fair and stops by our booth to support the choir and enjoy some delicious food."