Pleak City Council meeting begins at 7 p.m. Wednesday, June 17, 2020. The Pleak City Hall is located at 6621 FM 2218 and FM 2218 near the intersection of FM 2218 and Highway 36 South. Meetings are always open to the public.
Fort Bend County ESD #6 will have a special meeting on Tuesday, June 16 at7 pm. Public welcome.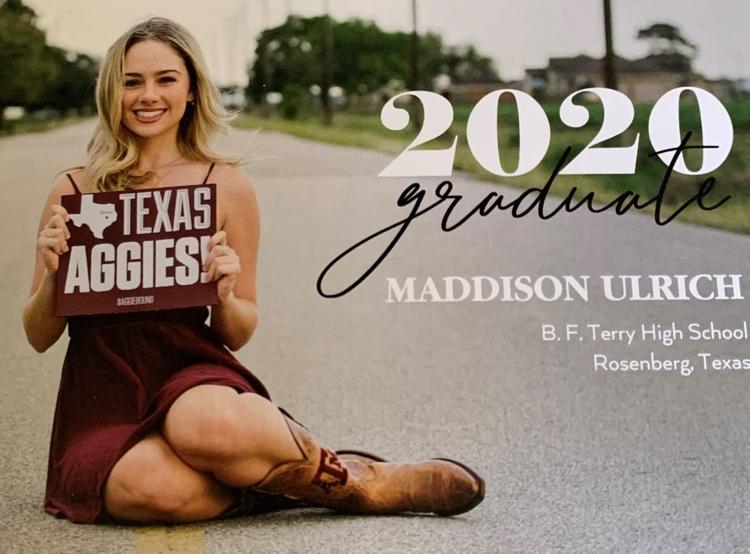 Maddison Ulrich, daughter of Jason and Ashley White, granddaughter of Lynn and Elaine Bowman of Pleak, recently celebrated her graduation from B.F. Terry High School. Maddie's next journey will take her to Texas A&M where she will study Biomedical Science. Maddie has been preparing for Texas A&M since she was a toddler. Her Mom made sure it was a family tradition. Congratulations, Maddie.
Happy anniversary to Dude and Brenda Jaynes! The Jaynes celebrated their 39th wedding anniversary on June 13th! We hope you had an amazing day.
Beasley Volunteer Fire Department is selling chicken fried chicken dinner plates. Drive thru only on June 28, 2020 from 11 am to 1 pm. These are pre-sale only and pick up will be at the fire department. It will be $10.00 per plate. You can contact the fire department at 979-387-2412, Tim Sabrasula 832-595-5087 Or Melvin Evanicky 979-559-0298.
Remember: please send me birthdays, anniversaries or anything you would like to be put in Pleak Speaks. You can call me at 281-703-9939, or send me an email to mlgoates@gmail.com or message me on facebook. https://www.facebook.com/marsha.goates.
To find out what is happening in the Village of Pleak you may visit their website of http://villageofpleak.com/home/ for scheduled meetings, to read minutes from previous council meetings. For more information, you may also call the Pleak Village Hall office directly at 281-239-8504.