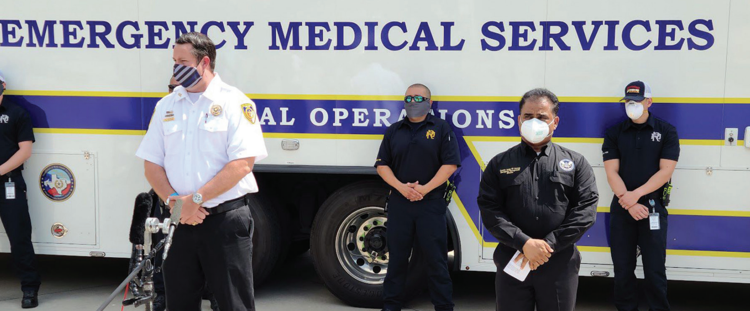 A Fort Bend County task force will test an estimated 1,000 residents and employees in nursing homes countywide for COVID-19 — and complete the testing within two weeks.
The task force will be made up of off-duty county fire department personnel. County Judge KP George staged a press conference at the Richmond Fire Station adjacent to the Fort Bend County Courthouse to announce the partnership.
The task force was officially approved by the commissioners' court on Tuesday.
The strike team, led by the county's fire marshal and emergency manager, Mark Flathouse, will do testing for residents and employees of 15 nursing and assisted-living facilities in the county Using the manpower of Fort Bend County EMS and firefighters across the county, the task force is expected to begin operations on May 22 and will test around 1,000 people in a four-day period.
The goal is to finish testing and send the results to the state health department in two weeks time. "We have different people who are off-duty who would come together, hit a nursing home, and hit it all at once, in one day," Flathouse said.
"Then we would hit another one, then another one, and report back to the state. It's a lot better than 20 different departments doing their own thing.
"We're coming together as a collaboration of Fort Bend County firefighters and utilizing off-duty staff that can save money and get it done in a timely manner."
Gov. Greg Abbott ordered counties across the state to aggressively go after the most at-risk areas for the coronavirus, which includes nursing homes.
Fort Bend already has a head start in testing nursing homes by testing some of them as the pandemic began, Dr. Jacqueline Minter, director of the Fort Bend County Health Authority. There are also some facilities that have conducted tests, but need to be verified and checked, she said.
"Some of those facilities have already started their testing through private companies," Dr. Minter said. The Texas Health and Human Services Commission will provide the costs to the task force for the tests.
"Testing has been our No. 1 priority in Fort Bend County," County Judge KP George said. "We want to test our most vulnerable, which includes our senior citizens. We want to make sure that we are testing everybody, and we will make sure that we are."