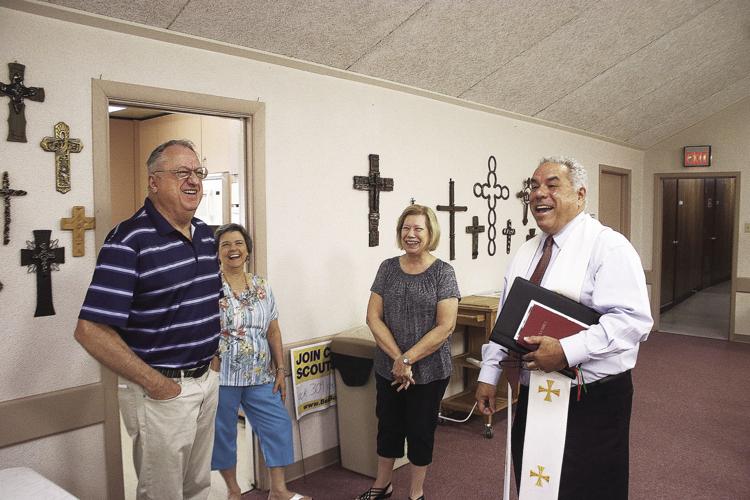 The faithful folks at St. John United Church of Christ in Rosenberg have welcomed a new part-time pastor to guide them on their spiritual journey.
The Rev. Felix Carrión has been serving as part-time pastor since mid-August, and he said he feels right as rain at St. John's.
"I truly believe we're a good fit," he said. "I felt an immediate connection — a good connection with everyone here — and the feeling has only grown over the past weeks."
Rev. Carrión had served as guest preacher at the church briefly in July when Rev. Daniel Haas departed.
He was among three ministers who served as supply preachers until church leaders could choose and call a part-time pastor.
Rev. Carrión said his initial experience at the church in 2017 was very pleasant and he and his wife both hoped he would be called upon again.
He said he prepared a special sermon for the Sunday it was his turn to serve as interim pastor at St. John's in July.
His sermon was based on the Book of Luke, specifically the story of two disciples who encounter the risen Christ on the road to Emmaus. In the book, Christ helps the two disciples, still shaken and lost after the Crucifixion, find their way to walk with the Lord again.
The story of Emmaus encourages individual church members to find ways to live out their individual call to discipleship in their home, church, and community.
After talking to members of the congregation, Rev. Carrión said he came to realize that many in the congregation were also feeling somewhat shaken, what with the departure of Rev. Haas and the dwindling number of churchgoers attending Sunday service.
"I was thinking that they are on their own walk to Emmaus," he recalled. "They needed someone to get them back on their spiritual journey, find their own story, find their own way back to the path they started on when they began their walk with the Christ."
Rev. Carrión said he wants to help the congregation remember its rich heritage in the community — indeed, build on it — while helping them grow spiritually.
"Once we know who we are — our unique gifts, strengths and potential — then we can concentrate on who we want to become, what kind of Christians we want to be and what kind of role do we as a church want to play in our community."
Rev. Carrion said he will help the church look forward to "claim a new vision and voice for ministry in the congregation and larger community."
Part of his job will be to help the congregation grow physically as well, he said.
Presently, there are between 60-70 regular worshipers each Sunday.
He hopes to be able to boost attendance.
But before he can do that, he has to bring more joy into the church.
"There has to be joy in every church," he said. "Joy is life. Who wants to come into a church where there is no life?"
When there is joy in church, word will spread and the church will grow, he explained.
He said he believes in empowering the congregants, working closely with the leadership of the church, and affirming and proclaiming the abundant life Jesus Christ came to bring to all people.
"I'm here to listen to them, learn with them and walk along side them,' he said. "Together we will grow in love, respect and honesty and in the blessings of Christ."
Rev. Carrión will serve until church leaders pick a permanent pastor.
After serving for more than a month, Rev. Carrión confesses he hopes to be selected to fill the position permanently.
"I think it's a good match," he reiterated. "I feel a lot of chemistry here."