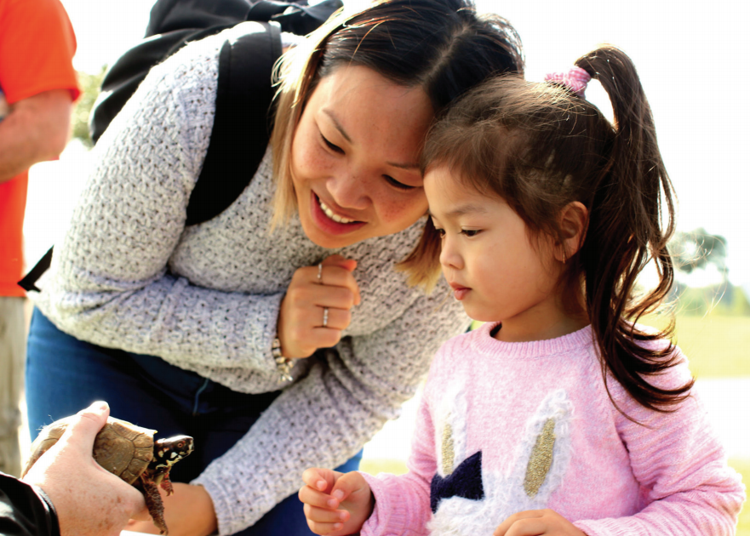 The clouds parted and the sun shone brightly for the Texas Master Naturalists' eighth annual Seabourne Nature Fest Saturday. And according to Coastal Prairie Chapter Master Naturalist David Goff, the beautiful weather had a lot to do with the turnout at Nature Fest.
"Last year we had about 2,200 people attend and that was with cold, rainy weather," Goff revealed. "This year, the weather couldn't be better."
Activities included discussions on butterflies, caterpillars, alligators, snakes, hawks, owls, beekeepers and more. Children were able to enjoy a petting zoo, crafts and face painting. Visitors also experienced nature talks by experts, an edible plant display, prairie walks, hayrides and musical entertainment. Native plants and seeds were available for sale.
"We've been working on this event since March," Goff said. "And with more than 65 volunteers, this whole festival is possible."
Lots of fun at Nature Fest
The Texas Master Naturalists' eighth annual Seabourne Nature Fest 
The event kicked off with opening comments by Precinct 1 County Commission Vincent Morales.
"I was invited to do the opening ceremony for Nature Fest back when I was mayor of Rosenberg," Morales said. "And it's been an honor that they've invited me back every year since.
"As former mayor, current commissioner and a resident of Rosenberg, this event is a labor of love.
"The amount of volunteer hours the Master Naturalists put into this... we as taxpayers couldn't afford to fund this event.
"Seabourne Creek Nature Park is a jewel in Fort Bend County and of course in Rosenberg."
The Coastal Prairie chapter has worked with the city of Rosenberg since 2009 in developing the Seabourne Creek Nature Park.
Other exhibitors included the city of Rosenberg Fire Department; Rosenberg Police Department; Texas Army National Guard; Saint Francis Wolf Sanctuary; Bears Etc.; East Texas Herpetological Society; The Black Cowboy Museum; Leave No Trace; Sea Center Texas; Texas Junior Master Naturalists; Matagorda Bay Nature Park; Fort Bend Beekeepers Association; Brazos Bend State Park; Katy Prairie Conservancy; Fort Bend Museum. The Texas Master Naturalists are sponsored by Texas Parks and Wildlife Department and Texas A&M AgriLife Extension Service.
For additional information call 832- 225-6936 or email info@coastalprairie.org.