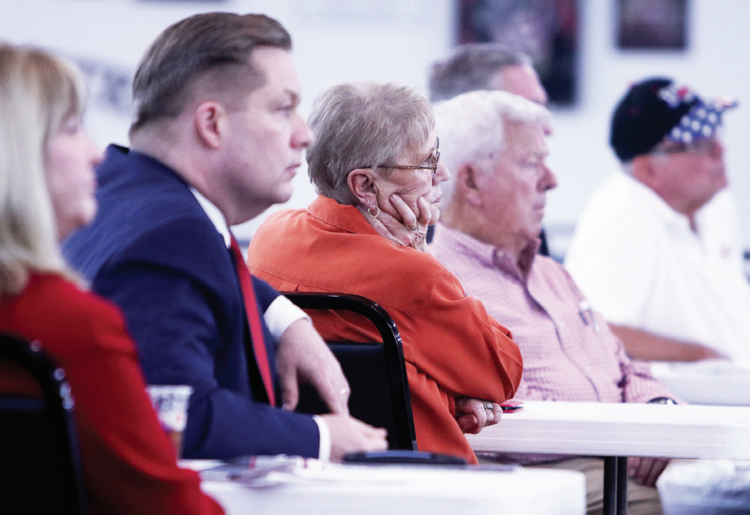 A candidate for Fort Bend County sheriff said his opponent — the twin brother of the present sheriff — will carry on his sibling's dismal record at arresting sexual predators.
John Minchew told those gathered at a candidates' forum on Monday evening at the VFW Hall in Rosenberg that Sheriff Troy Nehls' office arrested 27 individuals accused of sexual assault since 2013, even though 624 sexual assaults were reported in the eight-year time frame.
"Sheriff Nehls told voters at a candidates forum in Greatwood recently that his brother Trever would continue the great work he has done," Minchew said. "If that's the case, then we have a problem, because the same old, same old isn't getting the job done."
Neither Nehls brother was at the forum, sponsored by the VFW Auxiliary. Candidates were allowed three minutes to introduce themselves to voters. No question and answer session was offered. However, some candidates — Minchew, for one – took the opportunity to discuss their opponents' shortcomings.
Candidates also could talk to voters before and after they spoke.
Minhew handed out literature detailing the number of sexual assaults reported countywide since 2013, and the number of arrests made. He has also posted the literature on his Facebook page.
Minchew told The Herald reporter that he was only giving Sheriff Nehls "a taste of his own medicine."
Minchew said Nehls used crime statistics to help himself get elected in 2012.
"People ask me, 'Why are you picking on the sheriff? He's running for Congress. He's not even running for sheriff,' and I tell them I'm not picking on the sheriff, I'm informing voters of the sheriff's poor arrest record when it comes to sexual assaults," Minchew said. "If the sheriff's brother is going to continue his 'great work,' then we have a problem. The status quo is unacceptable."
Trever Nehls has been serving in Iraq for the past seven months and was not available to defend himself at Monday's forum.
Minchew, noting Nehls' absence, said he will serve the people of Fort Bend County 100% of the time if he's elected sheriff. Minchew vowed to tackle the sexual assault problem if he is elected.
Besides Nehls, Minchew will battle Siddiqi Muzaffa in the March 3 Republican primary election.
The winner will face the winner of the Democratic primary election — Eric Fagan, Geneane Hughes or Holland Jones — in the November general election.
Rafael Pruneda, who is running for the Precinct 1 County Constable's post in the Democratic primary, also talked about his possible opponent in the November election.
Pruneda said the Precinct 1 constable's office is the only constable's office in Fort Bend County without a patrol division. However, Pct. 1 Constable Mike Beard told the audience that no constable's office has a patrol division paid for by tax dollars.
Those offices that do have patrol divisions do so because they are paid for by homeowners associations and Municipal Utility Districts.