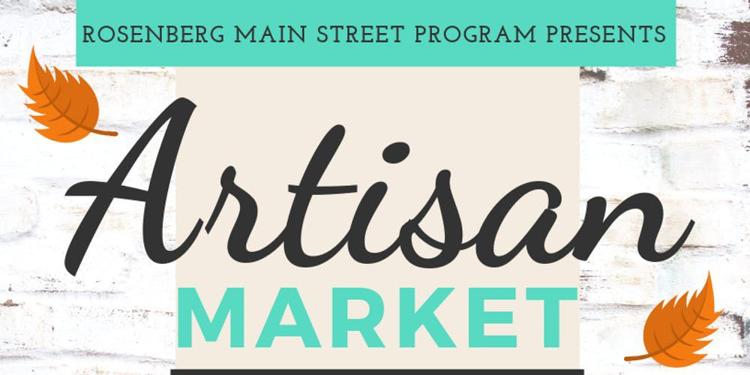 Rosenberg Main Street and Tourism Manager Jackie Wehring is excited to bring new faces to the city. And she's doing just that at the Rosenberg Artisan Market on Saturday from 10 a.m. to 4 p.m. in Historic Downtown Rosenberg.
"This is the first Artisan Market Main Street is hosting," Wehring revealed. "There have been several events in the past with shopping and vendors, but this event will showcase local arts and craftsmen with handmade goods.
"This event is a collaborative effort between the Main Street Advisory Board, committees, downtown merchants and the city. We are so excited to bring people to our downtown this weekend."
According to Communications Director Tanya Kveton, downtown will be transformed into a unique marketplace filled with artisan goods.
Patrons are invited to browse handcrafted items, local art and unique gifts while enjoying live music and great food. The downtown shops will be participating with sales and specials throughout the event and vendors will be set up with many finds including handcrafted jewelry, custom furniture and one-of-a-kind artwork.
"If all that shopping works up an appetite, stop in to one of the excellent downtown restaurants for lunch or grab a bite from one of the delicious food trucks that will be onsite," Kveton added.
Wehring said she expects hundreds of people to attend Saturday's event.
"Downtown has a lot to offer," Wehring said. "There are so many unique shops and some fantastic restaurants to enjoy. Many of the shops are running specials this weekend during the Artisan Market, making downtown a vibrant marketplace to enjoy.
"This event will showcase our vendors and downtown merchants, and the hard work they have put into their products. We will also have live music to enjoy. The weather will be great, bringing the feeling of fall to downtown."
Wehring said the market will have over 30 vendors, all with handcrafted and handmade goods.
For more event information, or to learn how to become one of the featured artisan vendors, email jwehring@rosenbergtx.gov.