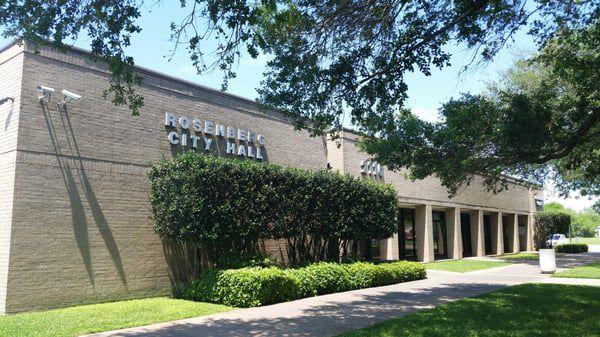 After a short three months, Rosenberg City Council members have decided to eliminate the city's code of conduct policy. But not everyone on council thinks that's a good idea.
At Tuesday's workshop meeting, council members came to the consensus to discontinue the decorum policy for elected and appointed officials.
The decorum policy was adopted on April 16. Before council deliberated Tuesday, Rosenberg residents James Urbish and Alice Jozwiak spoke.
"I'm going to tell you one thing," Urbish began. "The average person in the city of Rosenberg doesn't care what you do.
"But they don't want you to make an ass out of yourself up here. And that's a fact.
"I don't think you should have to have a decorum policy because y'all are all grown-ups. Y'all should not fight amongst each other.
"Sure, there's bad blood. We shouldn't hear about it on Facebook. And if you can't stay away from that crap, then get off Facebook."
Jozwiak agreed.
"What is so hard about behaving on Facebook if you're a councilman?" the former councilwoman asked. "I don't know what's so hard about it. "I've always said we needed an ethics policy. But why do you want to change it when it's been in effect only about two months?
"Is it because someone has already broken it?"
At the last two regular council meetings, council members deliberated a decorum policy complaint against council member Richard Olson. Both times, the item was slated for executive session, meaning it was discussed in secret.
According to council member Isaac Davila, Olson has called him and former council member Amanda Barta bad names on Facebook on multiple occasions.
Davila told The Herald that these posts were published on Facebook about a week before the May 4 election.
According to the policy, written notes, voicemails, texts, emails and social media posts should be treated as potentially public communication. Olson said he was against the policy.
"I'm the only recipient of it, so I think I have the right to vote on it," Olson said. "It has good intentions, but there can be some misuse of it. It's attacking people."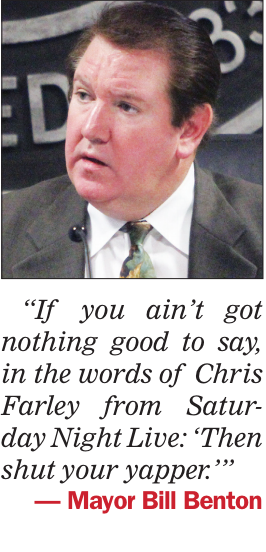 Yet, one of Olson's Facebook posts read: "Councilor Dumbass needs some medication."
According to Jozwiak and Davila, Olson was referring to Davila.
Mayor Bill Benton, who requested this item be placed on Tuesday's agenda, said he wanted to get rid of the decorum policy.
"If you ain't got nothing good to say, in the words of Chris Farley from Saturday Night Live, then just shut your yapper," Benton told his colleagues. "And be careful with Facebook.
"People call me names. Guess what? You just have to man up — or woman up — and just realize that's the price we pay for the position that we chose.
"My suggestion is get rid of this thing. This policy is not productive to our city. Our staff has better things to do than referee us."
Council member Jacob Balderas concurred.
"I am against censoring speech," Balderas said. "I am against the policy because you can't control what people say. I have no use for this policy."
In February, Balderas said he felt so threatened by Davila's words that he hired private security to protect him at council meetings. Council member Kevin Raines said he has been against the decorum policy even before he was elected to council in May.
"The thing I've learned more than anything after getting into politics is there's people out there — no matter if they know you or not — who are going to say bad things about you," Raines revealed. "And you learn to live with it or you tuck your tail and run from it. I have no problem with people calling me names.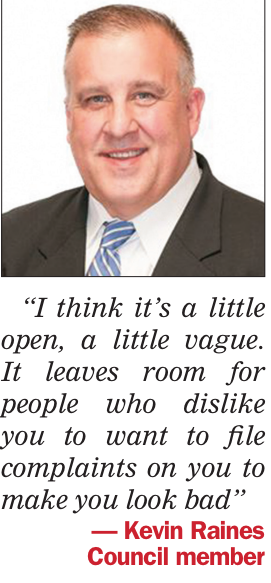 "As far as the decorum goes, I think it's a little open, a little vague. It leaves room for people who dislike you to want to file complaints on you to make you look bad.
"I'm not for it. Never was for it."
Council member Steven DeGregorio, who asked the city attorney to draft a decorum policy in March, said he was in favor of keeping the code of conduct.
Davila agreed, but the two were outnumbered. Council member Lisa Wallingford was not present for Tuesday's meeting.
This item will be brought back to council, at a future meeting.
The next council meeting will be held Aug. 6 at City Hall, located at 2110 Fourth St.