Balloons were flying, pizza, chicken nuggets and cookies were gone in minutes, and the smiles never left the faces of 345 students in the Terry High School cafeteria as Algebra I students celebrated an incredible milestone — double-digit percentage gains on the Algebra I STAAR.
"For the third consecutive year, Terry students achieved double-digit percentage gains in the number of students passing at the MEETS and Masters levels," Dr. Andree Osagie, principal, said.
Representatives from the Texas Education Agency said they will visit the school this summer to learn more about Terry's journey to success.
Reaching that level of achievement took months of daily planning, said Algebra I teacher Rebekah Russell. Once a week, the teams met, discussed what was working, where they needed more instruction and how to reach struggling students.
For their part, the students took the test seriously, studied and attended tutorials. The result was what they'd worked for since August.
"During the test, I focused on what I was doing and tried my hardest," freshman Lailie Carrasco said.
To reward the students, the teachers decided to hold a STAAR celebration party. They had a budget of $400. But the Algebra teachers reached out through social media, asking for donations, and the results were amazing.
More than $600 was raised, and they used the money to purchase certificates, décor and food, including pizza, chicken nuggets, cupcakes, popcorn, sodas and apple juice for the official toast.
Those donating McDonald's at Brazos Town Center, Chik-Fil-A in Rosenberg, LaDonya Drake at NexMove Realty, Kelly Andel and ReMax, Kimberly Helms, Cortney Chastain, Joy Popp, Melissa Pratt, Michelle Carney Hudson and retired teachers who asked their donations to remain anonymous.
During sixth period, students who "mastered" the STAAR were recognized, and those who "met standard" were honored during seventh period.
Algebra 1 teacher Jamie Kennedy said the math team was "beyond proud" of their students.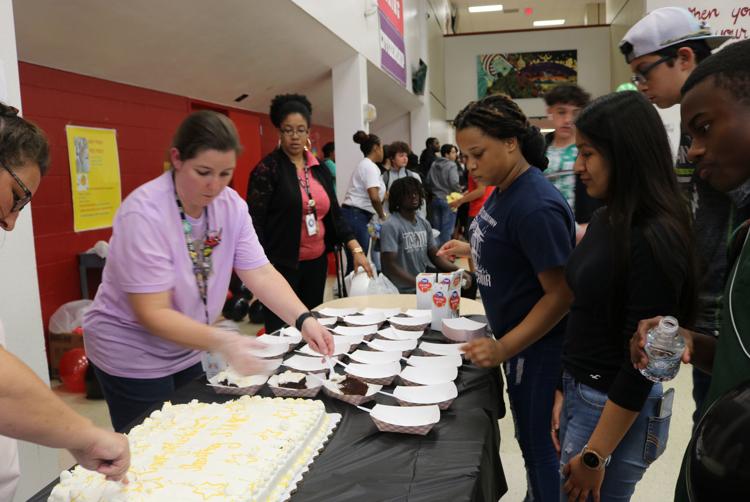 "You set a record for Terry High School," she told the over 400 students who gathered in the cafeteria for the celebration. "We've never had 70 percent of our students at least meet or master standards on the Algebra I STAAR."
Teacher Annie Russell said that in her class alone, there were 11 students who could not pass eighth grade math STAAR, and they mastered the test this year.
She also cited team leader Jennifer Harper as making sure the team had what they needed and Alicia Gabbard for lending district support.
Put in perspective, over half of the freshmen class passed their algebra STAAR test, an incredible record, Kennedy said.
"Our goal at Terry is to uplift and prepare the students for a bright future," she said. "Our students' success is demonstrating to the community, and even to the state, that we are true contenders. Watch out!"