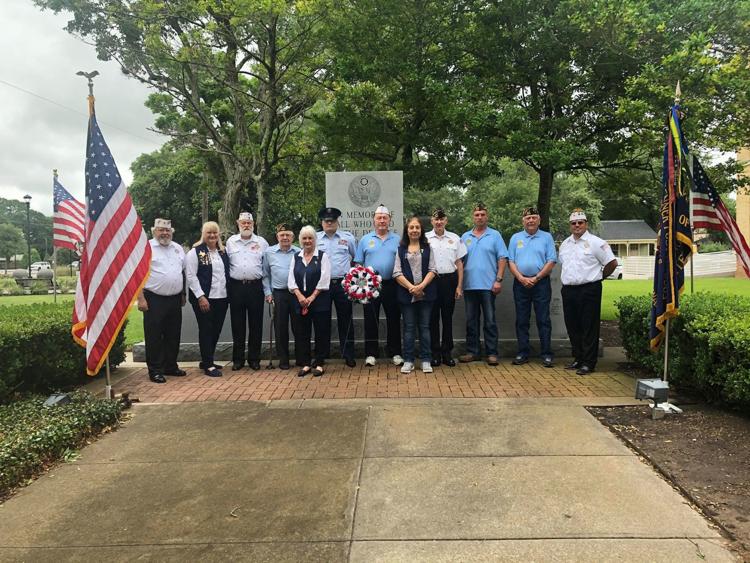 Fort Bend County residents paid tribute on Monday to those who fought and died for their country. The solemn Memorial Day ceremony was held at the historic Fort Bend County Courthouse in Richmond.
More than 100 young men from Fort Bend County made the ultimate sacrifice for their country — their lives. Their 125 names are etched on a granite marker standing beside the courthouse.
Representatives from the Rosenberg VFW Post 3903 and its auxiliary placed wreaths in front of the marker.
Veterans from each branch of the services, as well as veterans from WWII, Korean War, Vietnam War and later conflicts in the Mideast attended the ceremony. One of the veterans was Bob Fagan, who stormed ashore on D-Day on June 6, 1944 and was later taken prisoner.
The names of the county's fallen warriors were read aloud. They include: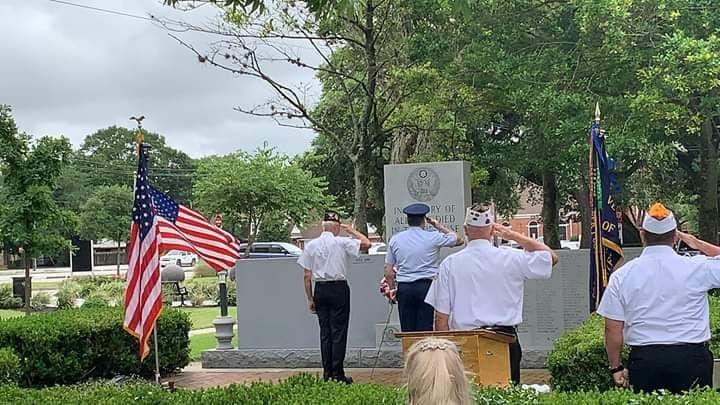 World War 1: Charles H. Acre, Henry Barak, Kiley Brazee, Steven Bulanek, Primus Brown, Athur Dehart, Paul Dittman, Joe J. Fojtik, Benjamin Goldstein, Lonnie Green, Verge Griffin, William Herd, George Jefferson, Jack Maeding, Fred P. Maraker, Rudolph Meyer, Angel Perez, Maston N. Porter, Barney S. Pryor, Arthur G. Schultz and Louis Simon.
World War II: Eddie Abramski, Frank J. Andel, Arthur J. Berkman, Joe Boston, Vince J. Brdecka, Herman M. Brenner, Milton Brenner, Allen Brooks, Edwin D. Burwell, Frank Cangelosi, Rosendo Cardenas, Manuel P. Carrillo, Joe B. Chabisek, Ignac W. Chernosek, Sidney Curtis, Charlie Draemer, Van Fowler, Raymond Freemond, George E. Fields, John T. Fields, Eman Gaidosek, Arturo Garcia, Frederick Gerken, Warren Goss, Fritz Haar, Fred Hatton, G.A. Haynes, Valente P. Hernandez, Earl G. Hill, Earl W. Holtkamp, Roland L. Hughes, Edwin V. Janicek, Levy S. Johnson, Albert E. Jurca, Alvin J. Kadlecek, Otto Kristynik, Alfred S. Lubojacky, Ivan Mazoch, Gary R. McAlister, Deroy L. Miller, John L. Mutina, Arcadio R. Narvarez, Archie L. Nett, Alfons J. Orsak, William H. Palat, Lazaro L. Pena, Charlie W. Pfuhl, Marcellino Presa, John H. Reynolds, Milburn H. Roeche, Theodore H. Roper, Louis J. Sbrusch, Alfred C. Schuelke, Earl Sizer, Howard B. Scruggs, Henry J. Simpson, Alfred F. Smith, Douglas E. G. Smith Jr., Alifonso C. Soto, David L. Stach, Pete Stallings, Arnold B. Stavinoha, Milton Steffen, Hoyt M. Stewart, W. W. Sutherland Jr., Louis Vadek, Weldon R. Voight, Ike Webb Jr., Thomas J. Williams, William Wright, Printis R. Young, Clement C. Zavodny and Lonnie H. Ziesemer.
Korean War: Lawrence Barron, Billy Borodiak, Ralph Gardner, Gonzalo T. Pachua, Macron Sanders Jr., Gene Smith, Lynn B. Whitsett and Macario Mireles.
Vietnam War: Rudy Becerra, Dixie C. Berger, Herman A. Clay Jr., Richard M. Corrales, Gary L. Cox, Michael Crossley, Manuel Deluna Jr., Joe D. Fendley, Antonio Flores Jr., Richard W. Hibbler, Jackie Hurley, Arthur Medina, Pedro M. Ortiz, Eugene Dominguez Ramon, Arthur Samaniego, Adolph W. Tajahman and Michael Wakefield.
Panama: Isaac Rodriguez III.
Operation Iraqi Freedom/ Enduring Freedom: Daniel Caballero, Jose Guereca Jr., Andrew Houghton, Joseph G. Harris, Christopher Kermin, Dan Nguyen, Forrest John Waterbury, Joshua Ward, James Tijerina, David McCormick, Garrett Gamble, Timothy Cole Jr. and Brandon Abbott Meyer.
The ceremony ended with the traditional playing of taps. A similar ceremony was held at the Del Webb/Sweetgrass retirement community in Richmond.