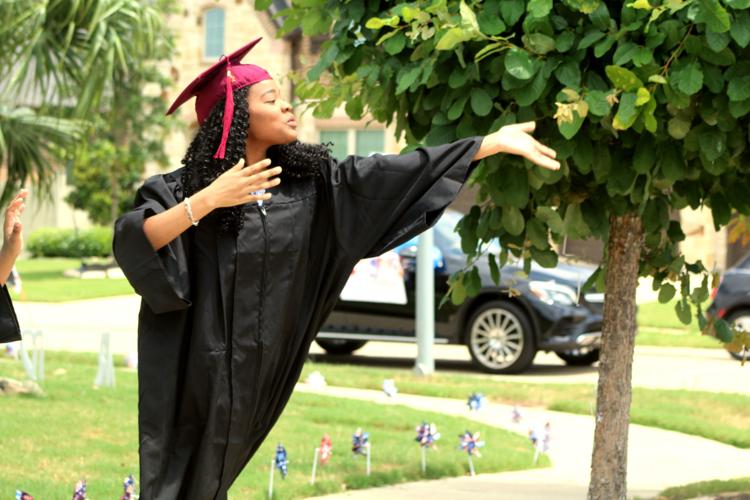 When George Ranch High School senior Princess Reed woke up on Thursday morning, she thought it was going to be just another day in quarantine. Her mom Millie had other plans.
"My baby girl is graduating high school and going to the Navy in July," Millie revealed. "I had to do something special for her and my son."
Millie said Chad, a fifth-grader at Arredondo Elementary School, was sad he wasn't able to attend his own fifth-grade graduation.
So, Millie and her husband Anthony called their neighbors, friends, teachers, Princess' Navy recruiting officer and the Rosenberg Police Department to attend her kids' graduation parade in Rosenberg.
"Everything is different and strange now," Princess said. "But we're lucky because we aren't like everyone else. "It's the little things that I'm going to miss. Like driving to school with my friends and listening to music with them. But everything happens for a reason."
Princess said she decided to join the Navy because her dad was in the Navy for 20 years.
"I think it's so important to want to help people," Princess added. "It's important to serve our country."
Anthony said he felt proud that he's had such a positive influence on his daughter.
Chad, who is still unsure of what his future holds, said he was excited to graduate elementary school.
"My last year of elementary school has been... interesting" Chad started. "It's like I'm there. But I'm not. I'm still doing assignments, but it's honestly a little bit easier."
Chad couldn't help but get teary-eyed when he saw his friends and teachers drive through the parade to celebrate him.
"I'm overjoyed," Millie said with tears streaming down her smiling face. "I'm overwhelmed with gratitude. "I'm so thankful we live in a really kind community. It's awesome."