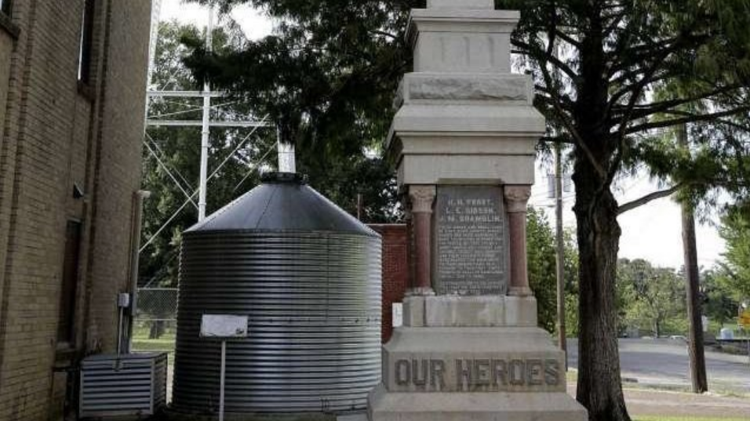 Two online petitions have been created demanding the removal of the "Our Heroes" monument next to Richmond City Hall.
Taral Patel, who is the chief of staff to County Judge KP George, created one online petition to remove a monument in tribute to the leaders of a post Confederacy group known as the Jaybirds that helped white people establish political control of Fort Bend County while removing politicians that were for the voting rights of freed slaves.
Patel said that the petition was created from his personal capacity.
The monument mentions the names H.H. Frost, L.E. Gibson and J.M. Shamblin — known as Bluejays.
They were involved in what has been called the Jaybird-Woodpecker War, which was a feud between an all-white group of Democrats who wanted to get rid of the Republican government that was established in Fort Bend County after Reconstruction. The Republicans in the county called themselves Woodpeckers.
The petition asks Richmond Mayor Evalyn Moore and city council to remove the monument.
"This major public monument glorifies the values of the Jaybirds and white supremacy reflecting their support of the Confederacy, an insurgent movement against our country, which is an affront to all Americans," the petition says.
"We want this petition to show local officials that there is strong support for the monument's removal both in Richmond, TX and beyond."
As of Monday morning, Patel's petition has 228 signatures. You can view the petition HERE.
Another petition was created last week by Tres Davis, a a school teacher who lives in Richmond and who ran unsuccessfully for public office many times. His petition has over 400 signatures as of Monday morning.
"It is time for the citizens of Richmond to finally stand up and say enough is enough of having a statue on city property that commentates this battle which has contributed to the repression of minorities in the Richmond area," Davis' petition says.
The petition comes as several statues and monuments across the country that honor figures of the Confederacy are either being vandalized or being removed by local officials.
The Jaybird-Woodpecker War began just before the 1888 election, when J.M. Shamblin was killed in a shooting. Henry Frost, another Jaybird leader, was shot and wounded. That led to a meeting of Jaybirds, who later gave notice to some black people to leave Fort Bend County within 10 hours.
Then-Gov. Lawrence Sul Ross sent in the Texas Rangers to keep the peace during the elections, which the Woodpeckers still maintained control. L.E. Gibson was killed by the tax assessor and Woodpecker, Kyle Terry. Terry was later killed and that began the Battle of Richmond.
After the battle, Gov. Ross was mediator as the county's government was reorganized to put the Jaybirds back in control in 1889. The Jaybirds maintained control of Fort Bend County politics until the U.S. Supreme Court ruled in 1953 that white-only primaries violated the Constitution.