Fort Bend County Animal Services and Fort Bend PAWS (Pets Are Worth Saving) teamed up with the Fort Bend RC Club on Saturday for Paws and Planes, a dog adoption event and RC plane exhibition.
The event was held at the Fort Bend RC Club's airfield in Rosenberg. Despite the RC pilots' enthusiasm for flying, afternoon showers helped dampen the turnout.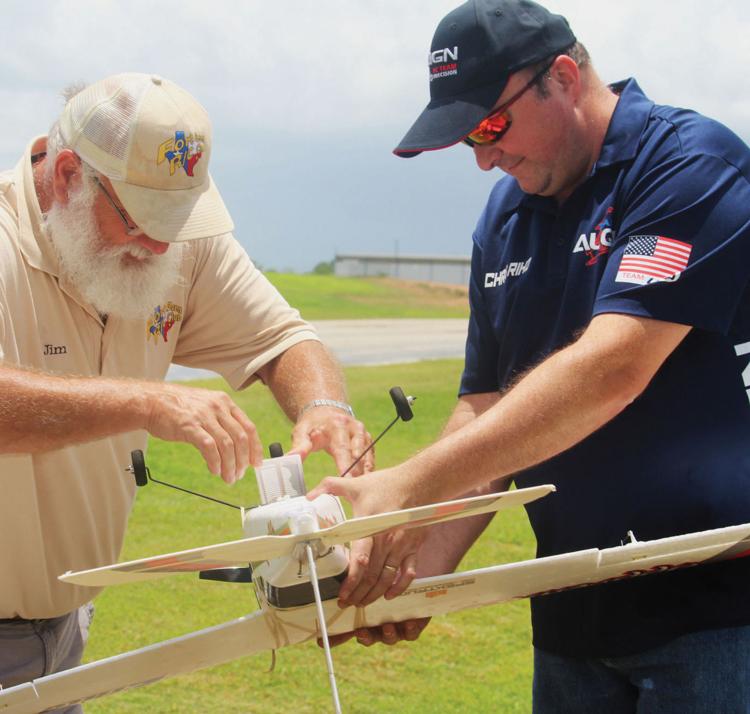 "We didn't get any adoptions, but we got some good donations and some new foster families, so it was a good day," said Barbara Vass, Community Involvement Coordinator for Fort Bend County Animal Services.
Some members of the RC club didn't seem bothered by the rain.
"You know the old saying about Texas weather," John Hlozek, an RC pilot, said. "If you don't like it wait five minutes."
It took 15 minutes for the rain to stop so James Devereux and Chris Riha could show Devereux's sister Janet Peake how to do a loop the loop with an E-flite Apprentice S 15e.
"It's my first time to fly," Peake said. "I'm 61 years-old, it's never too late to start." Unlike Peake, Devereux was an old hand at flying model airplanes. "I've been flying since I was 10 years old," he said. "It's a disease. I'm fascinated with things that fly."