Fort Bend County Sheriff Troy Nehls said in a tweet on Tuesday that Democratic county commissioners are trying to remove him from office.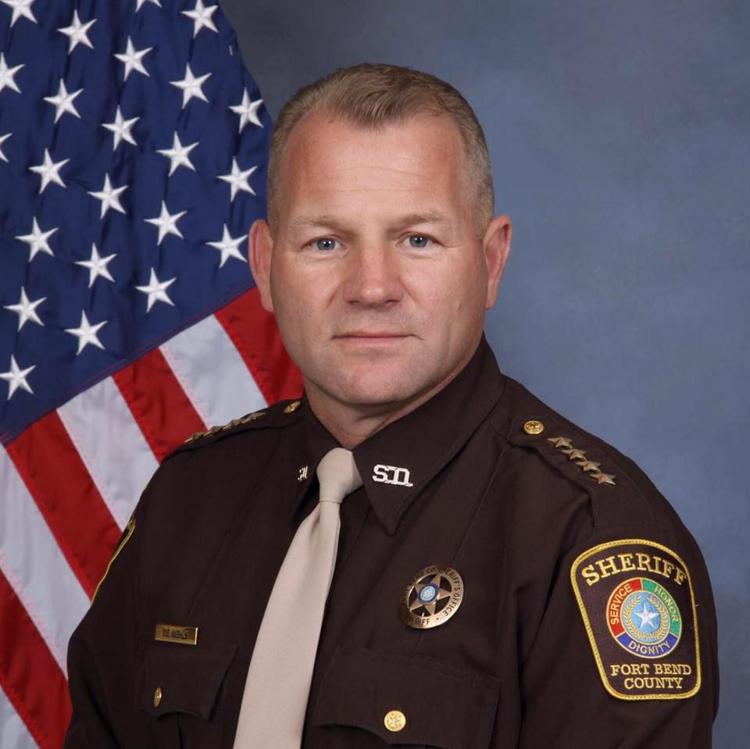 "The FBC Comm Court intends to discuss removing me from office today at their 1pm meeting," Nehls tweeted at 11:33 a.m. "The Dem County Judge has even met with other Dems to choose who 'he' would appoint to replace me. I've done nothing wrong. A Dem-led witch-hunt has now entered FBC. Sad!"
Fort Bend County commissioners and attorneys are reviewing the Texas Constitution, apparently to see how it will affect Nehls if he announces or files to run for U.S. House District 22 next year.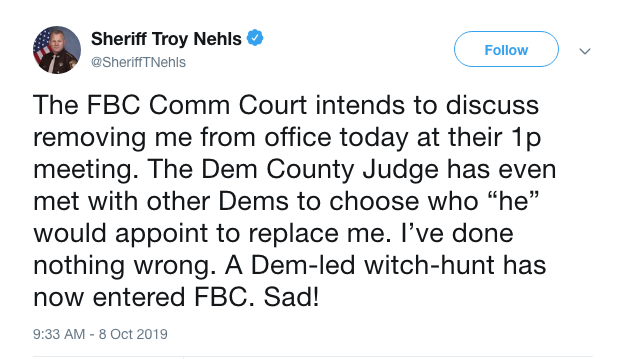 Pete Olson, who has represented the House District since 2009, has said he will not seek re-election in 2020.
Commissioners scheduled an addendum to Tuesday's scheduled meeting at 1 p.m. at the Fort Bend County Courthouse that includes a closed-session item to discuss with the commissioner's court attorney about Article 16, Section 65 of the state constitution.
The addendum does not mention Nehls by name. However, Nehls is the only Fort Bend County elected official considering a run for another public office.
The statute states that if any county elected official announces their candidacy for any state or federal elective office and the unexpired term in office exceeds one year and 30 days, the person is automatically resigned from his or her current office.
Nehls has already announced that he will not seek a third term as sheriff, but has not formally announced that he will run in the Republican primary for TX 22.
He did announce two weeks ago that his exploratory committee raised over $100,000 in contributions.
If Nehls files on the Dec. 9 deadline, he will have one year and 22 days remaining to serve as sheriff. That would allow him to continue to serve as sheriff throughout 2020, under state law.
Nehls earned $140,533 in 2019 and his salary increased on Oct. 1 to $145,268.