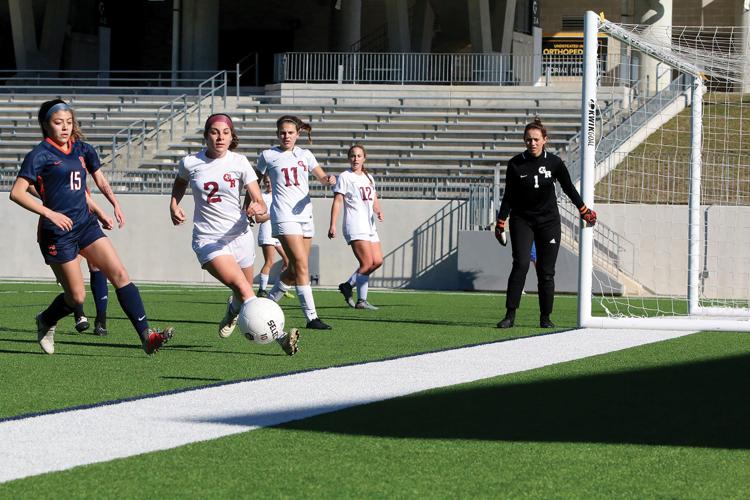 High school soccer in Texas does not have stoppage time, an amount of time added after a soccer match reaches "full time."
It is time added for substitutions, injures and any other events that aren't directly related to the play on the field.
Stoppage time gives soccer matches at higher levels than high school an added level of suspense with only the head referee keeping the stoppage time in the stadium and the game not ending until his or her final whistle blows.
High school soccer in Texas has entered it's own suspenseful stoppage time with the COVID-19 (coronavirus) outbreak halting all UIL events until May 4.
Most teams had one or two games left before the playoffs were to begin. But now like all school administrators, teachers and staff, the coaches are focused on keeping their student-athletes safe while the soccer field remains quiet for at least two months.
"It is difficult to think about anything right now except for the safety and health of the members of our community," Terry boys head coach Michael Bevins said.
The halt in the action came when multiple teams for Lamar Consolidated ISD had clinched or were hoping to clinch a district title the following week.
Bevins' Rangers were on an open date during spring break in which other results in District 24-5A secured Terry's second-straight district title.
The Terry mentor's focus isn't on celebration or soccer at the moment with safety on the line.
"Unfortunately, we haven't been able to celebrate as a team yet since everything was canceled because of COVID-19 before we returned from the break," Bevins said.
"I, like everyone else, am looking forward to this COVID-19 situation to pass and for our community, state, and nation to come out of it stronger than before, and of course I would like to believe we will be able to finish the soccer season. But in the meantime, again I just want to keep the focus on our community's health and well being."
Like the Terry boys, the Fulshear girls had already secured a District 23-4A crown for the second straight year earlier this month with a home win against Needville.
"I was happy that we achieved some of our goals before we left for the Spring Break that has never ended," Fulshear head coach Mark Kluppel said. "However, our ultimate goal of a state championship is currently on hold."
The focus right now is to hunker down but the plans have started for a hopeful return to play in May.
"I believe that we will be able to get ready to play quickly," Kluppel said. "I'm assuming that UIL would give us a week or so to practice/condition before resuming the last week of the season and playoffs.

"We were playing really well in our last game, so the challenge will be to get the kids back to that level and get them to push beyond."
The only thing teams are hoping to avoid is the entire season being wiped out.
"If we lose the rest of the season, I will have mixed emotions," Kluppel said. "We have achieved much this year but we still had more to prove.
"I definitely feel for my seniors.
"They have not had their Senior Night and have not had the chance to finish their seasons, to see if we can complete our goals.
"Hopefully, they will get that chance."
Down the road at Foster High School, the Lady Falcons have not been able to celebrate their back-to-back district titles because the game that would have handed the crown to Foster was to be the first one after Spring Break with 14-0 Foster facing 13-1 Angleton to decide the 24-5A crown.
Head coach Sabrina Wilmot will be waiting at least two months to execute her game plan.
"The postponement has been tough and very frustrating," Wilmot said. "No doubt when it's time to play it we will come out and take care of business because these girls are hungry for a second district title."
But for the time being, the Lady Falcons are focused on staying safe and doing work at home.
"Obviously being out for this long isn't ideal when you are so close to playoffs, but I have a group of girls who work hard and are willing to do whatever it takes to ensure we are ready to compete when the time comes," Wilmot said.
"I think getting back into a routine is going to be the biggest challenge."
Again, the hope for Wilmot is to still have a season to play when the UIL gives the all-clear.
"Right now we are trying to be positive and not to think about losing this season," the Foster coach added. "This group has a goal in mind and they want nothing more than to accomplish that goal."
At George Ranch, both teams are hoping the playoffs will be played which will be a first for the Longhorn boys.
"The stoppage was really tough considering my guys were one game away from going to the playoffs for the first time in school history," George Ranch head boys soccer coach Jared Hansen said.
"Yet, although it is tough you know there are bigger things at play here, and in the scope of everything safety and civic responsibility rise above soccer.
"I will say that I feel extremely bad for my seniors that have worked so hard for four years to get the opportunity to play in the state tournament and it is most likely gone.
"My heart hurts for those guys."
On the girls' side, the Longhorns appeared primed to once again enter the playoffs as the No. 2 seed out of District 23-6A.
"As a team, we were motivated and ready for the next part of the season," head coach Melissa Jimenez said. "The playoffs are always a special and fun time of the year and something the girls had been working hard toward all season."
The break is made a little easier with the UIL allowing online instruction.
"With our online digital schooling I am able to send the girls workouts that they can do at home to stay fit and working on their ball skills," Jimenez said.
In the end, the Longhorns are hoping to get back to the field.
"I am hopeful that we will be able to complete our season in some fashion that will allow our senior class of 2020 a sense of closure to their high school soccer career at George Ranch," Jimenez said.
For now soccer, like all sports, is hoping the COVID-19 storm passes in the coming months and time is restored to their clock.