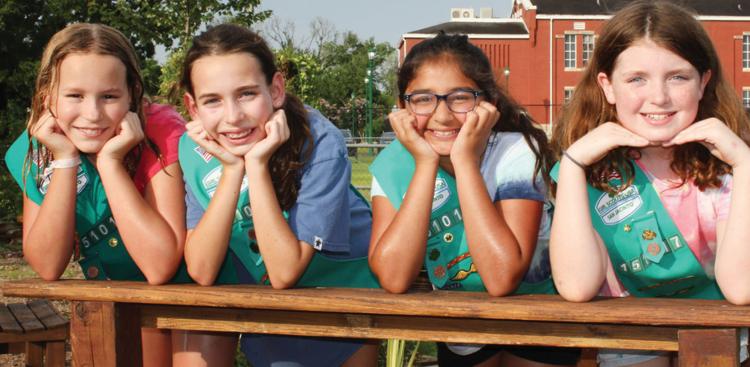 For five years, Vivian Krupa has worked hard as a Girl Scout and serving her community.
She and 11 other girls in her troop are juggling school, extracurricular activities, sports and Girl Scouts.
"Girl Scouts is more than just a group of girls getting together and earning badges," said troop leader Kelly Chester. "This organization teaches young girls how to manage their time, stay organized, leadership skills and simply prepares them for life.
"The community garden gives the girls many more applicable skills which they will need as they get older: accountability; responsibility; service and many more. The girls are amazing and I am glad we are able to work with them. Who knows, some of them might even be our future leaders. "
Since March, members of Girl Scout Troop 151017 have been working toward earning their Bronze Award, which is the highest honor a Girl Scout Junior can achieve.
"To earn this honorable award, each girl must put in at least 20 hours towards a sustainable project that helps the community," scout co-leader Sophia Sheikh said. "The (Richmond community) garden has taught the girls responsibility to maintain the produce, the importance of service work for the public and teamwork with each other."
The girls have been together since they were 5 years old. Now, they will all be entering the fifth grade and continue to work for more badges and awards. Six members in Troop 151017 are very active in the community garden: from Campbell Elementary, Zara Sheikh, Vivian Krupa, Carly Krongard, Lily Buckner and Sloan Parker, as well as Emerson Chester from Shady Oak Primary.
In the Richmond community garden, 704 Preston St., the girls have two plots reserved to grow their produce (numbers 17 and 25).
Carly Krongard, daughter of Jennifer and David Krongard, explained how they decided on the garden. "A lot of the girls and I have never gardened before, so this whole project was a new experience for us," said Carly. "I have so much fun here. The eggplants are my favorite."
The six Girl Scouts learned everything along the way from planting the seeds to watering and eventually getting to see their hard work turn into something delicious. In mid-March, the girls started the process by planting seeds for the green beans, watermelons and green bell peppers. The green beans grew for about 3 ½ weeks until they stopped producing in May. At the end of the harvest, the girls produced 17 pounds of green beans for the Richmond food bank Helping Hands.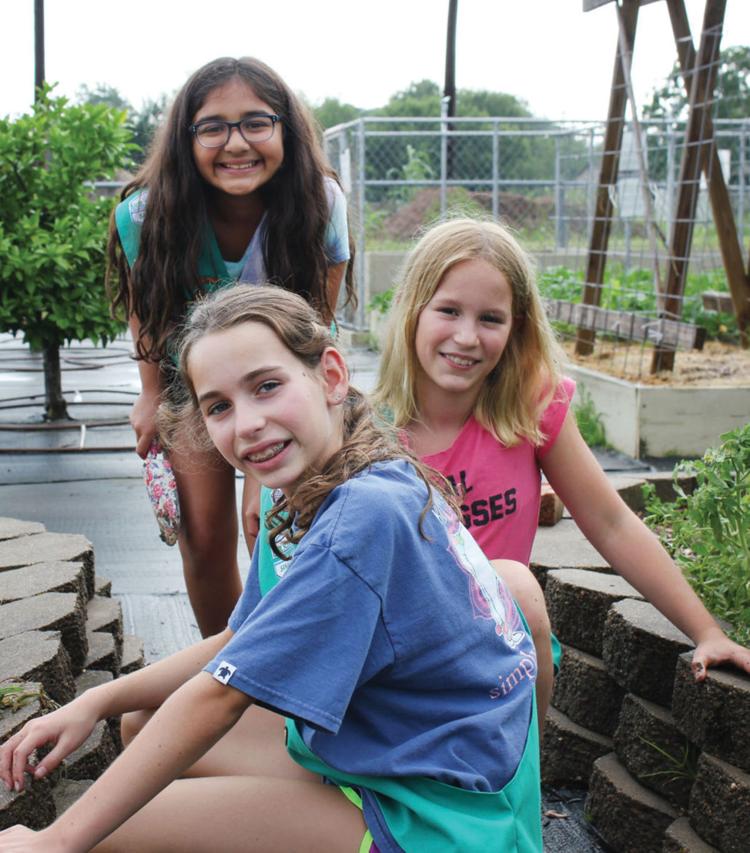 Those who use the community garden are expected to water and weed their reserved plot, as well as weigh and log their produce before delivering it.
"After the green beans were done we pulled all the roots and planted eggplants," Emerson Chester said. "Out of all the produce we grew, I would say the eggplants are my favorite."
Emerson is the daughter of the scout co-leader, Kelly and her husband Rick Chester.
Working on a rotation system, at least one Girl Scout comes by every three days to maintain the garden. Each girl will spend about an hour watering the plants, pulling weeds and cleaning the tools.
"Even though it is very hot and tiring, I really like working in the garden and giving back to the community," said Girl Scout Zara Sheikh. Zara is the daughter of the scout co-leader Sophia and her husband Nadeem Sheikh. When asked her favorite fruit or vegetable she grew, she said, "I can't pick just one. I loved the bell peppers and green beans."
Currently, they are harvesting watermelon, green peppers and eggplants.
Vivian Krupa says, "My favorite produce is the watermelons." Vivian is the daughter of Jim and Aaron Krupa. Scout co-leader, Kelly Chester explains the community garden will be a yearlong project for the girls and hopes in the winter they might try to grow pumpkin or corn. "Hopefully, when we are done with our project, one of the younger Girl Scout troops can take over and keep our tradition going."