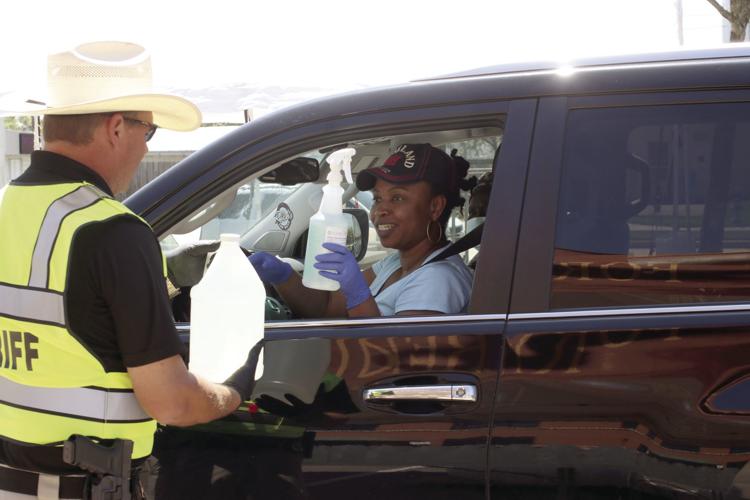 Precious Awolowo of Richmond was pretty pumped when Fort Bend County Sheriff's Deputy Chad Norvell handed her a 32-ounce bottle of disinfectant and a gallon jug of the cleanser on Wednesday.
She was among several hundred drivers who waited in line for an hour or more to get the free disinfectant.
"I've searched the stores for bleach, and I can't find any," she said.
Her mom, Abiola, also got free disinfectant, compliments of Fort Bend County.
"The county judge stopped this wonderful program on Monday," said Fort Bend County Sheriff Troy Nehls, who launched the giveaway last Friday.
"That's a shame. He said there was no need to give away the disinfectant. No need? Look down the street at all those vehicles!"
Sheriff's deputies and inmate volunteers handed out 8,000 jugs of disinfectant over a four-day period earlier this week before County Judge KP George pulled funding for the giveaway.
"So far, Fort Bend County has expended $130,492.85 to provide over 8,000 residents with a spray bottle of disinfectant," George said on his Facebook page.
"However, in this rapidly evolving crisis, our priorities must change to meet the needs of the community," George said. "We must do everything we can to ensure our hospitals and frontline staff are not overwhelmed or compromised from this deadly virus as they take care of our most vulnerable residents.
"Unfortunately, there is a world-wide shortage of items, such as surgical masks, hospital gowns and face shields.
"After speaking to mayors, hospital systems and first responder agencies, it is clear that we must prioritize spending to provide personal protective equipment for our first responders.
"With limited budgets and a rapidly evolving crisis, it was necessary to redirect the Fort bend County's expenditures on the disinfectant. However, due to the benevolence of a few members of our community, the disinfectant program will continue for the next few days."
The disinfectant giveaway was funded through the county's COVID-19 Project.
Commissioners allocated $500,000 to help fight the novel coronavirus.
The county contracted with De Nora to provide the disinfectant but the program ran out of bottles on Sunday after three days.
George refused to free up funding more plastic bottles. But Nehls said local businesses donated $20,000 to keep the project going until De Nora's contract expires Friday.
Nehls suspects George stopped the giveaway simply to earn political points.
"He pulled a political stunt," Nehls said. "He made this political when it shouldn't be. Politics shouldn't play a part in helping our citizens."
He said the giveaway provides citizens with peace of mind. Seconds later a driver yelled: "There isn't any Clorox to be had at any store. I've been looking."
"See?" Nehls said.
Officers from the Arcola police department were among those seeking the free cleanser.
"We can't find bleach or disinfectant anywhere," said Sgt. Arika Carr. "We had to come all the way to Richmond to get some."
Carol Wiemth of Fulshear said she appreciated getting a bottle of the cleanser.
Alyssa Perkins, 23, picked up some for her parents.
Elizabeth Tsai, 10, of Sugar Land, took the opportunity to drop off some Girl Scout cookies to the deputies and volunteers while her mom waited in line.