Fort Bend County will no longer give away free bottles of disinfectant to residents.
The Fort Bend County Sheriff's Office has handed out over 8,000 one-gallon jugs and 32-ounce spray bottles of disinfectant since the giveaway began on Friday.
Although the disinfectant was given away free by a local company, the one-gallon jugs and 32-ounce plastic spray bottles were paid for through the county's COVID-19 Project funds.
County commissioners have allocated $500,000 to combat COVID-19.
Fort Bend County Judge KP George said the county is prioritizing the use of the funds to provide supplies and equipment to first responders and hospitals.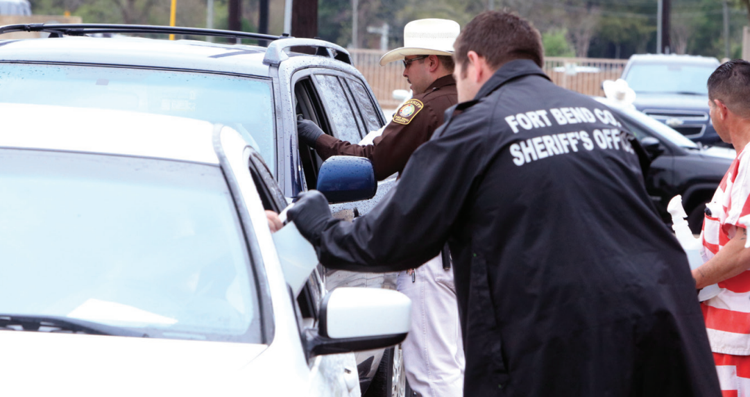 He announced his decision on his Facebook page on Monday.
"Dear Sheriff (Troy Nehls), I thank you for your leadership & free bleach. Our priorities are evolving," George said.
"Today I spoke to all the Mayors of Fort Bend County and Hospital CEOs to prioritize personal protective equipment for our first responders and medical personnel during a worldwide shortage. We need to ensure our hospitals and frontline staff are not overwhelmed or compromised from this deadly virus as they take care of our most vulnerable residents."
George said giving away free disinfectant is no longer necessary.
"I've also called through the grocery stores in Fort Bend County, and rest assured cheap bleach is plentiful & available without a 3 hour wait."
Nehls responded on the Fort Bend County Sheriff's Office Facebook page.
"Since we started our disinfectant distribution operation for Ft. Bend County residents four days ago, there has been an overwhelming outpouring of demand," he said.
"Thousands line up daily to get their hands on it, so I must share that today was our last day to distribute the disinfectant. County Judge KP George has decided the operation is no longer essential and has limited it to ONLY county officials and employees."
At one point on the first day, the wait for disinfectant was four hours. By the second day Saturday, the wait had been reduced to about two hours.
"I'm proud of the work we've done at the Ft. Bend Sheriffs Office to distribute the disinfectant to over 8,000 Ft. Bend County residents," Nehls added.
Nehls suggested residents contact George if they believe he should reconsider his decision.
George can be reached at his office at 281-341-8608 or email at FBC.Judge@fortbendcountytx.gov.
Many residents supported Nehls and his officers efforts to put the disinfectant in the hands of people who need it while others labeled Nehls a tireless self-promoter only interested in publicity and helping his Congressional District 22 campaign.