Former Richmond City Commissioner Josh Lockhart believes Mayor Evalyn Moore should have been removed from office after she admitted in March to violating provisions of the city's charter.
Lockhart was attempting to share his viewpoint with the commission during its regular meeting on Monday when Moore gaveled him to silence.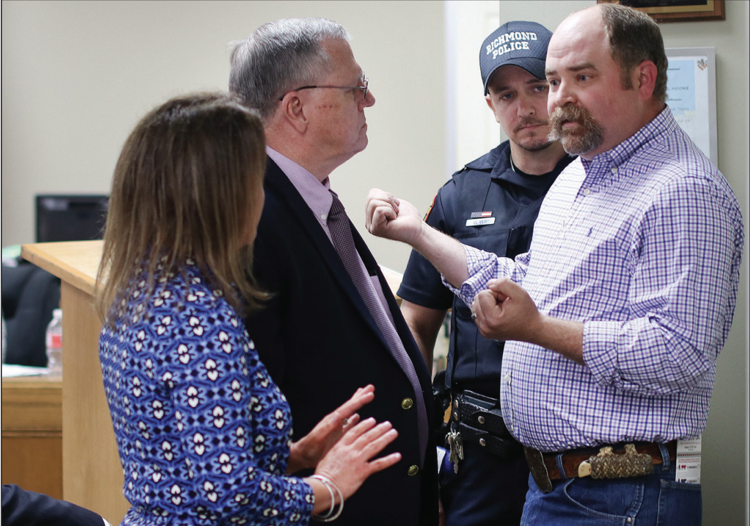 "Please let this serve as official notice of complaint against Mayor Evalyn Moore, Commissioner and Mayor ProTem Barry Beard, Commissioner Carl Drozd and Commissioner Terry Gaul for violations of the Home Rule Charter for the City of Richmond as outlined below," Lockhart recited from a prepared statement while standing at the podium.
"You are out of order," Moore said, tapping the gavel.

Lockhart continued to read.

"You are out of order," Moore repeated.
Lockhart, who was serving on the commission when he filed complaints against Moore, continued to read his complaint against the mayor.
"You are out of order!" Moore said a third time.
Lockhart, who also accused Moore of committing ethical violations, continued to read from his complaint. The commission was scheduled to review the complaint behind closed doors later in the meeting.
"You will be removed," Moore warned him.
When Lockhart continued to read, Moore nodded at a peace officer in the room and he approached Lockhart. Lockhart continued to read.
The officer attempted to gently get Lockhart to leave the podium but Lockhart exploded.
"I will not leave this room! You will have to arrest me," he said, holding his hands up so the officer could place handcuffs on them. "Hook me up! Arrest me! Take me to jail!"
Lockhart insisted he had three minutes to speak.
Police Chief Gary Adams approached Lockhart and attempted to persuade him to talk to him outside the council chamber. But Lockhart, who resigned in March, wouldn't budge.
City Manager Terri Vela then attempted to calm Lockhart and convince him to leave the chamber quietly. Lockhart insisted he would have to be arrested before he would leave.
City Attorney Gary Smith read the city ordinance that prohibits a speaker from defaming individuals during the public comment portion of commission meetings. Lockhart said he was not defaming anyone, only reading what the commission had drafted in its letter of censure against the mayor in March and from the city charter.
Lockhart's father, the Rev. John Lockhart, then walked up to the podium to see what he could do to ease the situation.
He was followed seconds later by Fire Chief Mike Youngblood. Finally, the younger Lockhart began walking toward the door.
"Y'all are a bunch of jokes," he said, turning to face them.
"This is rotten. Every one of y'all. This is rotten. This is rotten. Y'all should all be ashamed of yourselves. Bunch of dirty..."
Afterward, the commission disappeared behind closed doors to discuss the formal complaint filed against Moore by Lockhart. That complaint demanded the commission remove Moore from office as required by the city charter.
The commission returned to public forum, at which time Vela announced that the commission found "no factual evidence to support these re-hashed allegations. There is no merit to these allegations."
Lockhart told The Herald afterward he feared the commission would not censure itself so he showed up at the meeting to speak out and make sure the public understood his concerns.
Moore told the Herald on Wednesday morning that she gaveled Lockhart because he violated the city rules governing the public comment portion of commission meetings, including making deliberate misrepresentations of facts or holding members of the commission or public in contempt.
Lockhart told The Herald he was only reciting what the commission had announced publicly in its letter of censure.
In its letter of censure, the commission in March scolded Moore for violating the city charter and warned her she would be removed from office if she knowingly violates the charter again. At the same time, an ethics committee was formed to review several ethics complaints filed by Lockhart against Moore.
The ethics commission found it could not prove that Moore committed any ethics violations. Lockhart did not seek election to a second term of office in May and resigned in March, saying he thought the commission was corrupt.
---
 In other action Monday,
two members of the commission took the oath of office. Longtime Richmond barber AD Eversole, who was appointed to fill Lockhart's vacant seat until the May election, made his one and only motion on the council: certifying the results of the May 4 election.
Afterward, Position 2 Commissioner Barry Beard and Position 4 Commissioner Alex BeMent were sworn in and will replace Eversole at the next council meeting. BeMent will serve in the position Lockhart gave up.