The Fort Bend County Sheriff's Office is seeking information concerning an Aggravated Assault with a Deadly Weapon.
On September 18, 2019, at approximately 6:20 p.m., Fort Bend County Sheriff's Office deputies were called to the 5800 block of S. Mason Road, in the Katy area of Fort Bend County.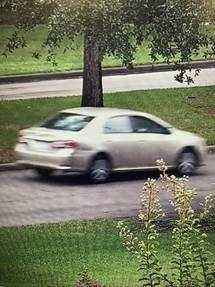 One male victim told deputies he was shot as a result of a road rage incident. He was taken to the hospital with a gunshot wound.
The suspect is described as a black male between 5'10" to 6'2" with a medium build and a short patchy beard. He has short hair and is between 25-35 years old.
Surveillance footage revealed the suspect's vehicle to be a tan/gold, 2006-2011, Toyota Corolla. The vehicle appears to have hub caps and a dent on the right rear bumper.
"Help us catch this suspect," said Sheriff Troy Nehls. "We don't want violent individuals on our roads."
Anyone who has information on this crime is asked to call Fort Bend County Crime Stoppers, Inc.
- Call (281) 342-TIPS (8477) All calls to Crime Stoppers are ANONYMOUS
- Submit Online: http://www.fortbend.crimestoppersweb.com/
- Visit our Facebook: https://www.facebook.com/fortbendcountycrimestoppers/ for details on a New easy way to submit tips via the P3 Global Intel App.
Information, which leads to the apprehension and filing of charges on the suspect(s) involved, could earn you up to $5,000 CASH REWARD