Angela Elliott of Richmond remembers growing up watching do-it-yourself programs about woodworking — and falling in love with the idea she, too, could fashion unique creations out of wood. As a teen she began making cutting boards and platters out of wood for her friends and family. By the time she was in her mid-20s she decided to start selling her crafts.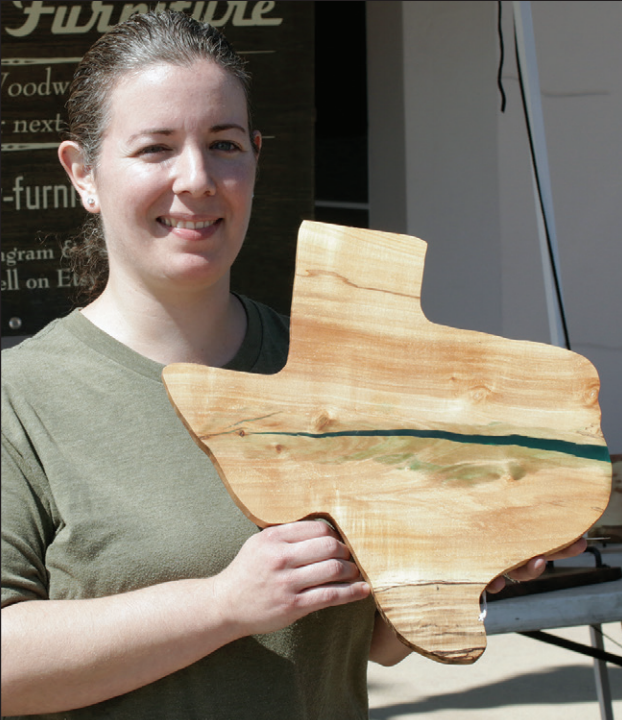 Elliott was among 40 or so local crafters who took advantage of the first-ever Downtown Rosenberg Artisan Market to sell her creations, meet new customers and pass out business cards.
"We couldn't have asked for better weather to spend the day in Historic Downtown," said Jackie Wehring, Tourism and Rosenberg Main Street Manager, who helped organize the event. "Rosenberg Main Street appreciates the support of the community and we look forward to future events in downtown."
Wehring said she counted hundreds of visitors strolling along Third Street during the time the event took place. A lot of them also visited stores lining the streets downtown, she noted.
Among the local crafts people was Ana Payne, 31, of Rosenberg, who fashions customized door mats out of her home shop. She was selling mats with Astros, Texans and Dallas Cowboys logos for $30-$40 each, and handed out business cards in hopes shoppers wanted custom mats for their homes and offices.
Doug Gant, of Rosenberg, and wife Janet, were selling his unique lamps made from whiskey and wine bottles, and "anything else laying around the house or garage." Newly retired from Fluor, Gant said he got the idea for the lamps by reading stories online.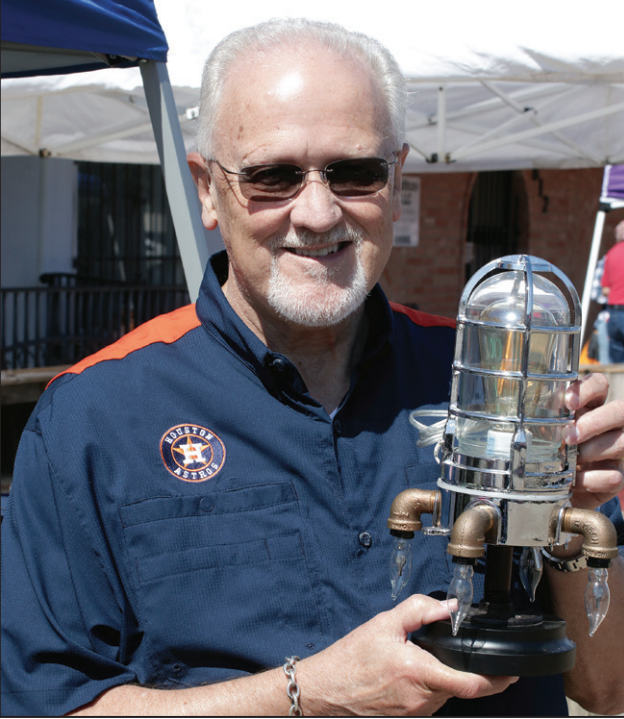 "I thought to myself, hey, I can do that!"
It took him about two weeks to figure out how, he said.
One day while discussing his crafts at a bar with friends, the bartender overheard him and handed him a box of empty wine and whiskey bottles. He turned the bottles into unique lamps. Gant said he can fashion lamps out of anyone's favorite beverage bottle. He turned a gumball machine complete with colored gumballs into a lamp as well.
Like Gant, Elliott is self-taught.
"I didn't have anyone to teach me, and I didn't have any tools at first, but I loved working with wood and knew it was something I would enjoy," she said.
Elliott, 31, makes the unique cutting boards and platters in her garage in Pecan Grove.
"I'm here to offer emotional support," said husband Brandon.
Sister-in-law Kristin Elliott-Gann helped with Saturday's sales. Later Saturday, Angela and her husband were showing off her unique crafts at the annual Motown on Morton Street event in downtown Richmond.