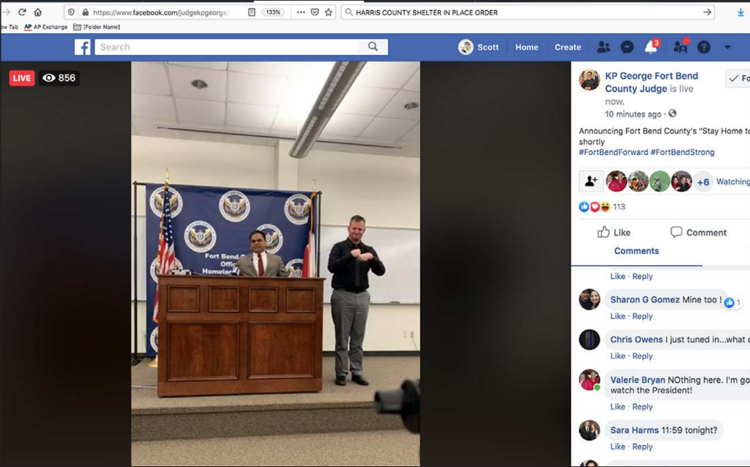 Fort Bend County residents have been ordered to stay home for the time being to help prevent the spread of COVID-19.
Tuesday's order, announced live on the Fort Bend County Facebook page, comes on the heels of 36 new cases of novel coronavirus in the last seven days.
A total of 46 Fort Bend County residents are known to have contracted the potentially deadly virus.
The "Stay Home to Save Lives" order does not affect people who work at jobs essential to the health and welfare of the public, such as grocery stores, pharmacies, doctor's office and gas stations.
The order also does not prevent residents from going outside to shop for groceries, medicines, exercise, walk pets, or even enjoy the park. However, they are encouraged to maintain a 6-foot distance from other people to help prevent the spread of the virus.

"Social distancing remains the most efficient way to prevent the spread of this virus to others," Fort Bend County Judge KP George said during the news conference. "It takes constant awareness to stay six feet away from your friends, from your family or coworkers. Minimize your trips to the grocery store or other places. This is the only way we can flatten the curve and give our healthcare system (time to gather) the necessary resources they need to save our most vulnerable citizens."
Over the past few weeks, the threat of coronavirus has accelerated, he said. "This is why (Texas) Gov. (Greg) Abbott and so many local leaders and I issued local disaster (declarations) placing limitations on social gatherings and businesses," he explained. "While short term economic impact is difficult, based on the global experience, (social distancing) is the only way we can preserve the long-term economic and social fabric of our communities."