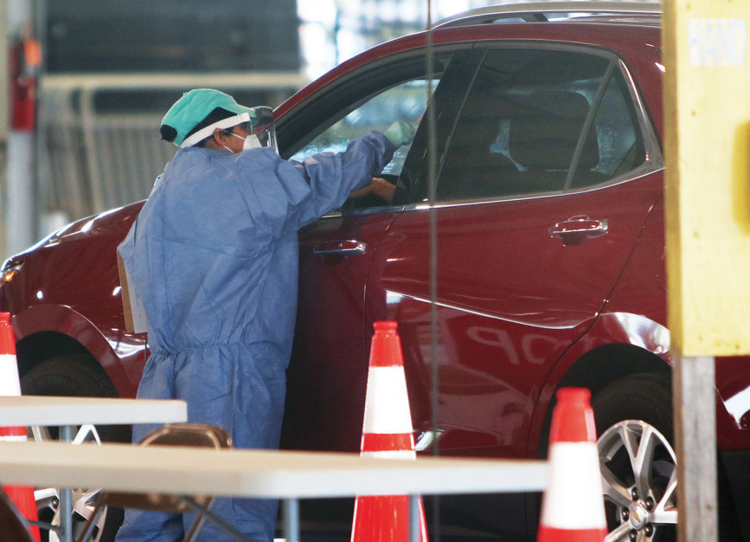 Fort Bend County officials are asking more residents to test for COVID-19, even though more testing means more confirmed cases of the deadly virus.
"We've had a good response so far but it could be better," Fort Bend County Judge KP George told The Herald on Monday. "We understand that more testing will lead to higher numbers (of confirmed cases) but it's so very important we know what we are dealing with, how far the virus has spread in our county."
He met with the news media at the county's free COVID-19 testing site in Rosenberg in hopes of getting the word out. The site, located at the Fort Bend County Fairgrounds, is one of five free testing sites the county has in place. A total of 8,227 residents have been tested at the county's five free test sites in Rosenberg, Richmond, Sugar Land and Missouri City as of Tuesday morning.
It should be noted that residents are also being tested outside of the county and at private hospitals and clinics. Those results may or may not be shared with county authorities.
George said there are no plans at this time to develop more testing sites. He said the county presently has the capacity to test about 700 people daily, and up to 1,000 if pressed. He also said the county has no set goal on the number of people it hopes to test.
"We have not set a specific goal. Our goal is just to test as many of our residents as we can to find out the depth of the problem so we can stop the spread of this deadly virus," he said.
There are approximately 820,000 residents in Fort Bend County. So far, the deadly virus has claimed 40 lives in Fort Bend County. A total of 1,581 residents has tested positive for COVID-19 since the virus first appeared in the county in early March.
Of those, 1,104 are recuperating in home quarantine, 53 are presently hospitalized and 384 have recovered. To be considered fully recovered, residents must twice test negative for the virus.
Testing is open to all residents — whether or not they are experiencing symptoms from COVID-19.
Anyone wanting to be tested for COVID-19 can request a test online at https://fbchealth.org and then a representative will contact them. Or call 281-238-2363 for a phone consultation and scheduling.
The resident will then be given a control number and a time to be tested. The test itself takes about 15 minutes, including filling out paperwork, waiting in line and a quick nose swab.
A medical professional will contact the resident with the results of the test within two to six days.
George, who was tested two weeks ago, said the new nose swab is painless and is over in seconds. Residents who test positive for COVID-19 will then be questioned about how they may have contracted the virus, who they came into contact with and what they should do to ensure their safety and the safety of others — including doctor's visit, hospitalization and home quarantine. T
hey will also be asked who they may have spread the virus to. Contact tracers will then contact those people and let them know they may have come into contact with someone who has tested positive for the novel coronavirus. Those individuals also will be advised how to ensure their safety and the safety of others, such as being tested, visiting a doctor, confining themselves to home quarantine, and other measures.
Lacie Sumpter, communications manager for AccessHealth, which is working with the county to offer the free testing, said contact tracers will not disclose at any time the name of the person who has tested positive for the virus. "When they contact someone who may have been in contact with someone who tested positive for coronavirus, they will only be able to tell them that they may have come into contact with someone who has the virus.
It will remain completely anonymous," she said. "If you're contacted and told you may have come into contact with someone who has tested positive for coronavirus, you won't know who tested positive." George said privacy is paramount when sharing information on patients. "We take privacy very seriously," he said.
"We have a duty to protect everyone's privacy. So there's no reason not to be tested."
Rita Obey, a communications consultant for the Fort Bend County Health and Human Services Department, said contact tracers will not visit work places or show up at people's homes in full protective gear for all their neighbors to see. She said residents who test positive for the virus, and those they have come into contact with, will be strongly encouraged to self-quarantine for the 14-day period recommended by the Centers for Disease Control to protect the rest of the public.
What worries George and the county's health authorities is that testing has slowed statewide.
"We see people out in the public not wearing masks, not wearing gloves, not practicing social distancing," Obey said. "Once the state started reopening for business, I guess people thought it was OK to stop protecting themselves. The number of people being tested has dropped. Maybe they think it's not a problem any longer. But it is." She said the county still strongly recommends residents wear masks in public and take other precautions to prevent the spread of the virus.
"It may not harm you, but it could harm someone you love," she explained. "You may have a child with asthma, or someone in your family may be on dialysis. That's why it's important to protect yourself, so you don't spread the virus to someone else."