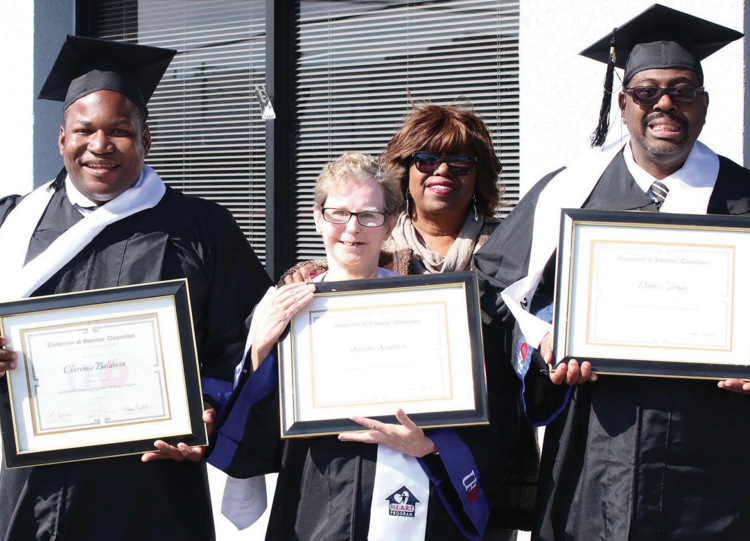 Imagine wanting a job but being born with intellectual and developmental disabilities that make you unhirable. Now you know how Darius Tenas of Rosenberg felt.
But those days are coming to an end thanks to a one-of-a-kind pilot program developed by the University of Houston-Downtown, the Texas Workforce Commission, the U.S. Department of Labor and the Gulf Coast Workforce Board. Darius and two other clients of Thomas & Lewin in Rosenberg were selected last year to attend the UH-D/HEART continuing education course.
The nine-month study plan provided them with the skills they needed to get paying jobs — and a framed certificate to show they are career-ready.
Darius, Sandra Shairer, 60, and Clarence Baldwin, 33, were among 35 students who completed the program.
Darius works as a sacker at H-E-B in Richmond.
After earning his certificate from UH-D, he started a second job at the Shell station at FM 2218 and Reading Road. He replaces beverages in the coolers, stocks shelves, bags ice, cleans up and does a lot of other maintenance duties. And he couldn't be happier.
'I'VE GOT TWO JOBS!" he said, beaming a toothy grin.
He attributes his good fortune to Thomas & Lewin Associates, located in historic downtown Rosenberg. Founded in 2002, Thomas & Lewin helps people like Darius whose mental disabilities often keep them from finding gainful employment. While some of the clients are dropped off at Thomas & Lewin daily, others live in a group home.
Co-owned and operated by Ann Lewin and Athena Thomas, Thomas & Lewin currently operates 21 group homes in the Richmond-Rosenberg area, six more in Brenham and is licensed to provide services in other parts of Texas. Once at Thomas & Lewin, clients learn how to take care of themselves, learn communication and social skills, and spend plenty of time in a classroom learning about the world around them.
"Welcome the visitor," Judy Earls, a field services coordinator at Thomas & Lewin, reminded Darius.
"Hello, nice to meet you," Darius said, extending a friendly hand.
Learning how to talk to people is an important step in living in society, Earls explained to the visitor. It's also important if someone wants a job that requires dealing with the public, added Earls, whose daughter Athena Thomas serves as CEO of Thomas & Lewin. Dr. Jonathan Schwartz, dean of the College of Public Service at UH-D, applauded the graduates during a ceremony in their honor.
"I offer my heartfelt congratulations to his groundbreaking group of students," he said. "They are pioneers. With their participation in this program, they have chartered a new path. Their willingness to be a part of this inaugural cohort of students means that those who follow will benefit from their experience to fulfill their own dreams of workforce and career readiness."
Darius said the graduation ceremony is one of the best things to ever happen to him. Knowing he is earning a paycheck and helping make his own way through life is even better, he said.