Several hundred family members, friends and associates of the late Herbert W. Appel, longtime president of the Fort Bend Economic Development Council, were on hand Wednesday for the unveiling of a life-size statue of him sitting on a bench in full fishing attire. The statue is located in what is being called Appel Park in front of a lake on Lake Pointe Parkway near U.S. 59 in Sugar Land. Appel, who had retired from the EDC, died days before what would have been his 76th birthday in July 2018.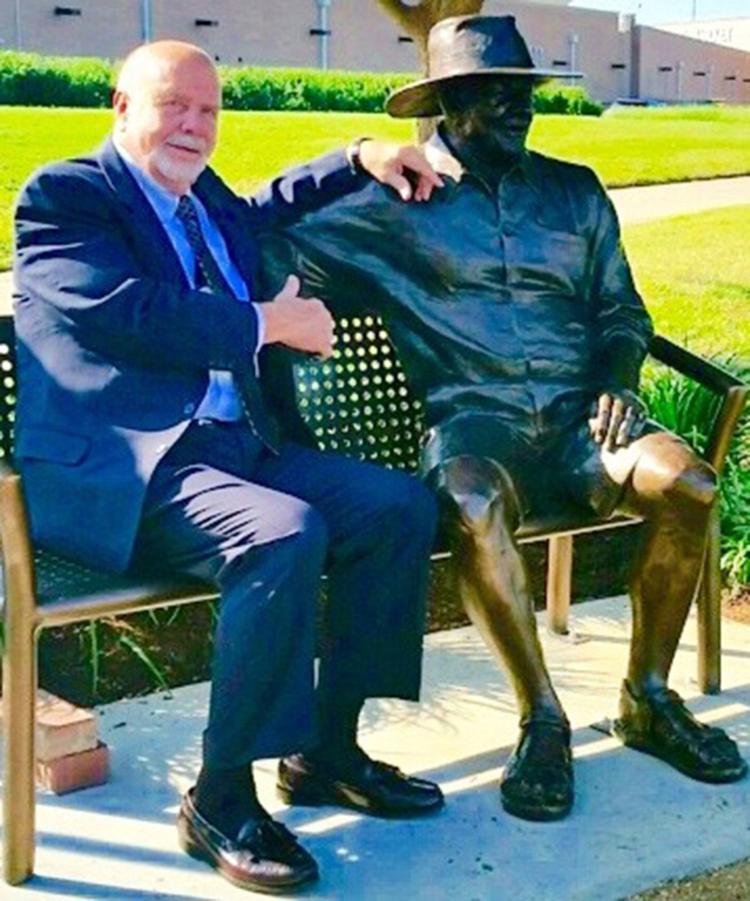 Funds for the creation of the statue were from personal contributions and spearheaded by past and present EDC officers Bill Jameson, Les Newton and EDC executive Jeff C. Wiley. The project was orchestrated by Sugar Land resident Sandy Levine, who promotes bronze public art.
A bronze historical marker describing "Herb Appel, Fort Bend Statesman" is adjacent to the statue.
The project also had the support of the Sugar Land Legacy Foundation, First Colony Community Association, Fort Bend Levee District No. 2 and the City of Sugar Land.
Prior to becoming EDC president, Appel owned the Coors beer distributorship, located between Rosenberg and Beasley, and Trinity Church Construction Co. in Richmond. He was one of the original organizers of the EDC in 1986.
The affable Appel re-wrote the book on volunteerism, showing by example how to help people who were unable to help themselves.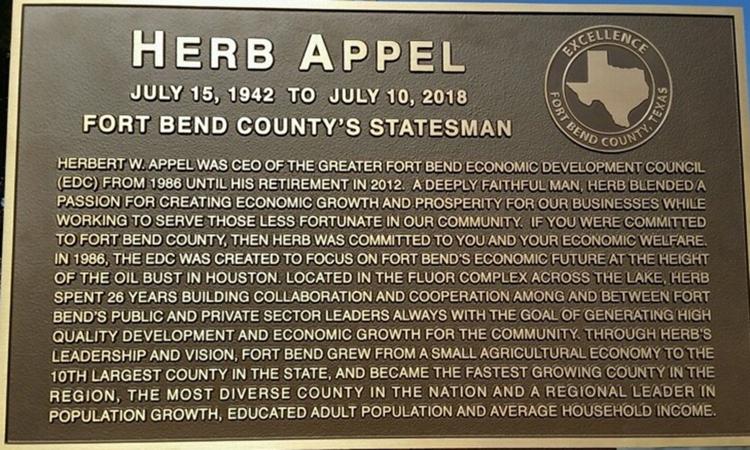 Appel's brother, Gary Appel of Galena, Ill., is almost a spitting image of his older brother, and was used as a model, donning fishing clothes and a big hat for photographs from which the sculpting was done.
Friends of both brothers said they were so similar that they have been mistaken for each other.
"They walk and talk the same as well as looking similar," friends and family said.
Gary is two years younger than his late brother.
Appel's wife Emelia represented the large family turnout by thanking those in attendance as well as other contributors. "We are so grateful and humble that you would do this for our Herb," she said.