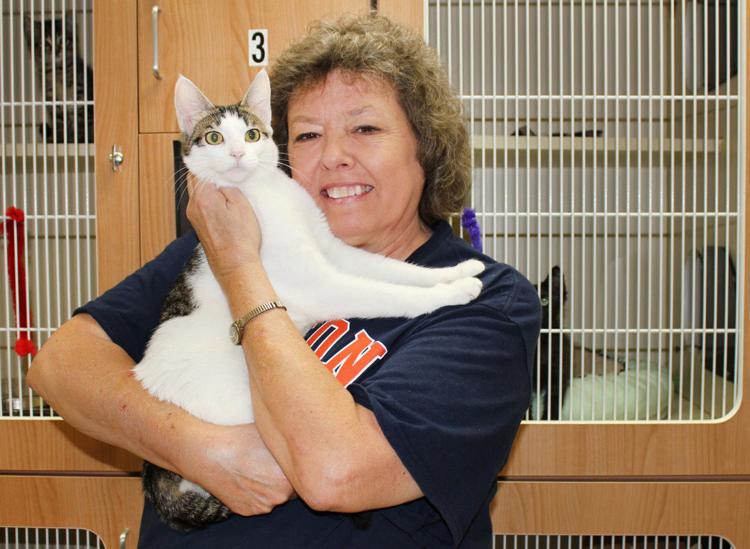 Another charitable organization is helping to find a home for Rosenberg strays. The Herald reached out to the group and asked a few questions. Here are the questions and the responses:
Who founded Friends of Rosenberg's Homeless Pets? Who are the officers? Do they live in Rosenberg?
Friends of Rosenberg's Homeless Pets is a charitable organization founded by three Rosenberg citizens who saw a need for extra help with medical needs of Rosenberg Animal Shelter. The directors are President Carolyn Seiler, Treasurer Amanda Barta, and Secretary Rudy Cuellar who are all Rosenberg residents.
What is the organization's mission statement?
Friends of Rosenberg's Homeless Pets has a mission to raise funds in order to assist in the treatment of heartworms in dogs and to provide medical treatment for all animals at Rosenberg Animal Control and Shelter in order to promote adoptions into loving forever homes. To meet the objective of this organization it shall work to raise funds for the Rosenberg Animal Control and Shelter as a fundraising partner at any and all public and private events.
Have you obtained a 5013(c) status? If so, when?
Friends of Rosenberg's Homeless Pets is a non-profit 501c3 status organization in compliance with the IRS. The status from the IRS was granted on June 14, 2019, and has a non-profit status with the state of Texas.
Does your organization accept donations?
"Friends of Rosenberg's Homeless Pets is working to build relationships with individuals and businesses in our community accepting donations for saving the lives of the animals at Rosenberg Animal Control and Shelter," said Seiler. "Treatment of heartworms in otherwise wonderful dogs can cost several hundred dollars even with the rescue rate from our on-board vets.
"At times there are as many as 19 heartworm positive dogs who would make loving family members. Due to the high cost of treatments, sometimes it is not feasible for families' budgets and this is where we want to help."
Friends of Rosenberg's Homeless Pets was founded with the same concept that Fort Bend County has with Fort Bend PAWS, which is also a 501c3 non-profit organization, Seiler said.
" In fact, we have received some helpful guidance from Commissioner Vincent Morales in starting our organization," she said. "We are most willing to work with Fort Bend County on adoptions.
"Often potential adopters don't find that special furry family member at Rosenberg, so we always encourage them to check out Fort Bend County. We always want to find every animal in shelters a loving forever home regardless of where they are at in shelters."
Can you elaborate on your goals?
Dogs that are picked up as strays at Rosenberg Animals Shelter are vaccinated against Parvo, Distemper, and Bordetella. They are also given flea preventative and started on heartworm preventative. Cats are given Felavax vaccines which are for FIV and feline leukemia along with flea preventative. These are given upon intake to reduce risks of disease in the shelter. Any animal needing medical attention from a vet will receive that as well. All strays are on a three-day stray hold which gives them time for their momma and daddy a chance to reclaim them.
If no one comes forward after that time, they are available for adoption or for one of the many animal rescues to tag them for placement in their adoption program. Seiler said volunteers are crucial in maintaining a healthy environment for the animals at the shelter as well as adoptions.
"Fundraising efforts will also need the support of volunteers in order to help offset the costs of treating animals which is not always included in the city budget," she explained. "There are some fundraisers being planned so stay tuned to the Facebook page. It takes everyone helping to reach our goals of getting every healthy animal into a forever home."
Talk about your relationship with local animal shelters.
Friends of Rosenberg's Homeless Pets does not have its own shelter but works with Rosenberg Animal Control and Shelter. The shelter is open from 10 a.m. till 4 p.m. Monday through Friday with extended hours until 7 p.m. on Wednesday. The Saturday hours for adoption are from 10 a.m. to 2 p.m. The shelter is closed on Sunday.
What is the organization's contact info? Do you have a website, Twitter and Facebook account? How can people volunteer?
Anyone wishing to volunteer can call the shelter at 832-595-3490 and speak to the Shelter Director Mara Hartsell. Friends of Rosenberg's Homeless Pets has a Facebook page as Friends of Rosenberg's Homeless-Pets. The email address is rosenberghomelesspets @yahoo.com. Anyone can feel free to reach out to the group via Facebook or Email. As a 501c3 organization, 100% of donations and fundraisers will go directly to specific animals in need of medical treatment at the shelter, Seilers noted. There are no overhead costs.
"Friends of Rosenberg's Homeless Pets welcomes individuals and businesses to help us in raising funds through donations, sponsorships, and fundraising efforts to save animal lives at the shelter," she said.
The organization strives to help the shelter at adoption events both off-site and in-house and anywhere else as needed. "Friends of Rosenberg's Homeless Pets has a mission to save as many animal lives as possible," Seilers told The Herald.
Anything else you'd like our readers to know?
"There are dogs currently at the shelter who have been residents for almost a year. The shelter is no place for dogs and cats to live and Friends wants to change that to give animals a home to call their own. "Please consider opening your heart and home to a very deserving animal and giving them a loving place to call their own."