More than 500 residents in Fort Bend County have tested positive for COVID-19, 12 have died and 61 have fully recovered, health authorities reported Monday.
And for the first time, county officials are revealing where those with confirmed cases live according to their ZIP codes.
The county reported the statistics and a map of the ZIP code areas on its online COVID-19 Community Impact Dashboard.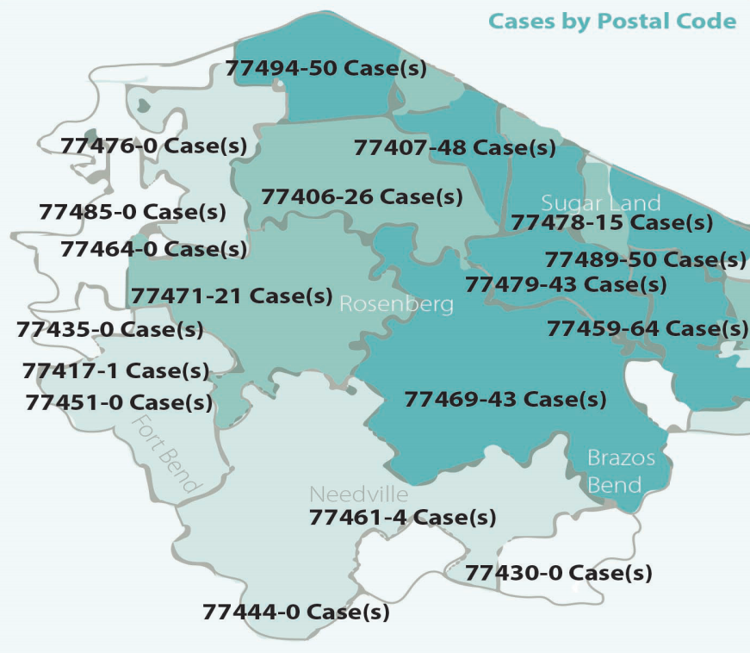 Authorities reported one death from the novel coronavirus on Saturday and reported another death — the county's 12th fatality — on Monday.
Over the weekend, 12 more people tested positive for the virus, bringing the total number with the virus to 543 as of Monday morning.
However, it should be noted, other people may have the virus and not know it or not yet tested, and others may have been tested for the virus and are awaiting results.
A total of 801 people have been tested at the county's test site in Rosenberg.
Other residents may have been tested at private hospitals or in Houston and Harris County.
According to the county's COVID-19 Community Dashboard, four confirmed cases were reported in Needville's 77461 ZIP code address, 21 in the Rosenberg ZIP of 77471, 26 cases in the Richmond ZIP of 77406, 48 in Richmond's extra-territorial jurisdiction ZIP of 77407, 43 in Richmond's extra-territorial jurisdiction ZIP of 77469, six in the Fulshear ZIP of 77441, 50 in Katy's ZIP of 77494, 43 in Sugar Land's ZIP of 77479, 46 in Sugar Land's ZIP of 77498, 15 in Sugar Land's ZIP of 77478, 50 in Missouri City's ZIP of 77489, 64 in Missouri City's ZIP of 77459.
More men have caught the virus than women in Fort Bend County.
According to health authorities, 361 men have contracted the virus and 277 woman. Of those, 67 are currently hospitalized and 403 are recovering at home. More than 80 percent of victims only experience mild symptoms.
Some victims may be asymptomatic, which means they do not suffer from any symptoms and many not even know they have the virus.
AccessHealth and Fort Bend County's test site is open Monday-Saturday.
Although the testing site's priority remains vulnerable populations such as seniors, healthcare providers, first responders etc., testing is available for everyone deemed at risk by their healthcare professional.
Anyone experiencing symptoms associated with COVID-19 such as fever, cough, shortness of breath etc., is urged to go to www.fbchealth. org and complete the online screening.
Residents who do not have access to internet may call the county phone line at 281-633-7795 for further directions.
Residents who are identified as being at risk will receive a code and phone number to call.
If the medical professional deems a resident at risk, the resident will get a time and directions to testing site.
The entire testing process takes a few minutes from start to finish. This is done so that there are no long lines and people who are going to be tested can be in and out quickly.
Health officials ask county residents to continue to abide by the Stay Home Save Lives order and social distancing mandate, as well as continuing to wash hands, clean high touch surfaces and wear face coverings when going out for groceries or other essential activities.