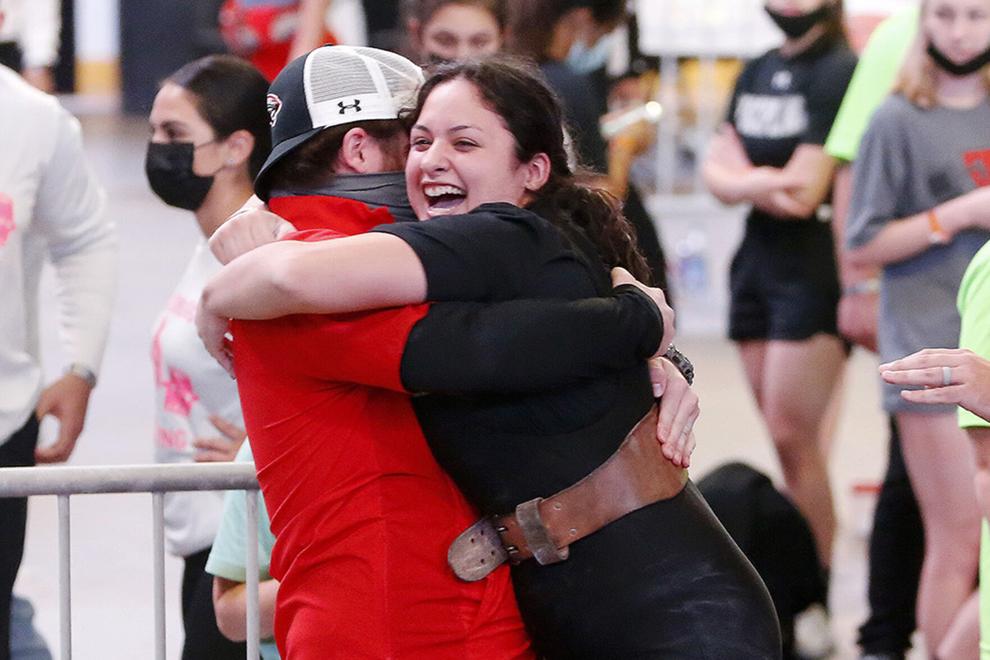 CORPUS CHRISTI — Brazos senior Halie Gonzalez's final season ended with a bronze medal at the Texas High School Women's Powerlifting Association state championships.
In her second deadlift attempt, her weight belt broke.
So the third and final attempt was all Gonzalez had left.
Gonzalez needed 380 pounds to beat West's Jenna Maler, who bested Halie for the regional championship weeks before.
Halie put down her final deadlift attempt Thursday on the floor of the American Bank Center in Corpus Christi.
She was quickly transfixed on the light box that displayed the judge's rulings.
In reality, Gonzalez had to wait only seconds to know if she had down enough to earn the bronze in the women's 3A 181-pound division.
But the anticipation made the wait for the judges' switch flip on either a white or red light felt like a lifetime.
Two white lights appeared and celebration ensued.
Gonzalez jumped into the arms of her coach Ryan Almon.
Gonzalez had done it, she had beaten Maler, posted person-best in all three lifts, overcome a season in a pandemic, a last-season setback of broken weight belt and earned a bronze medal.
"I think I blacked out for a minute," Gonzalez said. "All I needed to see was Coach Almon, I knew I could celebrate."
Brazos' Gonzalez earns a bronze medal at state powerlifting
The only powerlifter at the 2021 THSWPA state championship from Brazos was going back to Wallis with a third-best weight total of 945.
"This meant a lot to me," Gonzalez said. "I've never really had a perfect fit in volleyball, basketball or softball, but having a sport that I control is great. This felt amazing.
"It's nice to play with a team but being able to do it by myself is awesome.
"It's the experience of a lifetime."
Gonzalez was behind only Edinburg Idea College Prep's Samantha Gonzalez with 1,000 pounds and Natalia's Gabriela Munoz at 950 pounds.
Gonzalez posted the second-best squat with 400 pounds in the weight class.
Hallie was fourth entering the final lift after a 165-pound bench press.
Both Gonzalez and Maler both recorded dead lifts of 330 at regionals.
Both lifters improved their overall total by 40 pounds from the regional, but Maler only added five pounds in the deadlift with a mark of 335 pounds.
Gonzalez went for it all with a 380-pound lift.
"This is such a great feeling as a coach," Almon said. "(Hallie) went from seventh at regionals last year to third at state this year.
"This is an amazing sport, because you can put all of it on the lifter.
"We saw the belt bust on the second-to-last lift and she had the mental toughness to fight through that to get a (personal record). She beat a girl that beat her at regionals, which also came down to the last lift.
"It's just elation."
The third-place finish earned Brazos a 23rd-place finish in the team standings with two points. Edinburg Idea College Prep won the team title with 28 points.