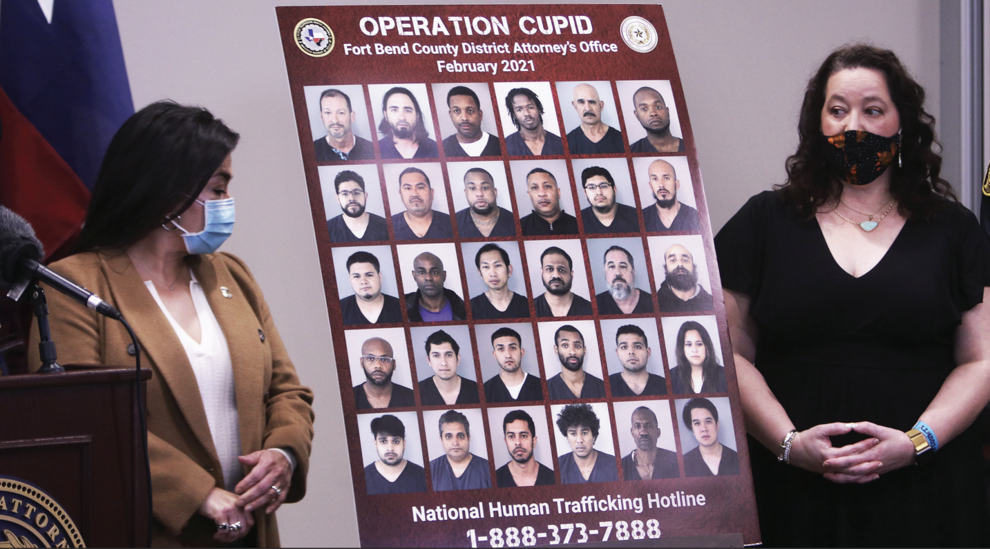 Rhonda Kuykendall wants to eliminate human trafficking businesses from Fort Bend County.
And more than that, the Fort Bend County DA's Human Trafficking Team chairwoman wants to help the victims caught up in these illicit affairs.
At the Rosenberg City Council workshop meeting, Kuykendall provided the council information regarding illicit massage businesses that front for commercial sex operations, suggesting the city create an ordinance to stop this from spreading.
She said the team is working on statewide legislation, ordinances in surrounding cities and education and awareness symposiums locally to help caregivers and kids protect themselves.
"They're all over the place," Kuykendall told the council. "They're in open view. They're everywhere."
"As many of you know, we do not have a Bissonnet tract in Fort Bend County. We do not have strip clubs in Fort Bend County. We do not have cantinas in Fort Bend County. But we do have online solicitation through social media. And we do have sex trafficking in residential homes.
"And we do have sex trafficking in illicit massage businesses in Fort Bend County."
Of the 6,696 sexual trafficking advertisements listed in the county in 2020, 64 came from the city of Rosenberg. According to Kuykendall, two reviews for illicit services have been listen in the city, and more specifically along SH 36.
"If you go and shut them down right now, guess what's going to happen?" Kuykendall asked. "They're just going to pop back up somewhere else. That's why we're working on implementing ordinances, conditional use permits in all of the cities across Fort Bend County right now."
Kuykendall added that it's not just about shutting down these illegal businesses. She also wants to provide services for the victims, which are women that are caught in sex trafficking.
"Recently, when we started working on these issues, we didn't see them as victims," Kuykendall admitted. "It's just prostitution, right?
"We would actually penalize the victims. So, now we are working on the perpetrators and the landlords and the traffickers, and looking for help for the victims."
Kuykendall then provided ordinance suggestions to help drive out illicit businesses in the city.
Of the 17 cities in the county, Fulshear, Meadows Place and Pearland have adopted ordinances to enact such change.
The entirety of council said they would be in favor of adopting an ordinance to combat sex trafficking operations in Fort Bend County.
"As a dad of daughters, I'm glad we're being aggressive on this," council member Kevin Raines said. "The thing that scares me on ordinances is it's kind of a paper tiger. We put all these mean things in a piece of paper and it kind of just becomes another thing that moves on.
"And I just want to make sure with the police department that we're all in to take care of this. So many times, people slip under the radar. This is something thats crime is weird. I hope us as a law enforcement collective come together and really go after this and take a bite out of it."
This item will be brought back to council for formal approval.