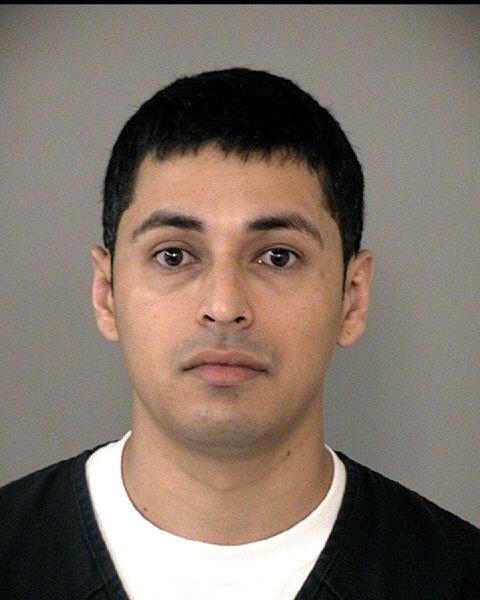 A man who let a Bengal tiger loose in a West Houston neighborhood was out on bond for a murd…
Fort Bend County prosecutors asked a judge to set a high bond or deny bond to a suspected murderer they consider a flight risk.
Victor Hugo Cuevas, 26, of Richmond, was arrested late Monday evening by Fort Bend County Sheriff's deputies on behalf of Harris County authorities who wanted Cuevas on a charge of evading arrest.
Cuevas is charged with first-degree murder in a shooting death of a man outside a sushi restaurant in the Cinco Ranch area on July 14, 2017, and is awaiting trial.
After his arrest Monday night, the Fort Bend County District Attorney's Office filed a motion Tuesday to revoke Cuevas' bond on the murder charge pending in Fort Bend County.
District Attorney Brian Middleton requested either a no bond, or a high bond in the amount of $200,000 for Cuevas' release, reminding the judge that Harris County's charge against Cuevas was evading arrest, making him a flight risk, and that Cuevas also has a pending case in Austin County for evading arrest.
Cuevas' attorney, Michael Elliott, asked for a $5,000 bond, stating that the Harris County charge is a third degree felony offense and that Cuevas has no prior convictions.
A magistrate set the bond at $50,000 and Cuevas bonded out of jail on Wednesday.
A hearing on the matter has been set for this Friday at 10 a.m. in the 240th District Court before Presiding Judge Frank Fraley.
Charged with murder
Cuevas was arrested on July 28, 2017, and incarcerated in the Fort Bend County Jail after witnesses identified him as one of the shooters outside the Sushi restaurant.
Bond was initially set at on a $750,000. Bail was reduced to $125,000 in Sept. 28, 2017.
Cuevas was indicted in October 2017 on first-degree murder and bail was set at $125,000.
On Jan. 26, 2018, bond was revoked when prosecutors said Cuevas failed to abide by the terms of his bond as promised and a warrant for his arrest was issued.
Cuevas was arrested Jan. 29, 2018, and held without bond.
Cuevas pleaded not guilty to the murder charge on Jan. 30, 2018.
Bond reduced
On April 16, 2018, his attorney requested the court allow his client to bond out of jail, saying he had "learned his lesson" and "now has a full appreciation of the seriousness and gravity of following all conditions of bond imposed by the court."
Bond was set at $125,000 on April 23, 2018, and Cuevas bonded out of jail on May 1 on the condition he remain on house arrest and wear an electronic ankle monitor to allow authorities to track his movements.
On Oct. 2, 2018, prosecutors asked the court to revoke Cuevas' bail for failing to abide by the terms of the bond.
On Oct. 2, 2018, a warrant was issued for his arrest and he was re-arrested.
On July 7, 2019, his attorney asked a court to reduce his bond so he could once again be released from jail.
On Aug. 7, 2019, he was released from jail on $35,000 bond.
On July 21, 2020, the Court signed an Order to Revoke Defendant's bond based on a pretrial bond supervision report alleging that Cuevas had violated several bond conditions.
On July 30, 2020, the court reinstated Cuevas.' Prosecutors asked the court to revoke his bond in November 2020, alleging that he had been arrested by the Sealy Police Department for the offenses of evading arrest with a motor vehicle, a third-degree felony) and driving while license suspended, a Class B misdemeanor).
On Dec., 22, 2020, after a hearing, the court signed an order setting bond at $125,000 and Cuevas was released from jail.
He is due in court in July. However, on May 9, 2021, in Harris County, Cuevas was accused o using a vehicle to flee from a Harris County peace officer. That charge stemmed from a tiger escaping from Cuevas' yard in west Houston.
An off-duty officer apparently saw the big cat and was about to shoot it if necessary when Cuevas came outside and retrieved it.
Cuevas apparently put the tiger in his vehicle and left the house before police arrived.