Right at 1,050 people in Fort Bend County have died from Covid since the virus first reared its ugly head in March 2020, according to authorities.
The majority of those who died — 555 — were age 70 or older, according to the county's online coronavirus response website. People 60-69 made up the second largest group to perish from the virus — 251 — and 146 individuals 50-59 died from the virus. Individuals age 40-49 made up 70 of those who perished and 16 people who died were 30-39 years old.
Eleven deaths were of people 18-29 and one person 0-17 perished from the virus, according to the website.
Most of those who died — 413 — were white while 249 Hispanics and 224 blacks perished. Of the 1,050 deaths from Covid, 118 were Asian.
Fifty-nine percent of those who died were male. Since March 2020, there have been 91,217 confirmed cases in Fort Bend County. Of those 86,698 have recovered.
Also, in the past 22 months, 148,957 people have been tested at the county's free test sites. However, it should be noted that residents may also be tested out of the county and at private clinics and hospitals, which do not forward the results to county record-keepers.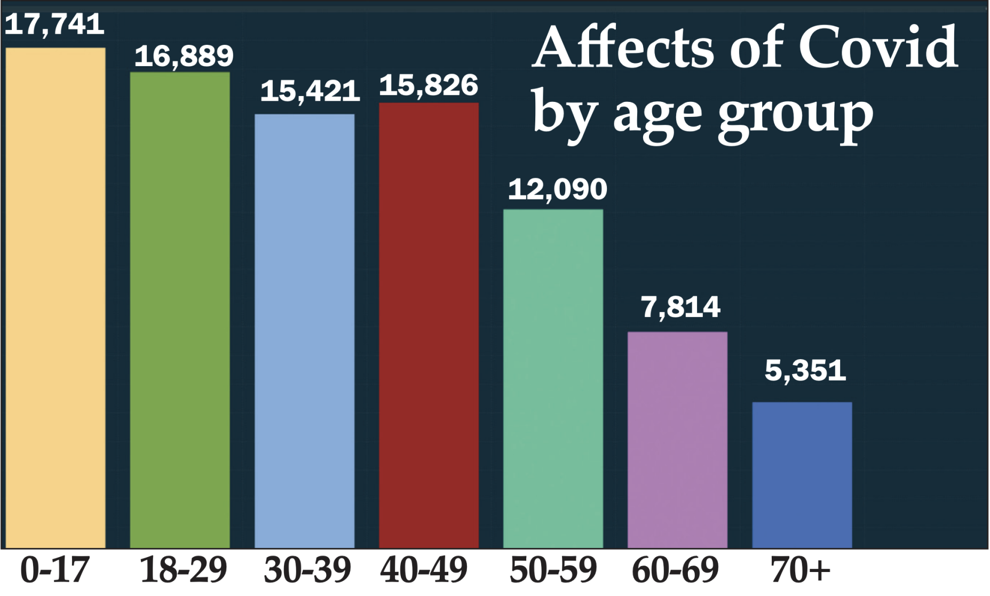 The Fort Bend County Health and Human Services Department, which is tracking the virus countywide and its effects, is notified of all Covid deaths in the county.
As of Monday, 228,848 individuals have received the free vaccine at the county's vaccination sites.
Daily Covid cases spiked in Fort Bend County on Sept. 7 with 1, 499 new cases reported that day alone. The daily cases plummeted to 11 on Nov. 4 before spiking at 1,152 new cases on Dec. 20.
County officials have said they expect to see the daily cases continue to rise due to the new and highly contagious Omnicron variant making its way around the globe.
Covid is mostly impacting younger residents, according to the county's website.
The majority of the cases are individuals age 0-49, with the most cases — 17,741 — being individuals age 0-17.
Individuals 18-29 make up 16,889 of the total confirmed cases and individuals 30-39 comprise 15,421 of the 91,217 total cases.
A total of 15,826 of the cases are residents age 40-49. On Wednesday, Dec. 22, Fort Bend County Judge KP George announced he had tested positive for Covid and was going into isolation.
George said he believes he was exposed to Covid by his daughter, who came home from college during the Christmas break.
"I am fully vaccinated and have not experienced or shown and COVID-related symptoms," he reported.
"This is my first positive test result. I am in good health and spirits, which I attribute to the fact that I am fully vaccinated and received my booster vaccine. Currently, I am in isolation at home for the recommended time as indicated by the Centers for Disease Control and Prevention."