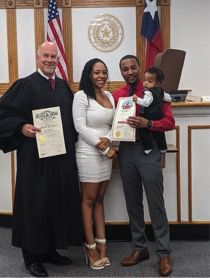 Thank you for reading!
Please log in, or sign up for a new account and purchase a subscription to read or post comments.
Thank you for reading!
Please log in, or sign up for a new account and purchase a subscription to continue reading.
Current Print Subscribers
If you already subscribe to our print edition, sign up for FREE access to our online edition. Thanks for reading the Fort Bend Herald.
Free access for current print subscribers
Online Access (Includes e-Edition)
Please sign up to subscribe to the Fort Bend Herald online edition.
Starting at
$1.00 for 1 day
| Rate | Price | Duration |
| --- | --- | --- |
| 1 Day | $1.00 | for 1 day |
| 1 Week | $5.00 | for 6 days |
| 1 Month | $9.00 | for 30 days |
| 3 Months | $27.00 | for 90 days |
| 6 Months | $52.00 | for 180 days |
| 1 Year | $100.00 | for 365 days |
A Fort Bend Herald special publication | Breast Cancer Awareness
Pleak Speaks with Marsha Goates
The Pleak City Council meeting is at 7 p.m. tonight, February 19, 2020. The Pleak City Hall is located at 6621 FM 2218 and FM 2218 near the intersection of FM 2218 and Highway 36 South. Meetings are always open to the public.
National Entertainment News
NEW YORK (AP) — Even progressively minded movies about abortion have usually focused on the morality of the decision. Eliza Hittman wanted to make a film where the highest hurdle isn't deciding to have an abortion. It's getting it.
NEW YORK (AP) — In a March 30, 2020 story about a claim by Sen. Marco Rubio that some media members couldn't contain their glee that the United States appeared to have more coronavirus cases than China, The Associated Press erroneously reported that Rubio had not subsequently cited some exam…
LOS ANGELES (AP) — "Wicked" fans are going to have to wait even longer to see Stephen Daldry's film adaptation of the popular Broadway musical. Universal Pictures on Wednesday announced that another handful of theatrical release dates are shifting due to the coronavirus pandemic, which has b…
NASHVILLE, Tenn. (AP) — Country singer Caylee Hammack and her band are facing months without income after the concert industry came to a halt to prevent the spread of the coronavirus. So they put down their guitars and started pushing lawnmowers.
LONDON (AP) — Every August, the Scottish capital of Edinburgh plays host to some of the funniest and most talented — not to forget strangest — performers from the U.K. and the wider world. Not this year. Organizers canceled the city's collection of late summer festivals Wednesday as a result…
NEW YORK (AP) — Lil Yachty, DaBaby and Drake's new rap song "Oprah's Bank Account" is one of Oprah's favorite things.
NEW YORK (AP) — Instead of watching their own finances crater, shut-in television viewers tuned in to the game show "Let's Make a Deal" in record numbers last week.
NEW YORK (AP) — J.K. Rowling is hoping a dash of Harry Potter will help families confined to their homes during the coronavirus pandemic.
NEW YORK (AP) — A bleary-eyed Chris Cuomo, saying he wanted to be a cautionary tale for his audience, anchored his CNN show from his basement Tuesday after testing positive for the coronavirus.
The documentary looking at Michael Jordan's last championship season with the Chicago Bulls is set for release nearly two months sooner than expected with no sports to air due to the coronavirus pandemic.
National Entertainment Videos
One of the nation's largest commercial labs has faced a backlog of tests that ballooned in the last two weeks, and has delayed results in some cases up to 10 days. CNN's Drew Griffin reports.