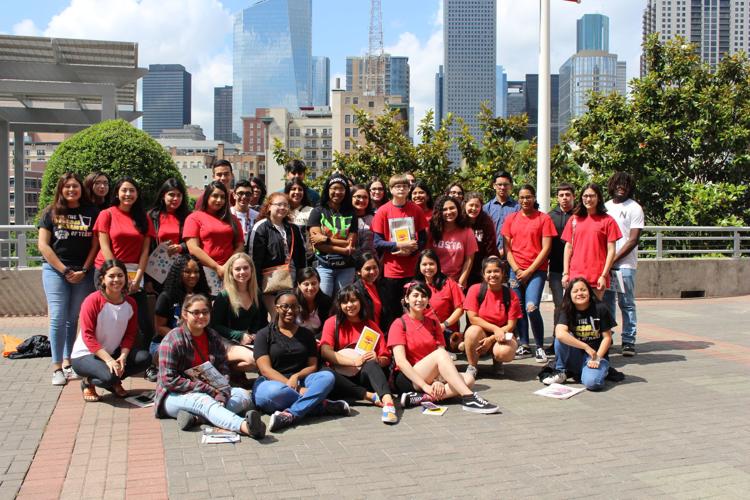 Thirty-nine members of the publications team — broadcasting, yearbook and magazine — from Terry High School visited with students and faculty from the University of Houston-Downtown.
Terry students heard about the opportunities available to them at the university and were able to visit the radio booth and tour the facility.
Thanks to Crystal Guillory, assistant dean for Student Affairs and Advising, for coordinating the trip at UH.
Students making the trip were Brissa Acevedo, Juan Acevedo, Azucena Aguillon, Brisa Alvarado, Judith Aradillas, Joscelyne Barcenas, Kayla Chavez, Angelica Cordova, Johem Cortez, Kaylee Davis, Aliaha De La Rosa, Marenna Emerson, Alexandra Enriquez,Emily Ford, Alejandra Gomez, Adrianna Gonzales, Desiree Hightower, Taylor Jackson, Jakob Jordan, Ariana Lawson, Alyssa Lopez, Heavenlee Maldonado, Amber Martinez, Dante McDonald, Timothy Mensik, Luis Molina, Ana Montoya, Olwesun Oderinde, Seth Ortega, Jazmyn Quintero Perez, Marisol Ramirez, Justin Rogers, Blanca Rodriguez, Danielle Rubio, Carlos Saldierna, Jennifer Sanchez, Madison Sanchez, Susan Segura, Sydney Sorto, Maddison Ulrich, Yadhira Ventura and Darlene Ybarra.
Principal at Terry is Dr. Andree Osagie.