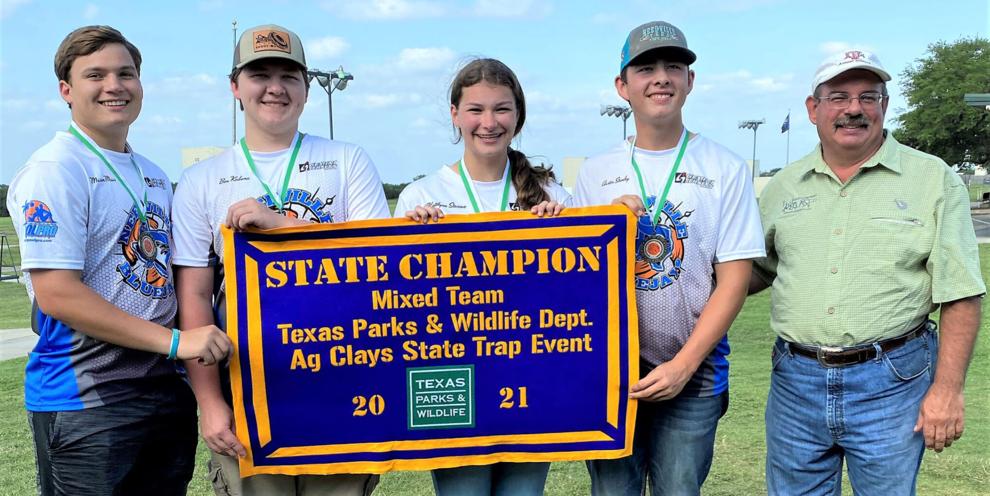 Members of the Needville High School shotgun team won numerous awards at state competition last week, including State Champion Mixed Team in the Trap category.
The Texas Parks and Wildlife Department Ag Clays State Tournament took place at the National Shooting Complex in San Antonio, with the Needville team placing in four divisions.
In the Trap event, Kaitlynn Stuewe and Mason Maus each broke 97 out of 100 clay targets. Both graduated in May and are members of the Mixed Team that captured the state title.
Their fellow state champion team members are Ben Kubena, who also graduated in May, and junior Austin Stanley.
Maus also won the High Overall Shooter Award for breaking the most clays throughout the competition.
The Sporting Clays Mixed Gender team of Maus, Stuewe, Stanley and freshman Jeremy Rodgers captured third place in that category.
In the Sporting Clays All Male contest, the team of Rodgers, Stanley, Maus and graduate Trenton Smith also won third place.
The Trap All Male team of Kubena, Maus, Stanley and freshman Colton Ondruch took fourth place in that division.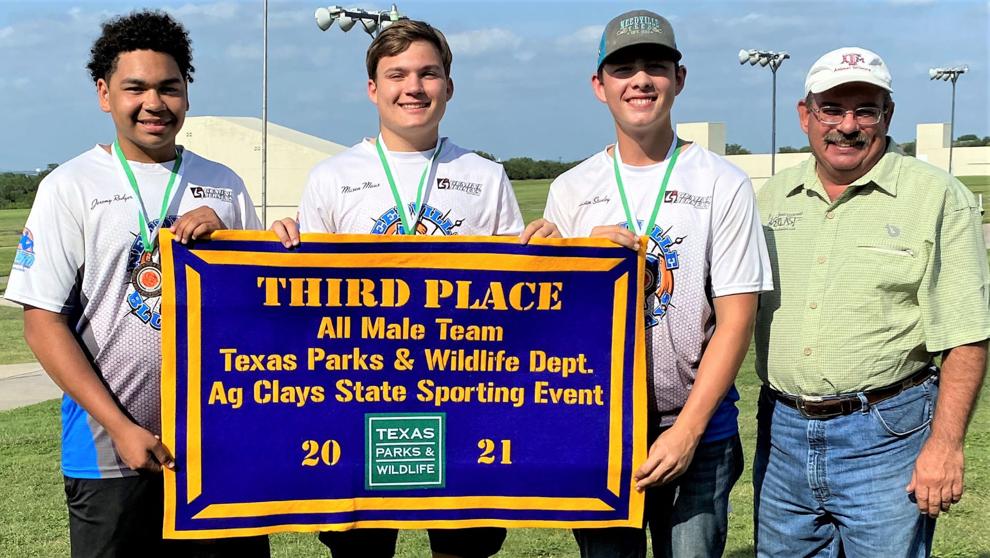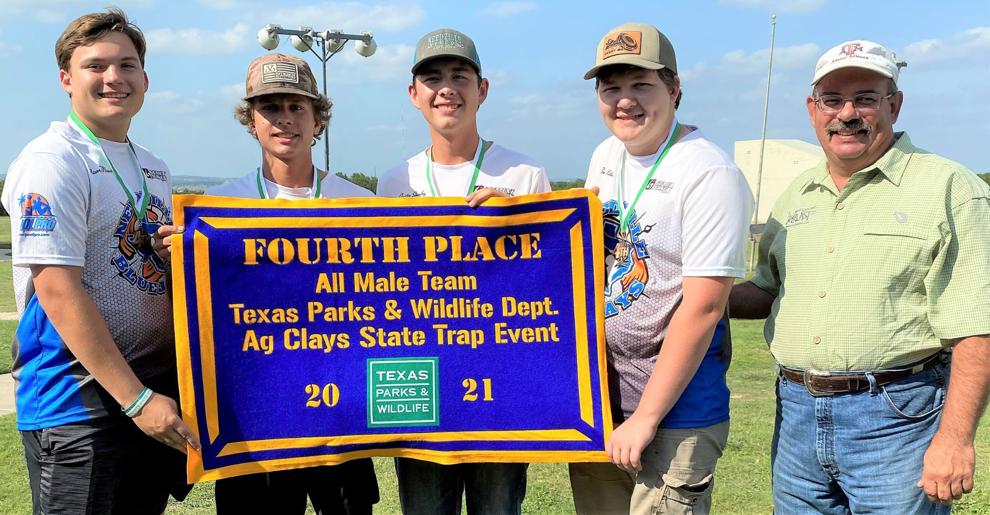 "We're so proud of our team. It is quite an accomplishment to place in both events with four of our teams," said Ruth Maus, who just finished a four-year stint as president of Friends of the Needville Shotgun Team. "We're just over the moon."
With her son about to head to college, Maus said it was time to turn over the reins of the organization to another dedicated parent, Stefanie Stanley.
"It's time for me to pass the torch, but I will miss it," she said. "I love being with the kids and watching them grow and improve. I'm basically just their big cheerleader. For them to go to a state contest and place four times in all the events, and for Mason to top it all off with the High Overall Award is a perfect ending for us."
In the Sporting Clays category, contestants shoot clays at 12 different stations. In the Trap category, a team of four stands in a semicircle with individuals taking turns shooting.
Maus said Friends of Needville Shotgun Team supports the shotgun team in the same way as a band or choir booster club.
"We do fundraisers to help support the shotgun team, with the proceeds helping pay for the entry fees for the numerous shoots they participate in each year," she said. "We were also able to give scholarships to our graduating seniors this year."
The organization's next fundraiser is the Blue Jay Shootout, set for 9 a.m. Saturday, Sept. 18, at Texas Premier Sporting Arms in Sealy.
"Anyone can participate," said Maus. "The Blue Jay Shootout is a really good shoot for younger shooters, amateurs and anyone who wants to have a great time while supporting our wonderful team."
It is an individual shoot, no teams, and everyone from elementary-age youngsters to 100 or more years young is welcome.
Awards include what Maus described as "beautiful belt buckles," and a raffle features a variety of guns and other prizes.
Cost to enter the contest is $125 per person, and includes lunch.