James "Bunky" Ward is standing outside the wood shop in the backyard of his Pecan Creek home and shows off a plank of rough oak.
Only that morning, he had sawed the plank out of a log he and his son had picked up from a friend.
Bunky — he is never called by his first name — plans to make a display case out of the plank.
Once finished, the display case will hold a tri-folded American flag, the kind typically bestowed upon the family of recently deceased veterans and members of the military.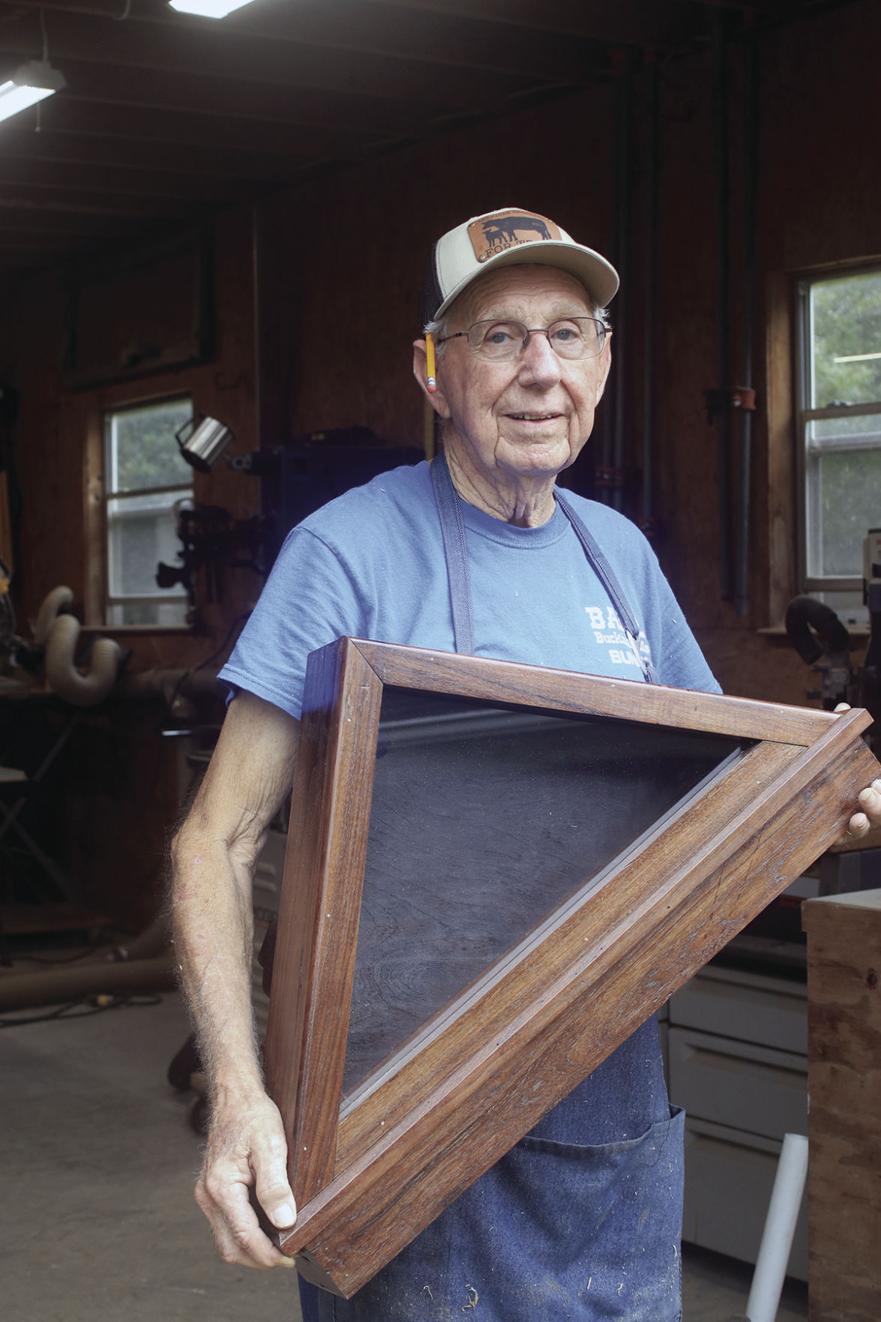 Bunky has made 86 of the cases since 2008, and has given them away free to friends, friends' families, friends of friends and even strangers.
"I enjoy making them and the people I give them to are always so appreciative," he said.
He made his first display case in 1984 after his former Sunday school teacher, Joe Nicosia, a Marine Corps veteran, passed away.
His good deed spread by word of mouth and more and more people asked him to make display cases for their families, or friends of theirs.
Bunky was only too happy to oblige.
"It keeps me busy," he says with a chuckle.
Bunky also scans the obituary sections of the newspaper to see if any of those who have passed were veterans. If he knows their families, he might well pick up the phone and give them a call.
"They're usually surprised to hear from me but they're pleasantly surprised," he said.
He's also donated his cases to fundraisers, such as the Badges & Boots silent auction.
One went to the family of a Pasadena police officer killed in action.
Working an hour or two each day, it will take him about a week to turn the rough-hewn plank he is holding into a flag case. He has to cut into the correct-size pieces, nail the pieces together, sand them smooth, have the glass special ordered and installed, and cover the wood with a shiny finish.
Besides flag cases, Bunky has also made display cases for a Texas Rangers association and a local Mason's lodge, which wanted to display a historic banner.
The banner, adorned with real gold thread, had been hanging on the Lodge wall for decades.
Bunky's finished display case stood 5-feet tall and allowed the banner to be viewed from both sides.
"It had been hanging on their wall for so many years they didn't even know there was an image on the opposite side," he explained.
Bunky has also made furniture for the home he shares with wife Janice.
He's made a console for the TV, a rolling countertop for their kitchen, and a cabinet for her sewing machine, picture frames and other display cases.
While Bunky is out in the wood shop, Janice can often be found indoors working on a quilt.
One of their three sons is an artist and sculptor and earns a living as a graphic artist.
Bunky readily admits woodworking isn't his profession, but he gets great enjoyment out of it.
He worked for a drug company for 20 years, doing everything from warehouse work to buying and selling pharmaceuticals to running its computer department. He left there for a better-paying job a DuPont. He retired from there on Jan. 1, 1999 and turned his attention to his woodworking, helping out at church and other activities.
Bunky has kept a list of all the display cases he's made over the years. It has plenty of blank spaces after the last one to keep him busy for years to come.