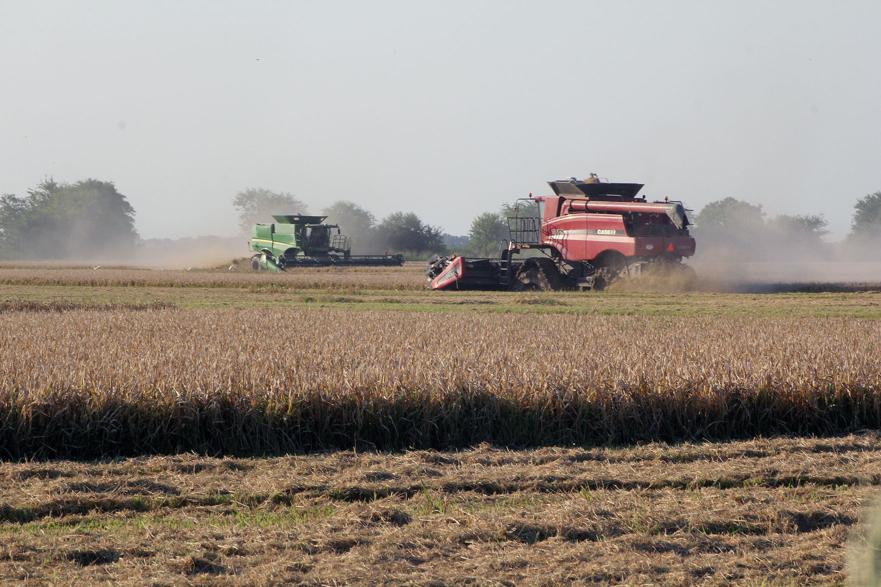 Thursday, Aug. 7, started off as a hot, sunny morning and Doug Stasney and older brother Frank couldn't be happier as they stood in foot-deep tractor ruts in a rice field they lease at George Ranch.
Thunderstorms have delayed the rice harvest by 10 days, and on this day the Stasneys are finally bringing in the 160-acre crop.
They're pressed for time; they still have rice elsewhere in Fort Bend County to reap.
Still, the brothers are in a good mood.
"Even with the rain delay, it's starting off as a great year for rice farmers," Frank said. "Even with the rain delay, we're already looking better than last year."
A fungus — known as smut — damaged rice crops in Texas, Louisiana and Arkansas.
Farmers lost 30% of the value of their crop in 2019 due to smut, Frank recalled.
"After last year, this year is already off to a good start. We're seeing yields above average — and we're not seeing any smut."
The brothers made certain of that.
The Stasneys sprayed twice as much pesticide this year to prevent the smut from returning. But the extra pesticide will eat into the Stasneys' profits.
Rain, rain go away
The rice harvest started late this year because of recurring rain showers, some of them rain bands from Hurricane Hanna, which struck the southern coast of Texas on July 25.
Additional squalls helped swamp already wet fields.
The over-saturated soil prevented farmers from getting into fields and getting the crops out.
Tractors and combines — some weighing up to 50,000 pounds with grain in the hopper — would sink up to their axles in the mud if farmers tried to harvest before the fields dried out.
Farmers working fields near East Bernard had to tow a corn harvester out of their rain-soaked field last week.
"We had to put tracks on the combines to keep them from sinking into the mud," Frank noted.
So farmers across Fort Bend County had to wait for the fields to dry before harvesting their rice crops.
'Better than expected'
Still, the Stasneys are hoping to reap 8,000 pounds of rice per acre on their first cutting, and 3,000 pounds on their second cutting.
"It's better than we expected," Doug conceded.
Actually, 8,000 pounds per acre average would be an exceptional crop of rice.
Texas farmers are forecast to grow about 12 million hundredweight of rice this year.
That's down 13% from last year.
And yields are averaging about 7,000 pounds to the acre. That's down 360 pounds per acre.
So if the Stasneys are correct, they'll have one of the highest yields in the state.
Phillip Thielemann, a county extension agent with the Texas AgriLife Extension Service in Fort Bend County, says the Stasneys high yield is about on par with other rice farmers countywide.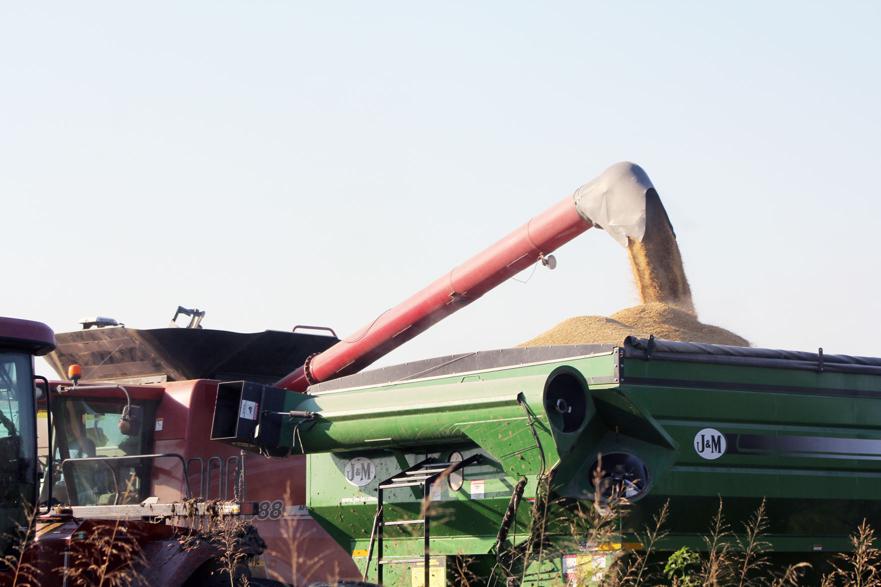 Market forces
Mind you, even a good yield doesn't necessarily equate to higher profits.
That's because harvesting rice 10 days late could degrade the value of the rice, which can pick up mold from the long exposure to moisture.
Rice farmers rush their crops to dryers — huge bins or silos — where the moisture is evaporated by industrial-sized fans.
Market forces also affect profitability.
If it isn't rain or fungus, it's the federal government upsetting governments and buyers across the seas, unexpected drops in the commodity market or a myriad of other reasons farmers can't get top dollar for their crops.
"I've only had one or two perfect years in all the time I've been farming," said Frank, who has been helping to feed America and the rest of the world for the past 47 years. Frank says farmers battle each year to earn a good profit on their labor.
"It's always something," Doug said.
Second cutting
While Doug and others drove air conditioned combines and tractors in nearby fields on Thursday, Frank spent his day on a backhoe repairing damage to irrigation and drainage canals in the rice fields already harvested.
Those canals, which crisscross rice paddies, can be damaged during the first cutting as tractors and combines crush them.
The canals are important for the second cutting, likely to take place sometime in October.
After the first cutting, rice farmers will fertilize and irrigate the fields again to produce the second crop — made up of new shoots from the first crop which mature about two months later.
In Fort Bend County, the first cutting takes place in mid- to late-July or early August — about 190 days after planting.
The Stasneys expect to move onto the rice fields they lease between Beasley and Kendleton in the coming days.
Two or three months from now, they'll harvest their soybean crops located on George Ranch property.