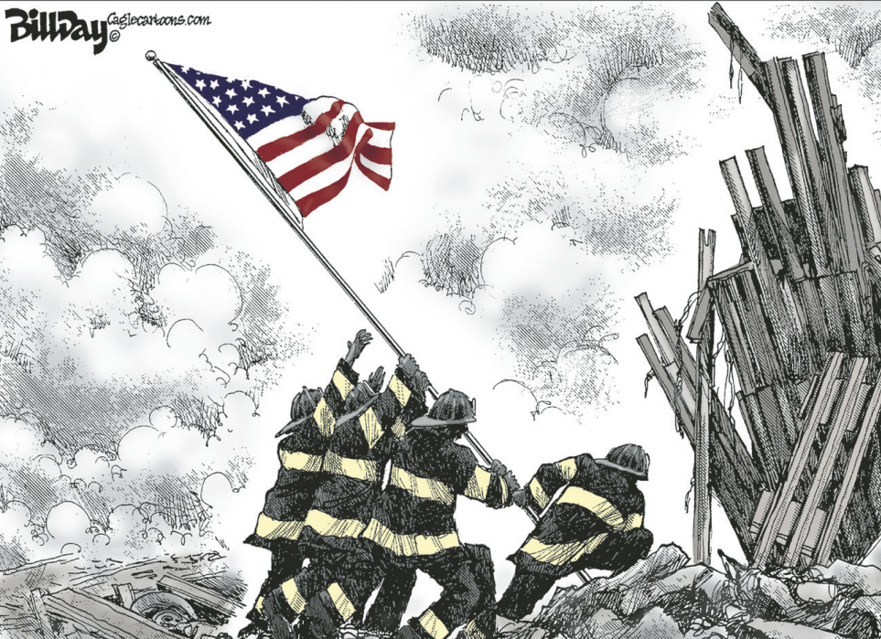 I was the editor of the Portland News in Portland, Texas, on Sept. 11, 2001. It was a Tuesday, and I was on deadline.
The paper had to be shipped to the printer by noon that day. I had worked late into the evening the night before to make deadline, and all I needed to do was a few touch-ups on the front page. Then my phone rang.
"Did you know a plane hit the World Trade Center tower?" the caller asked me.
After hanging up the phone, I turned on the news. The news anchor was talking about what appeared to be a tragic mistake by a jetliner. The video showed the plane smacking into the building. I left the news on and listened to it as I completed the paper. Occasionally, I looked up to see if there was any new video.
About 15 minutes later, there was.
I was watching the TV when I saw the second plane hit. I immediately knew it had been no tragic accident. Two planes crashing into the Trade Center towers on accident was an impossibility, I told myself. I suspected terrorists. I remembered some Mid-East terrorists had attempted to blow up the Trade Center in 1995, and suspected their group was behind the latest attack.
My heart sank into my stomach. I watched the video over and over, as people did worldwide, for at least an hour.
I felt nauseous, angry, fearful and hopeless all at the same time. I remember thinking that I knew how Americans must have felt when Pearl Harbor was bombed.
Minutes later, TV news was reporting that the Pentagon had also been struck by a jetliner. Another jet had crashed into a field on its way to the nation's capital. Terrorism was suspected. One plane hit after another.
Finally, around 10:30 that morning, I shook off my despair and turned back to the newspaper. I remember looking at the front page and just staring at it.
Then I made a command decision, I would tear up the front page and recast it with the terrorist attack on the Trade Centers.
I suspected that Tuesday, Sept. 11, 2001, would become a historical day in our nation's history, akin to the bombing of Pearl Harbor. I recalled several high school seniors who I had interviewed in May telling me they were attending college in New York City.
I frantically dug through my old notebooks and found their interview. More importantly, I found their phone numbers! I called them one by one. They each answered. They were breathless and couldn't wait to tell me what they had witnessed.
One had seen the second plane hit Tower two.
She recounted the scene for me.
Another told me he was having breakfast at a cafe near Ground Zero when the first plane hit, and he and others were shepherded out of the area by police.
I quickly wrote up a story and raced around town looking for a photo. A photo of the terrorist attack in Portland, Texas?
I was hoping someone somewhere was doing something that I could get a photo of. I had three head-and-shoulder shots of students to go with their story, but it wasn't enough. I couldn't use any photos from the Associated Press because my newspaper wasn't an AP member and we didn't have the right to use their images.
I had to come up with my own artwork. Fortunately, I passed by a Sonic Drive-in and I saw the manager putting up a new marquee: "Pray for America." I took the photo, and did a quick interview with him.
Minutes later, I took a photo of a convenience store manager changing the store's marquee. If I recall correctly, gas prices had gone from 89 cents to $1.90 in less than two hours.
I asked her why. "Supply and demand," she explained. "Supply will be shut off now that we have been attacked."
"But we still have plenty of supply," I said.
She was following her boss's orders, she said.
I dashed back to the office, wrote a story based on my interview notes and started redesigning the front page with less than 30 minutes before deadline. I finished five minutes late.
Exhausted from all the rushing (I was 40), I took a moment to catch my breath and watch TV news about the tragedy. By late afternoon, authorities had begun to suspect Al Qaeda was responsible for the attack. (I can't remember if Al Qaeda and Osama bin Laden had claimed responsibility for the attack by that time but they did by the next day).
Around 3 p.m., I called my ex and asked if I could see the kids.
Hailey was about 6 and Zach about 3. She wouldn't let me.
"I just want to hold them for a minute or two," I pleaded.
"You have to wait for your weekend visit," she informed me coldly.
"Can I at least talk to them?"
So I went home that evening feeling pretty low. Like most Americans, I fell asleep watching the news.
This was pre-social media. Facebook, Twitter, MySpace hadn't been conceived of yet.
We communicated back then via email. So I spent hours writing and responding to emails, all of them regarding the attack on the twin towers and the Pentagon.
I wept openly as I watched family members wandering around downtown New York in search of their loved ones.
"He's my best friend," a sobbing teenage girl said of her father.
I've never forgotten her face or her words. Stories of firefighters and police officers who died rushing into the towers as others rushed out kept me misty-eyed well into the wee hours of the morning. And I also remember how Americans came together in the weeks and days afterward, put aside our differences, and committed ourselves to rid the planet of this scourge once and for all.
Nineteen years later, I haven't forgotten 9/11.
---
Scotty Reese Willey is the Executive Editor of The Fort Bend Herald. Reach him at swilley@fbherald.com