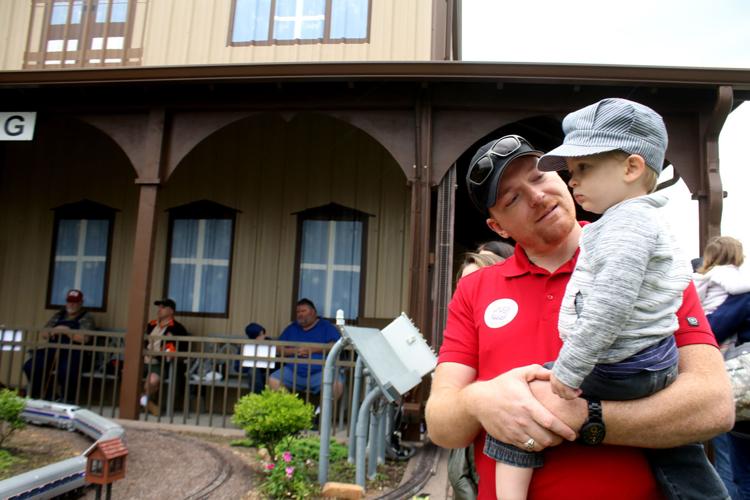 The Rosenberg Railroad Museum is up and running — full steam ahead.
And that is why museum staff wants to invite dads and their families to the museum grounds for a Father's Day celebration Sunday.
And the best part? Dads get in for $5.
"For Father's Day, we thought it would be nice to give a little discount so families could come out and enjoy some fresh air while watching trains," Executive Director Tracy Hobdy said.
"Our Garden Railroad will be running and staff will be ready to give tours."
The Garden Railroad is a depiction of 20th century Rosenberg and the surrounding areas of Richmond and beyond, complete with a Brazos River water feature, loops, tunnels, bridges, trestles and miniature buildings.
"We are certainly feeling the effect of the extended closure and precautions, but we have been trying to stay positive and use the time to work behind the scenes on various projects and improvements," Hobdy said.
Staff and volunteers are all screened upon arrival and wear masks during open hours, Hobdy noted.
"We area-clean multiple times a day and frequently clean surfaces and areas such as door handle and restroom facilities," she added.
"Guests are not required to wear masks, but we do ask that they self-screen before deciding to come out to the museum and we ask them to wash their hands when they arrive. We have hand sanitizer available as well."
Per the Texas guidelines, the museum is open at 50% capacity, but Hobdy said museum staff has yet to turn anyone away since the grounds have a large, open outdoor space.
"We do limit tours to one family or visiting group one at a time," Hobdy said.
"Father's Day is just another step towards trying to increase admissions and get back to normal numbers.
"We have missed our visitors, and staff are excited to see people returning and we have had fun giving tours and visiting with everyone."
Besides dads, admission is $7.50 for everyone 2 years and older. Admission is free for children under 2.
The Rosenberg Railroad Museum is located at 1921 Ave. F.